Giant's Chair & Geoff's View

Beez Neez now Chy Whella
Big Bear and Pepe Millard
Tue 10 Jul 2018 22:57
A Bimble to the Giant's Chair and Time at Geoff's View
Another beautiful, sunny day dawned over Ramsland. Plan, to take the dogs to the giants seat up on the Cheesering and visit Geoff's Tree. Sabby parked and off we set but first Topsy needed to show us a badger's sett.
Hector (gorgeous house visitor posed), Topsy adventuring.
On the way up, a look back at the view.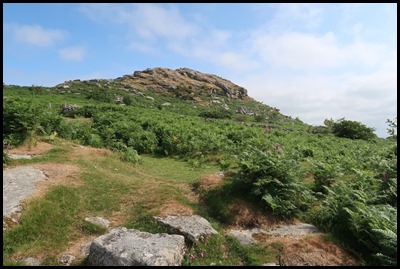 Nearly there and at the top.
Old friends pose (forty-two years).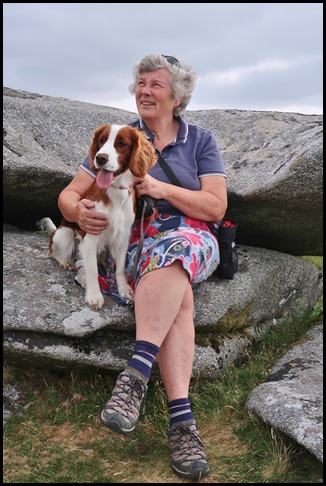 Newer friends, for many years to come.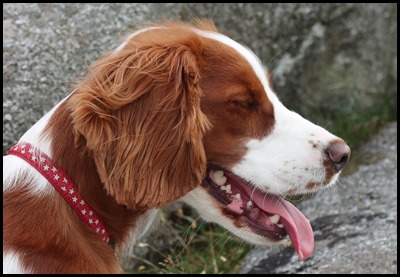 Time for a breather.

Down there, at the bottom of the next hill is Geoff's View.
Over our shoulder, behind us, is a quarry. This area supplied the granite that went to build Tower Bridge and the Tower of London.
We leave the majestically wind-carved stones and head down.
Topsy thoroughly enjoying her canter with lots of new sniffs.
We look back to where we had come from and arrive at Geoff's Tree (the one on the right). Geoff's ashes were brought here by Sabby, the children and grandchildren. Everyone knew he was giggling as a gust of wind took him across the moor but dusted the family as well, a rainbow in the sky. Perfect.
Bear had a good laugh, the shady side of the tree has a fantastic beard (something Geoff could never grow).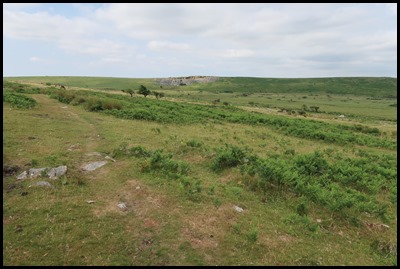 Geoff's View, left and ahead......
.......ahead and right.
Geoff's View to the right.
Just as we were about to leave a little bird settled on Geoff's tree and sang his heart out. Gorgeous to hear from you old friend, enjoy your view and lots of visitors over the years to come. God Bless You.

Back passing typical and protected Cornish view and to yet another lovely afternoon and evening.
ALL IN ALL GIGGLES, TEARS AND WONDERFUL MEMORIES
SPECIAL, POIGNANT AND BEAUTIFUL
---