NEWSFLASH

Beez Neez
Skipper and First Mate Millard (Big Bear and Pepe)
Tue 11 Nov 2008 23:00
JACK WILLIAM GEORGE TINSON
We finally get to meet Jack aged four days.
Lovely to hug Kate and Mark, it is all well and good to talk but as parents you need to see for yourselves.
Kate's finger to give you an idea of size and scale.
Being 'dealt with' by nurse, we watched Kate change his nappy, give him a wash and brush up. Then turned. We watched a bout of hiccoughs and a little cranchy while he sorted his limbs into a comfy position.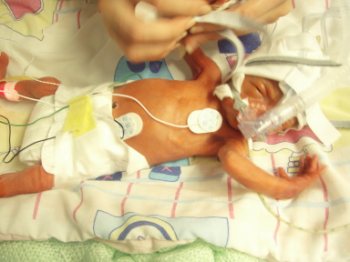 Sorting his wires out. "At last they have all let me get some zeds".
Visiting time ended at 7, Kate, Mark, his sister Kelly and us tribed up to the hospital restaurant and spent an hour sitting round the table, 'chatting normally' which, for us, felt so very good.
The roller coaster of emotions, the journey to get out of Morocco, the flight, race from Birmingham, all washed away and we left the hospital to go to John and Janet much relieved.
All in all delighted.
---