St Barts Airport

Beez Neez
Skipper and First Mate Millard (Big Bear and Pepe)
Sat 27 Mar 2010 21:48
An excerpt taken from the guide book says:
Transportation: Saint Barts has a small airport known as Gustaf III Airport that is served by small regional commercial aircraft and charters. Most visiting aircraft carry fewer than twenty passengers, such as the Twin Otter. The short airstrip is at the base of a gentle slope ending directly on the beach at St Jean. The arrival descent is over the hilltop traffic circle and departing planes fly right over the heads of sunbathers on St. Jean Beach (although small signs advise sunbathers not to lie directly at the end of the runway). Due to the close proximity of arriving and departing planes, either location is ideal for viewing by aircraft enthusiasts. The nearest commercial jet airport is on the neighbouring island of St. Martin, Princess Juliana International Airport.
Ferries to and from St. Martin are the only other real option (although the passage from St. Martin to St. Barth is often rough), unless one is arriving by private charter boats/yachts. All sounds quite cheery.
Just like any runway in the Caribbean ???
No - completely unique
Dick (Moonshiner) had told us that as a pilot he had to take a special course with a French Instructor to gain the necessary qualification to enable him to land at St Barts. He described having to come in on a heading between a pair of peaks, over Gustavia Harbour - wind sock at each side, straighten up as he came over the hill and land on the short runway.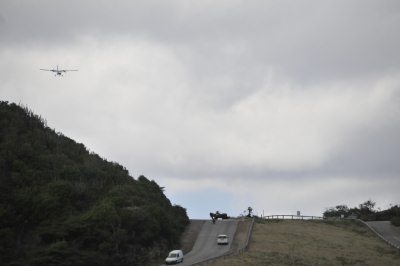 Come in over Gustavia Harbour, line up between the hills
Tidy up parallel to the road, over the fence and down onto the runway
We then moved to the hill, now looking down the runway as the pilot would, to watch this chap come in nicely, then land on one wheel, untidily and noisily
The car park off to the left of the runway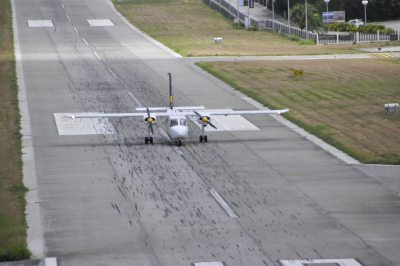 If they come in neatly, they land and take the second right to the drop off point - untidily like our friend they have to taxi back from the end of the runway and turn left.
On top of the hill, to the left of final approach, I would find these a bit unnerving - especially as the main island graveyard is at the bottom right of the runway, behind the petrol station !!!
Also at the top of the hill is a roundabout with The Arawak, symbol of the "Soul of St Barts". This warrior is armed with a lance in his right hand protecting his 'Rock'. With his conch shell, he sounds the cry of nature. At his feet, a pelican - the symbol of the island, which evokes the milieu of the air and survival by fishing. The iguana symbolises the earth, but has the wisdom and patience that we all need. All three are supported by a simple rock which when seen from the planes as they fly in - is in the shape of the island.
Meanwhile, back at the airport. We envision take off would be enable a stunning view
ALL IN ALL A HAPPY TIME SPENT PLANE SPOTTING - ANOTHER FIRST FOR US
---