W/E Miff and Rachel

Beez Neez now Chy Whella
Big Bear and Pepe Millard
Sun 18 Mar 2012 23:42
Weekend with Miffy and Rachel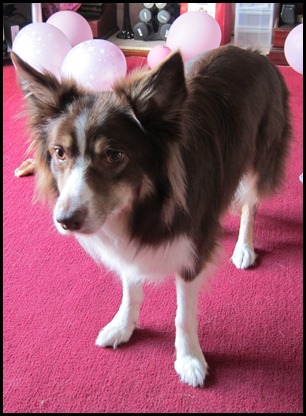 It was smashing to be staying with Miffy and Rachel for the week end. We had Chinese and Indian for supper and chatted about the wedding – just two weeks away. Plans are proceeding apace with just a few little things left to be done. I sat in the corner coughing and spluttering and Luka kept us entertained with his ball exploits; he puts it out of reach and slowly works it toward whoever is in his game, darting backwards and forwards until it is within reach – either with his nose or oral moving. If you pretend to sleep the ball ends up next to you on the settee.
Luka entertained us with his agility and skills. He had been eyeing the remnants of Rachel's hen party balloons and got stuck in as soon as Miff said he could. Of course the net result went pop.
Saturday after a leisurely start. Miffy went out to the charity shop, he had to rig his friend for his stag do. Showing us what he had bought, I'm sure his mate will be pleased with the yellow high heels, pretty dress and handbag. Miffy modeled the wig he bought and couldn't help doing 'the actions' – I'm saying nothing.
Rachel said her dad had always wanted to do his family tree and bobs your uncle I was at ready stations for when Chris and Steve popped round. We had a great time – me tapping away in the corner.
Mothering Sunday saw us together again with Steve and Chris, joined by Adrian (Rachel's brother) and Grandma. We had late lunch in the Treasury and had a chance to look at the city centre.
Miffy is away each Sunday night for the week (on a course in Portsmouth) so we took the opportunity to wish Rachel a "Happy Birthday" for tomorrow. We even got to see a practice 'cake cutting'. Adrian had to go but the rest of us went back home for a wonderful family afternoon.
I had a Mothers Day email from Joe who had borrowed a friends computer in Afghanistan. Text and Facebook messages a lovely bunch of flowers, chocolates and a card from Miff and Rachel and my surprise of the day was when Adam and Jenny showed up in the evening with a beautiful bouquet – Thank You everyone so very much.
Monday we took Rachel for her birthday lunch at Mountbatten. We could see the 'wedding site' through the side window which looks across to Mount Edgecombe. We also looked at the Plymouth Hoe with the Royal Citadel and big wheel, methinks we don't miss sailing in and out of here - for now anyway......... We left Rachel and went off to Moth's. Later that night Miffy knocked on his front door to surprise Rachel with a bunch of roses, having to leave at five the next morning to get back – must be love eh.
ALL IN ALL A WONDERFUL WEEKEND
.
.
.
---