Cockatoo Antics

Beez Neez now Chy Whella
Big Bear and Pepe Millard
Fri 18 Dec 2015 23:57
Cockatoo Antics
The first evening here at Cammeray Marina was a cockatoo fest. The first shouts happened at around half past five with a couple of birds that flew across from behind right of us, heading over the water and away off our left. Half an hour later several more. Half past seven the full event began. We looked out of the kitchen window and saw these four taking a half way break, time indeed to shout at one another, presumably how the day had gone and chit chat stuff.
A shout much closer and we looked up to see we had our own chap at the top of Beez mast, sitting on the electronic wind vane. The sight took us back to seeing an osprey sitting in a similar position on a boat in Titusville. I was all cooing about it but the owner said each visit had a cost element with damage done. Oh well, hopefully ours is just checking out the new mast in the area, shorter then the rest no one is going to use it as a superior perch.
Next door, to our left, a pair got themselves settled – the VHF aerial proving to be such a twangy affair that wings had to be used to get a bit of balance.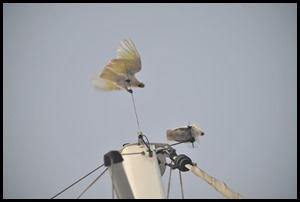 For a big bird weighing in at a kilo, the waggling, skinny perch was indeed a challenge.
We were in fits watching the comedy above us, at one point the bird was dangling upside-down, shouting at the top of his voice and sounded as if he was swearing his head off. His mate had had enough of the lack of showmanship and finesse and flew off quite offended.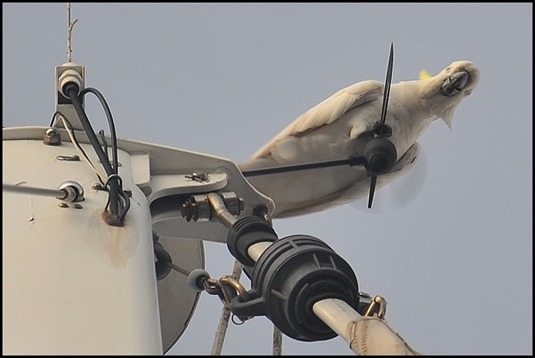 A new chap flew in and looked down to our call.
After our brief acknowledgment he got down to some serious chewing.
Meanwhile, on a shroud, there was some deep preening going on.
Despite hundreds of miles of rigging these two argued loudly. The lower one ran up to bite the feet of the higher one and kept at it until he was the victor.
Chewing done for the day, our new friend gave one last shout and was gone. All quiet by eight o'clock.
Whilst I was in hospital Bear told me a cockatoo story. One evening after he got home, it had been raining a bit and the wind was up. One chap stood on the windex beside Beez and another was sitting two boats down on the opposite side of the pontoon. Each was going round in circles on their respective wind spinners and as they came face to face shouted at each other. Like a scene from Saturday Night at the London Palladium, the birds may not have been the Tiller Girls but they certainly had the feather hair-dos. Do we look forward to this every day ??? Mmm, we hope to.
ALL IN ALL SO AMUSING
FUNNIEST THING I'VE SEEN IN A LONG TIME
---