Jolly Harbour

Beez Neez
Skipper and First Mate Millard (Big Bear and Pepe)
Sat 9 May 2009 22:07
A week at anchor in Jolly Harbour
I had whinged about the toilet flashing at me in the cold waters crossing the Atlantic, but this was a whole new ball game - a baby sea leech, I had to flush BEFORE I went. Meanwhile my new friend is so used to me he only opens one eye for a quick look, then promptly goes back to sleep. THEN I have a baby flying fish looking up at me with its big doe eyes. Now it's flush BEFORE I even lift the lid.
I caught Bear going in to the big Budget Marine Chandlery, it was only right I nipped in to be supportive. Time for me to try out a new cockpit seat. One for Rita and Jump Jet - a boat outside on the hard aptly and humorously called "Huey Too".
A new one on us was to see hull pits. A hurricane hole - insurance company acceptable - a way to spend the hurricane season. The first two pictures show a 'dug to measure' where the boat was parked. The third is a purpose built concrete pit.
As a point of interest here are the prices for Jolly Harbour. Yard Supervisor Stephen Joseph. Haul and launch is Monday to Saturday. Prices are in US Dollars and per foot boat length.
Pressure and chocking $13. Scraping of barnacles $3. Pressure wash $2.50. In slings haul $7. Travel lift move $6. Chocking (for 3 months or part thereof) $2. Welding stands $6. Tie down and hire of straps $6. Re-position stands $1.50. Keel hole $6 per 6 months. Concrete pit $6 per foot per month. Boats over 45 foot + 15%. Boats 60 feet and over + 30%. Multihull + 30%.
Travel lift crane hire $80 per hour or part thereof. Fork lift $80 per hour or part thereof. Yard crane services for mast $3 per foot one way. Move charge $3 per mast foot.
Boat Storage. Haul and launch days are free. Daily yard rate $.60 per foot per day. Monthly $12 per foot per month. Long Term $10 per foot per month x 3 months. Multihull = storage rate + 30%.
Yard water $10 per day. Electricity $10 per day. (both $5 minimum). Garbage disposal levy $20 per job. Day worker fee $10 per day. Outside contractors $50 per day.
All prices add 15% Government tax.
Out of interest we are going to check the insurance companies to see if the hull pits conform to their policies. Many will not as Antigua is too far north to be seen as safe during hurricane season.
That's a mighty project and the little submarine looks like a lot of fun. No and NO.
Over to B-Hive for a rum punch.
We spent a couple of days with Jamie of JHR Caribbean Real Estate looking at properties around the lagoon with boat parking places out the front. As soon as we finish global sailing we feel this is an ideal location to base ourselves. We can see ourselves bimbling up and down the Caribbean forever.
A few days later we saw "the project" move to the slings.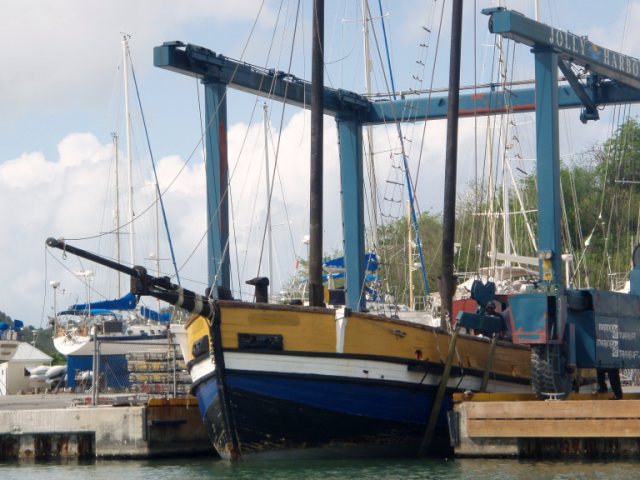 She was lowered into the water and left in the slings to allow her planks to swell. Loads of people were seen rushing about on board checking her for leaks, there she stayed for a day or two.
We jumped up and hired a little car for a day to reccy routes around the island before Jump's arrival on the 23rd. Rosie at Dollar Rentals looked after us. She had been a police lady in Dominica but moved here after her son was born oxygen-starved. He is fine and in mainstream education but slower than the class, Rosie feels the medical services here are far superior than on her home island. She agreed with us that the people here have very straight faces - as soon as you engage them they light up - whereas on Dominica people approach you glowing with huge grins. Rosie was worried about letting us go in a car she thought was dirty - just a little sand on the floors, we left the keys at reception as we were so embarrassed about how we returned it. The roads here are marked as Main, Secondary and Other. We by mistake took an Other. At one point Bear got out and measured huge puddles depths with sticks, I got out in places to guide him through and over huge ruts. Mud up to the windows we made it in forty five minutes of knife edge worry. We got to the end just as a 4x4 pulled into his drive - shock horror on his face - at the thought of an ordinary car having taken a "short cut". Never again.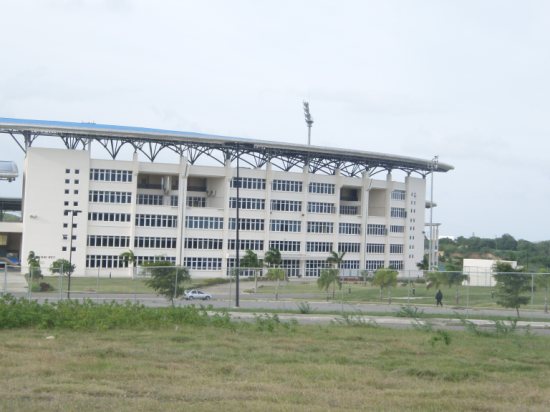 Along the Sir Sydney Walling Highway is the impressive Sir Vivian Richards Cricket Stadium. Built in the middle of the old "sugar belt", near the old Sugar Factory.
My cricketing prowess is as follows:- Men are seen rubbing a red ball against their balls until it looks like they have burst a femoral artery, run, toss and sometimes you here a thwack as a man wearing a Knights of the Round Table helmet whacks the said ball. A man who looks like he works for Dewhurst the butcher stands around with at least twenty jumpers tied by the arms around his waist, using his hands like a demented tic-tac better suited to Ascot race course. Someone shouts "rain stopped play" or "poor light". At half time everyone goes and eats pork pie followed by strawberries and clotted cream. I have asked Bear but his knowledge is no greater as he was a rower, far too light for a rugger team and unlikely to do well with a red ball anyway.
The closest Bear came to action was going for a wee leaving his grandfather at the Cheltenham Cricket Festival. On his return Don Kenyon, Captain of Worcestershire had hit a six and completely destroyed Bear's chair. He still has the signed pieces somewhere.
Harry Thompson - aka - the man who wrote 'Have I Got News For You' and 'Da Ali G Show', wrote Peter Cook: A Biography, but my cricketing knowledge was expanded a little when I read his book called Penguins Stopped Play, Eleven Village Cricketers Take On The World. Harry, in his spare time ran an infamous cricket team, the Captain Scott XI. I can thoroughly recommend this book even if you don't like the game the capers are hilarious.
But even I have heard of "The Master Blaster","De Bull", "King Viv", "Viv" or simply "Vivi" to the locals. By any name, Sir Isaac Vivian Alexander Richards is renowned as one of the finest and most devastating batsmen of all time. His power was awesome, and he refused to wear a helmet, even when facing the fastest bowlers throughout his career.
Viv was born on the 7th March 1952 in an area known as "Ovals" in St John's, the capital of Antigua. He developed his cricketing skills by playing with the neighbourhood boys, but even then, his talent was obvious. It wasn't until he entered the international arena, though, that his prowess with the bat earned him status as a household name.
He made his international debut at Bangalore against India in 1974, then dominated the game for over fifteen years. Bowlers lay awake at night pondering how to dismiss him. He had no obvious weakness, was a devastating hooker, and even created his own style of hitting across the line. He scored the fastest ever test century, from just fifty-six balls.
Having played 121 tests, Viv scored 8,540 runs at an average of 50.23, with 24 hundreds, and 291 as his highest score. He claimed 32 wickets and took 122 catches. The "Master Blaster" played 187 one day internationals, scored 6721 runs at an average of 47.00, with 11 hundreds and scored 189 not out as his highest mark. In One Days, he claimed 118 wickets, and took 100 catches. Wisden named him one of their five " cricketers of the century" in 2000. Sir Viv Richards is the only West Indies captain who never lost a series.
Sir Viv also played for Somerset in the England County Championship, and later for Glamorgan toward the end of his career. He served both teams with distinction, and is still remembered for his heroics - as is his friend, Sir Ian Botham - during his playing days for Somerset.
In 2000, Viv was knighted in a ceremony conducted during a test match - West Indies verses Pakistan - on his home ground in the Antigua Recreation Grounds. Although he retired in 1991, he has stayed close to the game. In 1999, he was appointed coach of the West Indies Team, and subsequently served as Chairman of Selectors until 2005.
Sir Viv has remained humble, despite his gigantic achievements, and is held in very high esteem for sticking to his personal principles of "Black Power" epitomised by his refusal to play in South Africa during apartheid. There was also his habit of wearing the red, gold, and green wristband to reflect his true African roots.
He has been appointed an ambassador by the Government of Antigua and Barbuda, and spends most of his time travelling to promote the country, using his iconic image. However, true to his roots, he has managed to maintain the common touch, and in the hearts of Antiguans remains a true national hero their only living legend.
As not to disappoint - one careful owner entries.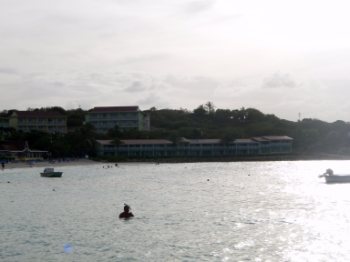 Still not used to being in off season. The deserted Grand Pineapple Beach Resort. A hand cast fisherman surveying the water. Sunset over Long Bay Hotel with one snorkeler.
No this is not an out of focus photograph, it was the view of the headland in a tropical rainstorm. Just to let you all know we do get heavy rain - occasionally, although it remains warm throughout.......
7th May - Happy Birthday Danny 12th May - Happy Birthday Rita
Hmmm both hurricane names - Danny is the D for 2009 having replaced David when he was retired. Rita was retired after causing 11.3 billion Dollars of damage in 2005. mmmmmmmmmmmm
ALL IN ALL an interesting week.
---