To White Bay

Beez Neez
Skipper and First Mate Millard (Big Bear and Pepe)
Sun 8 Nov 2015 23:47
To Baie Blanche, Ouen Island, New Caledonia
I got up this morning to see islands each side of us.
Time to change the flag. Sadly, the flag of Vanuatu came down and the French one went up together with the 'Q' flag.
Rather strange to see pine trees.
We worked out how far to go and timing our entrance to the Passe de Yate in daylight. We wound everything in to tiny and slowed to three knots. We had salad for lunch and I nabbed a backgammon win. The afternoon was spent in the sunshine playing Rummikub.
Grand Terre, New Caledonia ahead.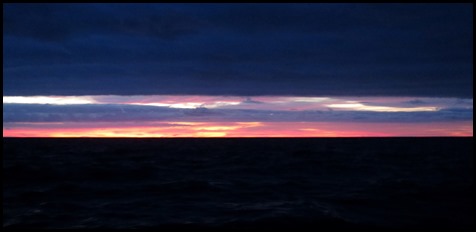 Overnight we continued our slow progress. I had another odd daybreak a four o'clock.
Landfall.
I got up early to enjoy the wiggly bit. Very French accurate charts and markers. Bear told me he never had less than eighty six metres below us through the Passe de Yate. A dolphin appeared next to us, always a welcome sight, not seen for ages, I kept spotting while Bear got the camera ready. Our friend made the briefest of encores and that was that. A few minutes later a turtle bobbed up never to be seen again........
As we entered the Canal De La Havannah it was if someone switched the knob to rinse cycle. I could do a bit of wave watching.......
The depth gauge went mad, one second saying eighty metres the next four. The next minute sixty metres – then an alarming two, just waves and air making things a little inaccurate. Away to our left was the sobering sight of what can happen, certainly this channel can't be used if the sea is up or during stormy conditions, the books it's best not to attempt this in the dark – no arguments from us on that......
Quite pretty scenery as we crossed a large area of flat water in gusty winds.
A good sturdy marker told us to stay off a reef.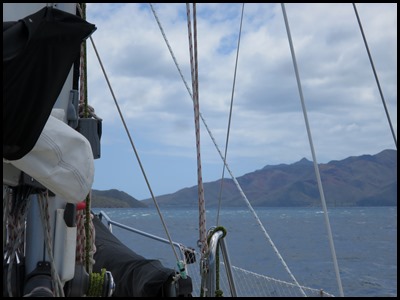 My turn was take us through the Canal Woodin, a channel just shy of half a mile wide.
Rust colours in the hillsides made for an attractive vista.
A 'weekender' passes.
At the end of the channel I would be turning left. We are going to be a bit naughty. From here it would take seven hours for us to get to Noumea or in the dark. We are going to do as others have done before and anchor around the corner.
We turn the corner and someone switched on a massive fan. The winds suddenly went from next to nothing to twenty five knots.
Bits and bobs to keep to our right and then we are in a massive bay.
Along the shore were weekend visitors in their little motor boats and a couple of yachts – one also sporting a yellow flag.........
Baie Blanche.
We can see why it's called White Bay.
We anchor in five metres and settle to late lunch. The day trippers go home and the beach is uninhabited. We are not allowed to go ashore and wouldn't until we have checked in but we are quite happy to enjoy the veiw.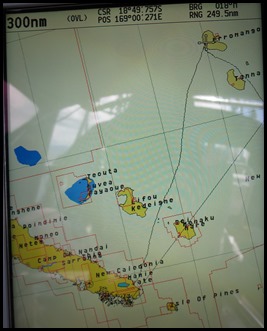 Our journey of two hundred and fifty miles with thirty to do on the morrow.
ALL IN ALL A GOOD, SUNNY DAY
AN EASY LAST PART OF A NICE JOURNEY
---