East London Bits and Bobs

Beez Neez now Chy Whella
Big Bear and Pepe Millard
Wed 18 Dec 2019 23:57
East London Bits and Bobs
Friday the 13th of December. Pottered about the estate doing jobs not venturing out as the wind is still blowing to a gold standard..... Went ashore at six for showers and supper at the Buffalo River Yacht Club.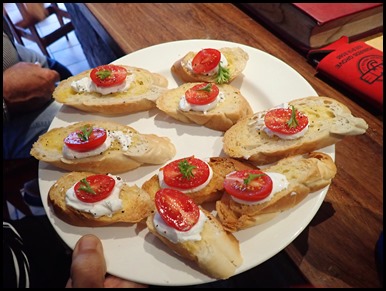 We were welcomed with tasty bar snacks and the long dining room table dressed handsomely.
Tonight, home-made lasagne served with salad, rolls and coleslaw.
Sunday the 15th. Last night we went over to Nauti Nauti for snacks and a game of Mexican Train Dominoes. Tonight back to the yacht club for fish night. Local fillets awaiting Klaus (Margrethe) to work his Swedish charm.
Mark (yacht club manager) supervised the fires doing a great job.
A hive of industry. Tonight the dining table was decked in pretty blue.
By popular request there were two bowls of coleslaw together with rice, salad and rolls. The fish was delicious and much praise for our chef.
Mick (Zoa) and I seem to have taken on the team discipline of rinsing the dishes and loading the dishwasher, a bit of a novelty for me....
Monday the 16th. Great excitement this morning as a car transporter came in expertly maneuvered by two working girls. A joy to watch and all done in super quick time.
A mammoth queue of cars waiting to be loaded.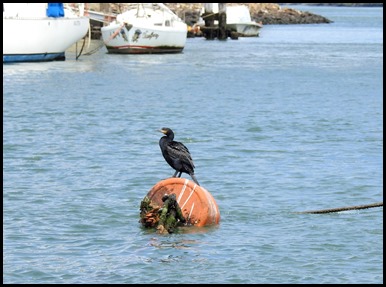 This chap sat behind us, wings outstretched to dry off but by the time I got the camera trained on him – snapped shut.
Tuesday the 17th. We went with Allen and Patricia (Nauti Nauti) to the mall for a good leg stretch and spend the longest time since arriving off our boats. A lovely entrance gate replete with a smiling security guard.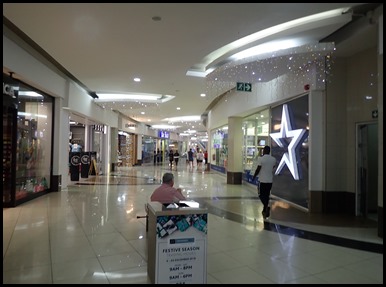 A nice, big mall to bimble. Loved the shop called Grumpy Monkey. We enjoyed a long lunch, shopped until we dropped gathering up some Christmas treats as we went and somehow managed to get everything in the tiniest of taxis.
Wednesday the 18th. Check out day. A bit of a hoot Bear reported. He was asked to take a photograph of our clearance paper in case it a) got lost. b) someone needed to see it and c) the policeman wasn't sure his fax machine was up to muster.
Our last meal at the yacht club and no, we are not Billy Nomates, it's just that our meat was randomly cooked first........that's your story and you're sticking to it. Don't make me growl......
ALL IN ALL ENJOYED, BUT DIDN'T WANT TO STAY FOR CHRISTMAS
FRIENDLY YACHT CLUB AND GOOD YACHTY COMPANY
---