Kenneth

Beez Neez
Skipper and First Mate Millard (Big Bear and Pepe)
Mon 13 Jul 2015 22:57
Kenneth James Allardyce
On our way to the view over the Bay of Islands we came across a single grave. Kenneth James Allardyce, born in Aberdeen. Knowing how easy it is to search Scotland's People I made a note to self to look him up and see what I could find out about the man, why he was here and a bit about him and his family.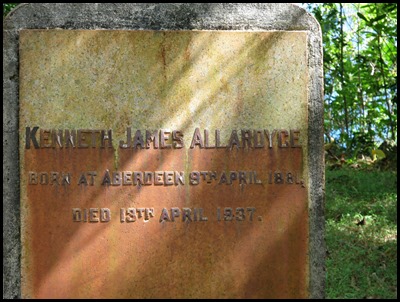 The magnificent view is just over his left shoulder, seen as the blue behind his gravestone. He faces toward the coconut trees, perhaps he owned a plantation here or this was his favourite spot..............Mmmm.
The power of the internet is astounding as a couple of button presses and here is Kenneth's birth entry. He was born to James Allardyce, Colonel, Madras Staff, retired and Catherine Allardyce nee Johnston. They had married on the 23rd of September 1869 in Switzerland. It was his dad's second marriage, his first wife Georgina Dickson Abbott had died in 1866 aged thirty one. They had married on the 14th of November 1857 in Bolarum, Andhra Pradesh, India and their children were Mary Ross born 1858, William Lamond born 1861, Anne Hill born 1863 and Mabel Desburgh in 1863. More of Mary and William later.
Kenneth joined Georgina Mary born 1872, Katherine Hadden born 1874, Arthur Johnston born 1876, John Graham Buchanan born 1878, then came Kenneth in 1881, and finally Gavin Leith born 1886. More of Arthur, John and Gavin later on.
James was clearly a wealthy man judging by his 1881 Census entry.
In more detail. This Census was taken on the 3rd of April as Kenneth was born on the 8th. [Sadly, in the 1891 Census he was listed as a visitor with his mum, so not much information can be gleaned and he had left home by the next]. He was born into a rather grand house - 3 Queens Terrace, Old Machar, Aberdeenshire, Scotland – possessing sixteen rooms and several domestic servants. After his home birth he would have been greeted by four sisters and one of his brothers.
Now the proud possessor of his own page on ancestry.com together with pictures of his grave and the view we had gone to see.
Listing some of his many journeys............
....... including on the Manuka, the Niagara and the Aquitania.
One of the longest Obituaries I've ever seen was for Kenneth's father James
Aberdeen Journal 7th of March 1910, page 4, which begins:-
DEATH OF COL. ALLARDYCE OF CULQUOICH. Deep regret will felt Aberdeen and the north by the intimation the death Colonel Allardyce Culquoich, LL.D., which took place yesterday at his Aberdeen residence, Queen's Terrace. Colonel Allardyce, Who was his 81st year, had been in indifferent health for a considerable time, and the end was not altogether unexpected. A son of the late William Allardyce, by his wife Mary, daughter Mr John Leith Ross of Arnage and Bourtie, the deceased was born Aberdeen in 1829. Having received sound education, joined the military service Honourable East India Company ensign in 1848, and was engaged a deal of important work in various parts of India, remaining with the Company until the government of that country was handed over the Crown. He was promoted through the various grades of the r ice, and retired the Madras Staff Corps with the rank of colonel in 1877. At the time his retirement was Judicial Commissioner the Province of Berar.
It continues: A man of many activities, and with an ungrudging devotion to public service, Colonel Allardyce, on his return to Aberdeen, speedily identified himself with a number of the principle public boards, commercial enterprises, and philanthropic institutions. For a number of years he was chairman of the board of the Royal Infirmary, and to that institution he rendered invaluable and much appreciated service. In particular Colonel Allardyce had much strenuous work in connection with the extension of the buildings, a scheme inaugurated by Sir William Henderson when Lord Provost of the city, in 1886, and towards which a sum of upwards of £31,000 was subscribed. The surgical and pathological pavilions, constituting the first part of the extension.
The obituary then lists his service achievements and how his brigade under his command was the best. His literary achievements including book dimensions and his receiving the LL.D from the University of Aberdeen............
In politics, deceased was a staunch Unionist and in 1891 he was elected president of the Aberdeen Conservative Association when Mr J. Murray Garden resigned. This office Colonel Allardyce held for some time. In 1889 he purchased Culquoich, Donside.
By his first wife, who was the daughter of the late Mr P.H. Abbot, and died in 1866, Colonel Allardyce had one son and three daughters. This son Mr William Lamond Allardyce, C.M.G. entered the colonial service, and went to Fiji as a cadet in 1879. He has done a good deal of important work, and in 1904 he was promoted to the post of Colonial Secretary and Receiver-General of Fiji to be Governor of the Falkland Islands, which office he still holds. By his second wife, who was a daughter of the late Mr Robert Johnston, Aberdeen, and who died in 1900, Colonel Allardyce had four sons and two daughters. The eldest son Mr Arthur Johnston Allardyce, is a major in the Lancashire Fusiliers. He was promoted to his brevet majority in 1902, and was at the time one of the youngest officers of that rank in the army. He served in Soudan in 1898 under Lord Kitchener, was present at the Battle of Khartoum, and holds the British and Khedive's medals for the campaign. He also served in Crete during the occupation of the island in 1898, and took part in the last South African War, including the relief of Ladysmith. He figured in South African dispatches for his excellent work at the front. The second son, John Graham Buchanan Allardyce, is a captain in the Royal Horse Artillery; the third Kenneth William Allardyce is in the Colonial Civil Service in Fiji and the youngest, Gavin Leith Allardyce, is a Writer to the Signet in Edinburgh. The elder daughter by the first marriage is the wife of Rev. Alexander Fiddes, minister of St Bernard's, Edinburgh, who is the son of the late Mr Edward Fiddes, of the North of Scotland Bank, Aberdeen. Colonel Johnston of Newton Dee is a brother-in-law of the deceased.
Well, after that little Who's Who, I needed a cup of tea.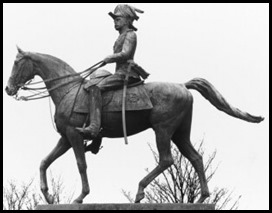 Lord Kitchener memorial statue front and side and the famous "Your Country Needs You"
Lord Kitchener 1850-1916, mentioned above, forever remembered for his recruitment posters, well, funny old and very small world........ his statue by Sidney March, commissioned in 1912 stands proudly near to Fort Amhurst in Chatham, Kent. I passed this statue most days on the way to work and every time I ever went into town.
WIlliam Lamond Allardyce as 7th Govenor of Fiji and later as Sir William.
Talking of Who's Who, Sir William has an entry in the New Zealand listing of 1908, listing all his positions and titles, at the time he was living in Suva, Fiji.
In 1916 William was made Knight Commander of the Order of Saint Michael and St. George by King George V. Shortly afterwards he became Knight Grand Cross in 1927. He married twice, first to Constance Greene of Melbourne, Australia in 1895. She died in 1918; he then in 1920 married Elsie Elizabeth Stewart, widow of A.C. Goodfellow. In 1923, Lady Elsie Elizabeth Allardyce helped start the Girl Guide movement in Newfoundland, and then in 1924 she established the official representative of the British Crown in Newfoundland and Labrador. He died at the age of sixty eight and his Index of Wills entry says:- Allardyce K.C.M.G. sir William Lamond of Wick Vale Finchhampstead Berkshire died 9 June 1930 Probate London 29 August to dame Elsie Elizabeth Allardyce widow. Effects £11094 0s 4d.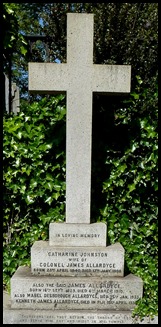 The inscription. Mum, Dad, sister Mabel and Kenneth together.
Mabel. On her Index of Wills entry it says:- Allardyce Mabel Desborough of 74 Rubislaw Den Aberdeenshire died 25 January 1933 Confirmation of Gavin Leith Allardyce writer to the signet and John Grahame Allardyce retired brigadier-general H.M. army. Sealed London 23 March. Mabel never married.
Died on a Lone Isle
Strathdon Man's Fate
Former Official in Fiji
News of the lonely death on a Fiji island of a former Colonial Service official has just reached London.
Mr Kenneth James Allardyce [56], who retired some years ago from the post of Secretary of Native Affairs for the Fiji group to look after his plantation, lived all alone except for native servants in a beautiful house on the top of his hilly island of Nabavatu in the Lau group.
Stricken with a sudden dangerous illness, he sent a boat to the nearest Government post for medical assistance, but died before the party returned. He left a note directing that he should be buried at the top of the hill.
Major Arthur Allardyce, Cheltenham, a brother, said in an interview yesterday that his brother's death was very sudden.
Bachelor Life
"He was an active man", said Major Allardyce "and as yet I have no details of the manner of his death. My brother lived a bachelor life on his island, and had not been home to England in the last ten years."
Kenneth James Allardyce was the son of Col. James Allardyce of Culquoich, Strathdon, Aberdeenshire.
He was educated at Aberdeen Grammar School and Wellington College. Entering the Colonial branch of the Civil Service at the early age of seventeen, he spent all his life in the South Pacific.
Growing Copra
In Fiji he was a member of the Legislative Council and Secretary for Native Affairs in 1916. He retired in 1920, and was latterly engaged in copra growing on the island of Nabavatu, where he was the only white man.
During the Great War he brought over a hundred Fijians, who served as labour corps, first on the Western Front and later in Italy. Mr Allardyce commanded the corps, first with the rank of lieutenant in 1917, and then as captain the following year.
Arthur who gave the interview has an entry in the Index of Wills it says:- Allardyce Arthur Johnston of Kilworth Cleevelands Drive Cheltenham died 30 December 1961 at Bayshill Nursing Home Cheltenham Probate London 16 March to Winifred Katherine Allardyce spinster John Grahame Allardyce lieutenant-colonel R.E. and James Bright Robertson solicitor. Effects £70919 5s 2d .........The nursing home is opposite where Bear's sister Cecily went to school.
Lady Elsie – William's widow, is the very next entry
.
Interesting to see the various promotions and just a glimpse into the Allardyce Clan.
We are very pleased to leave Ken with his view
ALL IN ALL AN INTERESTING FIND
A SURPRISING FIND IN A STUNNING LOCATION
---