Boddam Crabs

Beez Neez
Skipper and First Mate Millard (Big Bear and Pepe)
Wed 26 Jun 2019 23:27
Some of the Crabs We Met on Boddam Island
No sooner than we had stepped ashore than we saw our first hermit crabs.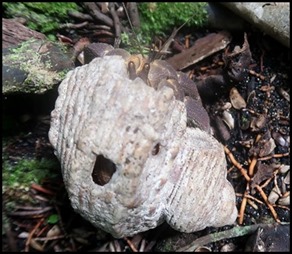 A home with a leak, we know how that feels – Bear is still scratching his head and battling our leak in the office. Every step caused so many brown chaps with white gloves to scurry away, their feet making the leaf litter rustle.
Sitting atop a wall to a ruined building – our first coconut crab. Without Bear in the frame for size comparison he could be a just a couple of inches across not the ten inches he was.
Our second chap was resting in a tree. Bear gently pushed a twig toward him and 'snap' cut in the vice-like grip of an impressive claw.
This chap, the reddest we saw, was slowly climbing up a wall seeking shelter.
Curious creatures – all legs and claws with a small bottom.
Coconut crabs everywhere as we approached the ruins of the small island church. Bear liked this chap.
Hard to believe these chaps can live into their mid-sixties.
All slightly different in colour but all have very long antennae.
This chap stood unafraid, his claws were massive.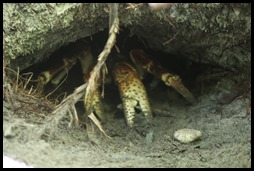 The biggest chap on the island. Our word is the only proof that his burrow was three feet across.
Our favourite is still a hermit crab, before he grows up to be a coconut crab as they do here.
ALL IN ALL SPLENDID CHAPS
AN AMAZING SWARM
---