B & B Report

Beez Neez now Chy Whella
Big Bear and Pepe Millard
Mon 5 Mar 2012 10:57
The Road Trip B & B Report
NUMBER THREE. As we got closer to the Super 8, Naples, the signs were good as there was police activity on the road outside, sadly as Alvin welcomed us we knew this place was just too posh. We went off to room 242 and settled with a flat screen, bath, kitchenette and two double beds.
Next morning as we got up to torrential rain, I thought there was an opportunity for an extra point but Bear said no, the clouds were passing and someone went in the pool after breakfast. So on the CSI "there's a deadun in room 214," the Super 8 scored a measly five out of ten.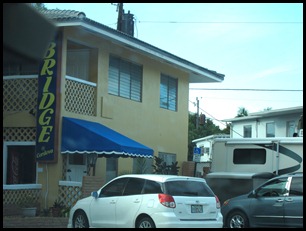 NUMBER TWO and a very worthy runner-up. Now according to the Wicked Witch on the Tom Tom, we were just around the corner as we met a duck crossing the road, then a Sheriff drove toward us, signs were rushing up the Richter Scale of "a deadun in 214." From the outside the Bridge at Cordova Hotel, Fort Lauderdale was everything I could have wished for then..........
.......... Jamie welcomed us and showed us to a garden room (said in a shrill voice), my little face fell. As I saw the metal grill behind the louvre door, I perked up again, Bear said NO. The brown colour scheme – smiles, Bear said NO.
The well appointed kitchenette had Bear declaring that This is a surfer dudes paradise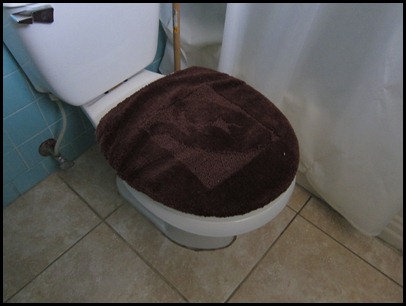 I felt myself clutching at straws as I lamely asked Bear to consider the random panther outside the door. NO. What about the piece de resistance – the brown fluffy toilet seat cover. NO. You're a tough cookie Big Bear. I felt myself falling into the abyss, last nights gaff (the Knights Inn) was clearly to fresh in Bear's memory.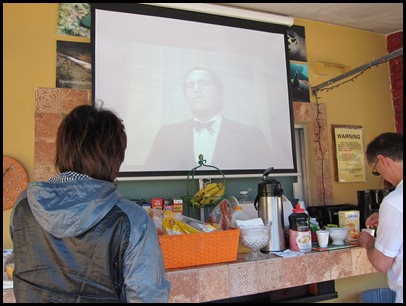 I went to bed glum. There was nothing I could do but see if the morrow brought any new gems – Yes. Breakfast was al fresco, complete with big screen showing classic Dean Martin shows, I felt myself perking up.
There was something in the glass case, but we couldn't find anything. When the wind blew our plates scattered and when we sat at an angle to the screen we saw nothing, my sprits were indeed lifting.
With renewed vigour I trotted back to our room for more evidence to support my claim that this establishment should indeed be the winner of the CSI Deadun Award. The extractor fan in the kitchen that sounded like a small traction engine must surely gain me a point, especially seen working using the flash on the camera, a great looking fan belt. I was on a roll, rushing back to the breakfast area.
OH NO, everything had been tidied away. I rapidly sought out a dodgy looking store cupboard, I was desperate now. I woke the creature in the glass case, but he looked fit and well. Head hung I went back to our room with a heavy heart. Bear had trotted off to the map shop while I did a blog, waiting nervously as this was my last offering of the road trip. Bear came in beaming, well done, it was so close I walked – this was not what I wanted to hear. Random chance had foiled me, how was I to know the one place in Fort Lauderdale Bear needed to go was less than two short blocks away – double drat, this place was now gaining positive points in Bears calculations.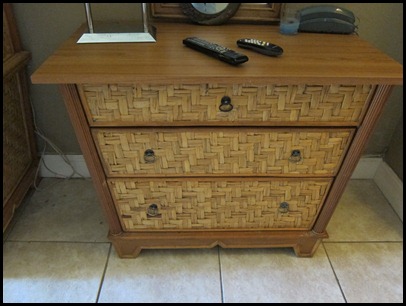 My final weak attempt came with the really nice furniture, poor TV reception, chipped paint on the bath and the air-cons drilled into the wall. NO - my final decision is six out of ten and that's because I was so successful at the map shop and you haven't done enough to sway me any higher. Oh.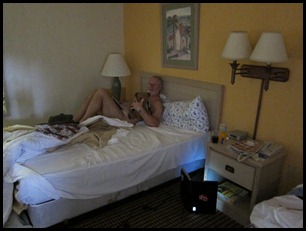 NUMBER ONE. We arrived at the Knights Inn, Sarasota at nearly midnight and as soon as I saw we had to deal with the lady through a grill, I got the giggles. As we pulled in I saw a man in a 'wife beater vest' just stubbing out his snout and withdraw into his room, damn the points are falling at the feet of this place. When we were given room 212, I gasped, just next door we would have hit the jackpot. The bin in the corner with the evidence of a previous tenant and then we saw the carpet – more points. This was the smoking room that I had accidentally ticked as an option, it actually wasn't too bad, certainly not enough to make Bear want to move. So where was I going to get this room to lose a few points to give the other two nights a chance. The bed was so springy Beds felt seasick for the first time in his life. Bear is used to having a wall beside him on Beez and was in fear of trampolining off and I untucked the sheet to settle on the mattress cover. Well can you believe it, we had a fab nights sleep, I was almost ready to get the award out of the car there and then and this all on the first stage of our road trip.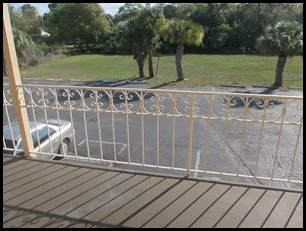 The view from our room on the first floor was everything I hoped for so lets hope breakfast loses this place a few points or the competition is dead in the water, all over, finito. Well we had to go into the now unlocked office to gather our breakfast, nowhere to sit but our friendly lady from last night – Mrs Arvind - gleefully told us to take our food to the pool. Sparkling clean water, this should diminish the colossal lead a bit surely.
Then Bear collapsed laughing as he read out the pool rules. No food or beverages in pool or on wet pool deck. Then we saw the the outside shower that you need to use before doing your lengths. Well done deal. In an imperious voice I heard - I award the Knights Inn a total score of nine out of ten, this will be a tough establishment to best, but I will keep an open mind in the next two. As we drove away I asked what would have given the place a perfect ten. A body of course, hey don't kid yourself that a quick once over with luminol and a UV lamp wouldn't show up a smidging of evidence. Hmmm
Seriously, is it possible to stay in Florida on the cheap. Yes, the budget has to be between forty and sixty pounds for the B&B and you have to be OK with eating off Styrofoam with no frills. We had cereal, tea, toast, cakes, orange juice and in the posh Super 8 the chance to make a fresh waffles. A wrap for lunch in Taco Bell is one dollar or a wrap, diet coke and a small packet of tortillas for the princely sum of two dollars fifty. Supper in Burger King – surprisingly a cheaper option than a fixed meal is to have a fresh side salad, cheeseburger, fries and a diet coke (refillable) at a dollar a piece. Yes, this is not a la carte or nouveau cuisine but everywhere you go in America has so many food options to suit all budgets.
We have had a good laugh with our choices, ultimately the sheets were clean, the water was hot with each place offering a bath / shower and clean towels. We could have got the same opposite the Super 8 for $539 – we wouldn't have used any more facilities but saved a small fortune in the quest for the CSI Award. Choices.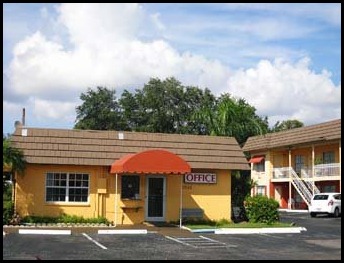 ALL IN ALL AN EXPERIENCE NOT TO BE MISSED
---