Sunday Bimble

Beez Neez
Skipper and First Mate Millard (Big Bear and Pepe)
Sun 15 Jul 2012 21:57
A Bimble on a Beautiful Sunday Afternoon
Bear went to pick up our laundry (no facilities for me to do it at mama's), whilst I fought with Spanish verbs – they won. Each group of clothes was neatly folded and tied with ribbon. Five pounds for a pillowcase full. We did our homework and went for a bimble in the afternoon sun.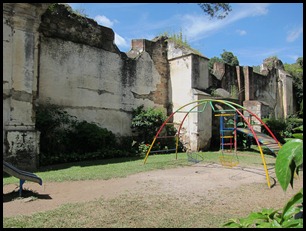 We walked toward town via a different route and found a ruin new to us that during the week is a playschool, quite incredible to think that chunks can fall at any time.
A pretty house, a cute hotel and instant love of number 55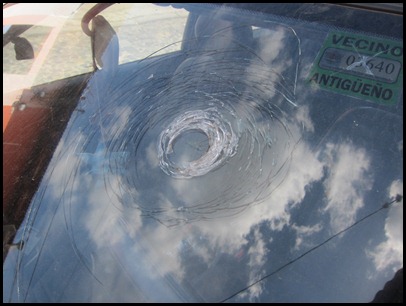 A 'good little runner' well on the way to 'one careful owner'
Just as we were looking at the uncommon sight of a three story house - a market stall walked past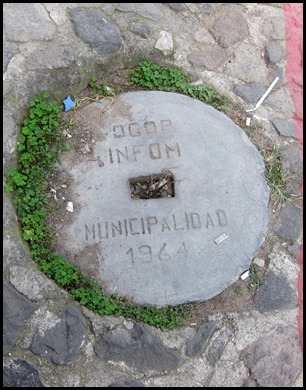 It is fatal, well certainly not to be recommended to take a single step in Antigua without watching your foot fall. If its not manhole covers or pot holes, it's the uneven cobbles.
The cobbles have taken their toll on this gem, rattling everything as it went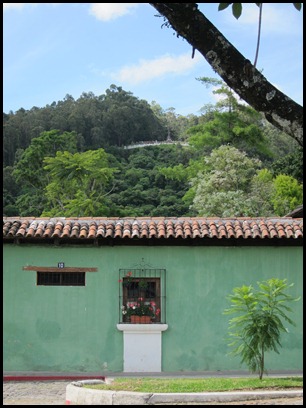 We walked past a view of the Cross on the Hill, busy with Sunday tourists. A door to a parsy pad had a door knob that reminded us so much of Morocco. Onward to the hotel built around the convent ruins, sounds different, (own blog).
After we had walked around the hotel we bimbled in a very smart area, we bimbled into the centre of town and enjoyed the market and a bug, this time a white one.
We laughed at this security conscious resident, so many locks, I couldn't get them in one frame.
A bar called the Whisky Den and next to it was a steak bar with a stern looking armed guard at the door. Bear went into a very posy ATM machine. More armed guards in the shape of the local equivalent of Securicor.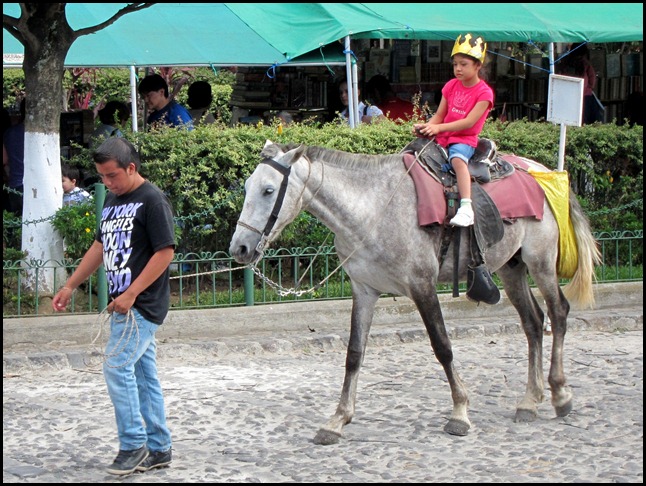 All the horses here wear 'nappies'
It was nice to see the crowds supporting the street entertainers. We took a bimble around Central Park, people watching as usual, and we listened to a different pan pipe band, sad not to have seen my favourites. There was a book market on – how many Merck manuals did we distribute in our MSD days Colin ??? You many more than me. A book we certainly didn't expect to ever see again.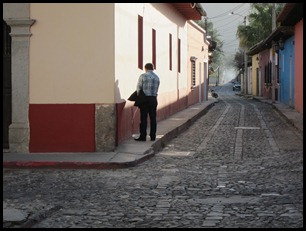 Nearly home, still house watching, we saw a man 'watering' the wall, well I had to stop and look, the amount was unbelievable, he would have made a elephant proud. Then a drinking fountain, it is true to say we never know what we'll see next.
Another nappy wearer
An unusual mode of transport, a family car that was a bit 'chewed', time for late lunch and a few more verbs.
ALL IN ALL A PRETTY MIXED BIMBLE
.
---