Rachel's Birthday

Beez Neez now Chy Whella
Big Bear and Pepe Millard
Sun 19 Mar 2017 23:57
Rachel's Birthday
We met Rachel and Miff, Andrew and Edward, Steve and Chris (Rachel's parents) and Adrian (Rachel's brother) in Prezzo, Royal William Yard, Plymouth to begin celebrating Rachel's birthday. We enjoyed a good meal then spent time catching up. So much has occured...............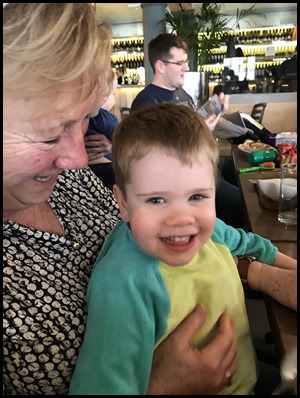 Andrew tries not to laugh but his two grandmas have other ideas.
We try the same with Edward. I am eternally grateful to be sitting here with family and friends after my 'bag of marbles' event in December 2016 – the surgeon warned that I had had only a few days left before things got incredibly serious.
Steve was way, way closer than me.
On the 8th of January 2017 he returned from a run and slipped away in his chair. The quick action of Chris phoning for an ambulance and performing CPR kept him alive until help arrived. Arresting in the ambulance, straight to Cath Lab on arrival to Derriford, he was admitted to ICU and placed in an induced coma. The 11th of January things were becoming more serious. On the 12th he rallied and was breathing by himself. Discharged on the 20th of January and today, we were chatting and laughing as if this more than incredible story had never happened. WOW. Nothing short of miraculous.
We all went up to Devil's Point for a bracing bimble and then back to Rachel and Miff's for a cuppa.
ALL IN ALL HAPPY TIMES
SO PLEASED EVERYONE WAS HERE
---