My Snorkel

Beez Neez now Chy Whella
Big Bear and Pepe Millard
Fri 15 Apr 2011 22:05
My Snorkel Off the Beach at West End
My last opportunity to snorkel in the Bahamas before our move to Florida in the morning was not to be missed. We spent the day on chores and blogs, setting off for the beach in the late afternoon. The shallow water was a bit nippy but very clear, the first thing I see is thousands of tiny baitfish that show up as little blobs in the picture as they move like lightening.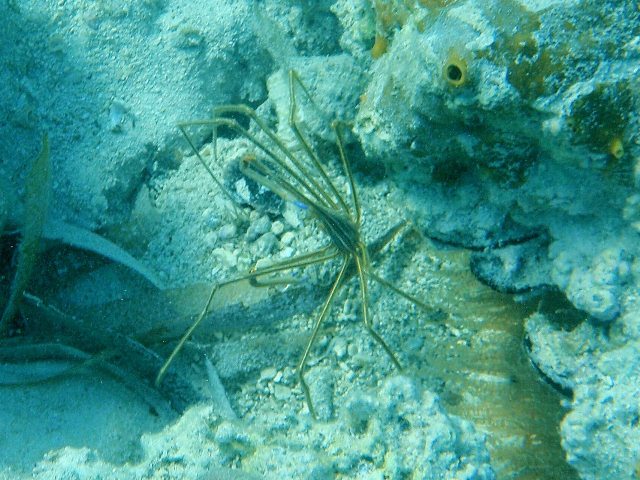 Bear was happy to paddle but I did drag him over to see my first yellow arrowline crab - now this felt like I was in for something special. Little did I know
Believe it or not there is a perfectly still fish in this picture - two inches to the right of the 'green ball' seaweed, off white looking like a piece of grass
The previous picture told me to keep a sharp lookout. I was thrilled to see my first moray eel, I kept returning to this spot, but he never came out
The usual suspects in their hundreds, complete with camouflage, amazing the amount of 'stuff' urchins can carry
Then a real thrill was this huge angelfish, at nine inches across, my biggest.
I then wanted to get him with a fish in the picture to show his size, finally one did - the smaller chap is about five inches long
Loads of big tang were scruffing about
Jellyfish always make me feel itchy. As I went into deeper, darker water so did they - loads of them - yuk
On I went enjoying every minute, seeing allsorts
My first cowfish - wow
Just about to take this chap when another scooted under him making him a bit blurry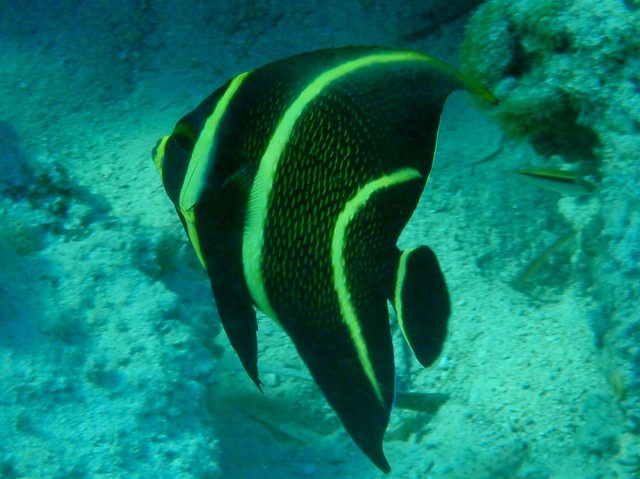 A beautiful young French angelfish and a squirrelfish guarding his hole
A huge starfish and a Nassau grouper
Now at this point, I am about seventy yards from the beach, Bear is happily sitting in the sun. I always let him know I'm OK by putting one flipper in the air, as for ages I can float in the one place, usually waiting for a fish to do something, or awaiting something to come of a hole or move into a better position for a photo. When he sees me shoot off he assumes I'm in hot pursuit of something interesting. This time was different, after a very happy hour and a half I get back to the beach, exhausted, panting hard. Bear assumingly says - Wow, you sure went at some speed, the fastest I have ever seen you move, what were you chasing? "No that was me being chased".
I had looked up into the eyes of a bad tempered, six foot bull shark, even if I had made a mistake and it was a cobia, I was still not impressed or happy. (Talking to some locals later, they said they knew the chap I was talking about "we call 'im Old Meany"). I knew immediately that I had ventured into his patch, he looked nastily at me. I flicked my flippers at him to say I was big and inedible. That didn't phase him, he kept coming at me. I said in the blog about doing a qualifying speed after feeling uncomfortable about being surrounded by nurse sharks in Staniel Cay, well this time I'm doing a burst that would have got me a silver medal. I turned back and there he was. I then improved on my personal best and went for gold. I went as far as getting chest pain for the first time and what you can swear up your snorkel tube should stay secret. So there I was in front of Bear, quite limp. If you could see my face it was in shock. Shoulders down. Bear took me for a mudslide to soothe my nerves. This is the picture.
ALL IN ALL MY FIRST TIME AS A TRUE SNORKELING WUSS
.
---