Aranui Cave

Beez Neez now Chy Whella
Big Bear and Pepe Millard
Sat 5 Jul 2014 22:57
Aranui Cave

We emerged from Waitomo Cave, parked our hard hats and bimbled over to a shelter where Norm made us a hot chocolate. We were thrilled to watch a local falcon playing with a crow. We then had a choice whether to walk a short distance or ride in the van to the next cave.
We walked, stepping through the enormous number of sheep droppings. Bear stopped to take this picture of a limestone pile, common in these parts. Soon Norm had moved the van and we were at the entrance of the Aranui Cave.
The Aranui Cave is considered to be one of the prettiest caves in the country. Its namesake, Raruku Aranui, first discovered the cave back in 1910. This is the smallest of Waitomo's three caves available to tour. Every cave we have ever visited always seems to have a 'statue' of the Virgin Mary, here was no different, this tiny stalagmite was interesting to compare our two cameras. Bear with torchlight and flash, mine with no light and kidding the camera it was daylight.
We followed a path two hundred and fifty meters into the cave, part concrete, part pretend wood made from recycled plastic milk bottles, held in place with thousands of steel screws from China and laid by our very own Norn and three other chaps in a four month period.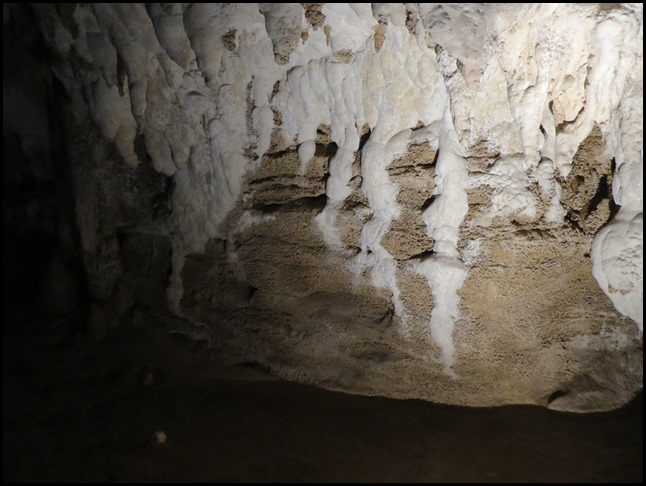 An interesting sight was where the walls looked stained brown. This happened when the caves flooded during a particularly wet season. The brown came about because the flood water had so much mud content. The usual white deposits then built over, giving this unique effect.
Along the way we stopped at the skeletal bones of a moa bird. The skull toward the left, the sacral bone easily recognisable along with the femur. In some parts of New Zealand they were the size of a fat turkey, in others, standing much higher than man, one such example is displayed in the Natural History Museum in London. Sadly, the Maori hunted these birds to extinction. The rest of our bimble was unexceptional but here are some pictures. After we were dropped off by Norm we headed toward New Plymouth and onward to Surf Highway. In the dark we took a road called Ahu Ahu and found a spot to park when the tarmac finished. A distance of one hundred and twenty miles. We slept to the sound of the sea and wondered what we would find on waking..........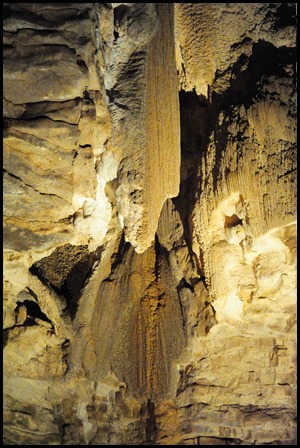 ALL IN ALL A GENTLE BIMBLE IN MUTED TONES
NOT THAT IMPRESSIVE BUT FOR THE BONES
---