To Ao Ton Soi

Beez Neez now Chy Whella
Big Bear and Pepe Millard
Sat 21 Jan 2017 23:47
To Ao Ton Soi, Koh Phi Phi
Yesterday we had our first dark, rainy and very windy day. It became a chill-out day reading, blogging, eating, playing and the odd libation after supper. This morning we woke to find it still very overcast and windy but this did not deter the tourists who were arriving by long tails every few minutes.
A few braved the drizzle to walk the sand bar.
By the time we left at midday the tiny island was heaving.
Passing the aptly named Chicken Island.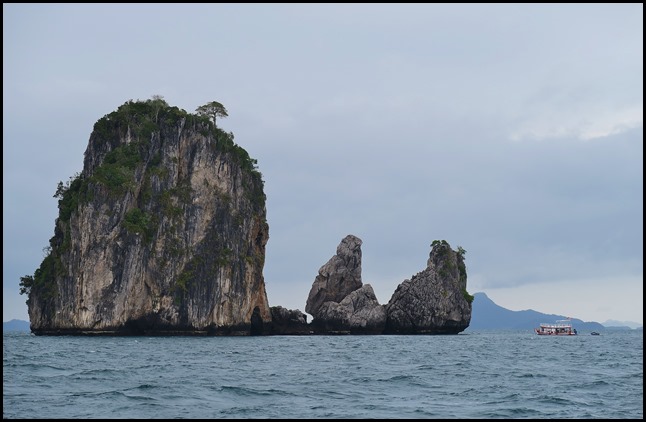 The odd hong or three dwarfed a tour boat.
The mainland – still so very overcast.
Resorts along the coast.
The bay to our left – very sheer and high sided.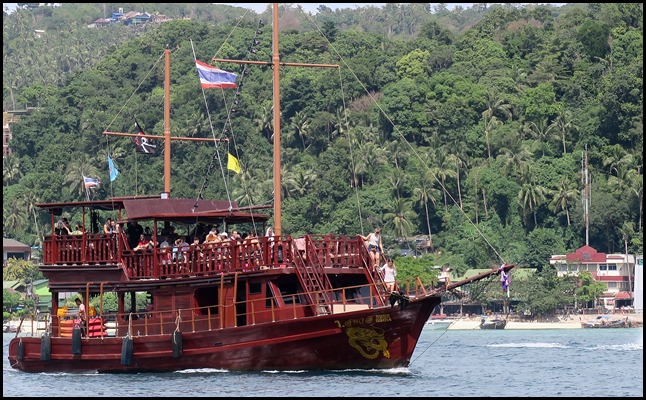 A rather attractive ferry passes by as we get into anchor position.
Here we are, all tucked up.
We will go in to a thriving tourist town but Boxing Day 2004 was a very different Koh Phi Phi.
Boxing Day 2004. Shortly after 10:00 the water in both bays receded, the tsunami hit at 10:37. The wave from the bay we are anchored in was 3 metres, the wave in the other bay was 6.5 metres – both crashed together in the middle of the isthmus. There were 10,000 occupants on the island at the time, including tourists, 11 people lost their lives. The total for the whole area affected was an estimated 850 with 1200 missing. The death toll will never be known for sure. 104 children lost one or more parent. So very sad.
Just as were going ashore look what passed by. Colour me happy – quite literally – a Berger Boat, well in these parts Nippon Paints....
ALL IN ALL A VERY BUSY BAY – SO HOPE IT STOPS BEING ROLLY SOON....
JUST LIKE THE M5
---