Good Start, Funny End

Beez Neez now Chy Whella
Big Bear and Pepe Millard
Sun 12 Apr 2015 22:57
A Good Start to the Week with a Funny End
As you all remember last week ended with the skipper in the dog house – yet again......... after he gouged a half an inch gash just as I had finished the sixth and final coat on the cockpit edging, this week had better start with something exceptional that came in the shape of an egg event. Bear can always placate with perfect eggs and I was called to be prepared for an event judging by the contents of the saucepan. Mine arrived, did I have my own events ??? no, the debris on my shells was just jetsam and I had to admit the adornments were an accidental cute step from Bear. They were indeed perfection and then I was presented with half an empty shell ???.............
Ooo dear. A nipped face, more jetsam piled on the skippers bread, I averted my gaze........and went to look at the pan, now just bobbing the four extras becoming hard boiled.
WOW the other half of the shell, guess Bear is forgiven.............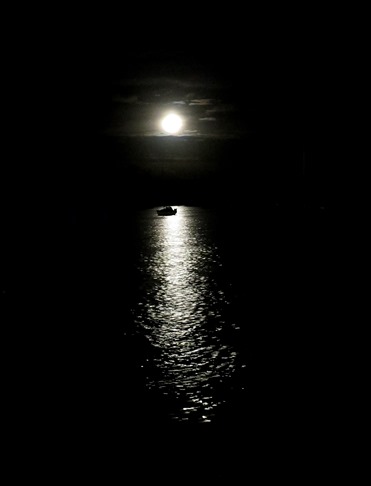 We went to a talk at the Yacht Club about how yachties visiting Vanuatu can carry little bits and bobs to help, glad to hear our remaining supply of chalk, crayons and pencils will go to a needy home. We will try to gather more bits on the list before we leave these shores. After supper we made our way across Bay Beez to a beautiful big moon.
You buy your husband new sleep shorts and best tee shirts [when not to be worn out any longer] become work shirts or if too thin become sleepwear, a natural progression. Every time this particular combo went into the laundry I politely asked that when next dirty they be consigned to the rag bag. I wasn't being harsh, the shorts were indeed see-through in places and not a great look when the said wearer bent down........certainly something not to be paraded for small children and those of a delicate disposition. The tee shirt had row upon row of tiny holes. But these are my favourite comfies........This morning I couldn't stop my fingers from grasping and ripping – no trouble at all – ripped like a used tissue. Fingers were now reeling with success and set about the upper body covering, very satisfying indeed. Does this make us even, are we all steady now........ Seems fair.
Braced for the final sewing jobs I saddled up, all was going really well when on the final zig-zag stitch of a run, the needle exploded and there was an alarming clatter of metal 'down below'. I swung my trusty steed over on his hinges to look underneath, the bobbin, shuttle and brace clip were awarded three faults for a refusal. The shuttle had a dent, not sure if it was there before, all put back together my ride would manage straight lines but nothing else. Bear went into action with the his finest sandpaper after reading in the manual that any snagging would prevent smooth stitching. Several attempts and still only straight lines, within a few minutes new parts were ordered from Sailrite USA. Gosh he is on the 'make up for prior misdemeanour'....... Nothing for it but to get on with Spring cleaning.
The cupboard I always try to put off is the double behind the sink and cooker. My poor sponge was ripped to shreds on some poking out screws, I got the captain to take a look and immediately the screw driver was on full throttle. The Trinidad fitters didn't tighten them flush, easy to sort. My,my, the man is doing his best........ I asked him what he was up to. Oh I've just finished my jobs why, do you need a hand. That would be great. I start by pouring the contents of a storage canister with the least in it into a bowl, wash said canister, dry perfectly, pour the next ones contents, wash and the process becomes a working circle. I sat Bear at the table, gave him a tea towel and roll of kitchen towel and explained the circle. He would be in charge of drying, making new labels and sticking them perfectly in the centre. Rightee-ho. He did take the dead-centre bit really seriously. Base scrubbed, new non slip mat, all was indeed going well, the first of the cleans in place........then I made a miscalculation on my husbands abilities, I thought he had seen me toss two portions of cook-in-the-bag rice on the table before pouring the couple of inches of ordinary rice into his next clean canister..............Oh dear. I look back just in time to see one of the cook-in-the-bags being poured on top of the ordinary rice. If mixed, the boiled result would have over cooked wallpaper paste mongst the normal. You'll never guess what I saw next...............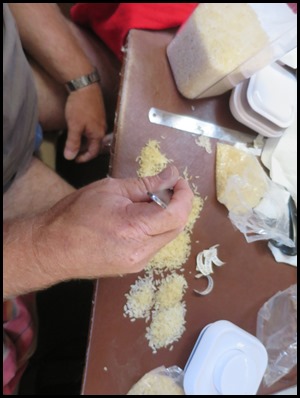 Yep, the man that holds not one but two degrees was actually sorting rice grains with the end of a spoon. I'm not counting them...... Well colour me exasperated....... By way of punishment you can put every grain back in its bag and staple it shut, guess who will eat that little package. Oh the glum-sorry-boy-face, I had to see the funny side and soon we were both giggling. Steady with the naughty look.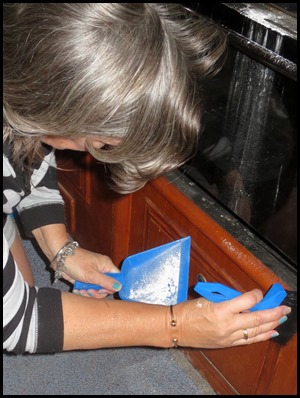 Payback came with the next canister - cornflour, the fixed lump in the bottom suddenly erupted over the cupboard contents yet to be sorted, down the front of the cooker and on the floor. Love that pose, lady. Don't make me growl but where did all the silver hair come from, did someone lend it to me and forgot to take it back.........Well earned my Silver Fox. GRRRRRRRRRowl. Married to you I'm surprised I'm not pure white..... Huh.
Friday evening we watched a pretty sunset. Saturday morning the heavens opened. More indoor jobs and the usual pattern of a game of backgammon after lunch. My run of bad luck has finally ended and my pot of money has stopped leaking. Growl.
We are still enjoying our Mexican train-fests at the end of each day. Can you believe the above scenario – Bear had twenty four men to my three, guess who won. Skill huh, grrrr. On Wednesday Bear beat me by to, 286 to 288, Thursday was a happy 133 to his 470, imagine the mans anger on Friday 364 to my 363. Paint Bear incandescent, I thought it was great, you would wouldn't you.
ALL IN ALL I FEAR I'M STUCK WITH HIM
I NEED GUIDANCE, CLEARLY
---