Shuffling Along

Beez Neez
Skipper and First Mate Millard (Big Bear and Pepe)
Sun 23 Feb 2014 23:57
Shuffling Through Another Week
The week began with an enthusiastic burst of activity from the skipper. He finished in his 'office' on Monday and on Tuesday moved to mine. Well really it's the spare bedroom that houses the desk (chart table), that makes it mine. Huh.
Anyway, I have been very intrigued ever since I eyed an interesting looking spray 'that finishes in your cavities'. On Tuesday I saw it in action, still intrigued but I was sanding doors and had to get on.
Judging by the very neat engine, the skipper and his spray are doing a really good job, except for the pieces of tissue about the place. Work in progress Mrs, work in progress. I can't get one of the injectors off, three came off a treat. Now, I have to get a man in with a very special tool. This is when I thank the Lord that I'm a woman.........................Huh, in fact, double Huh. Steady....
Engine done for now, Bear moved onto changing the water pump, very impressed with the new purr that replaced the whirrrrrrrr, whirrrrrr, whirrrrrrr, swish, swish, swish ....... Marvellous, so pleased that's done as seeing the skipper with a naked flame, however small, is indeed a bit of a worry.
Overkill. This big box came with three blow-up pillows, two wads of foam and the actual packaging, all for the tiny label machine refill in Bears fingers. Another story, mine blew up, well it started doing odd things, had strange things in the display and that was that. Bear took charge of ordering a new one. Great, he did all the research and proudly announced he had been a good boy. I so wish he wouldn't use such big words he clearly doesn't understand. Another box arrived, new printer and three different sorts of labels. The captain, with the need for a rash feeling of neatness, there, yet another big word..... wanted to make black labels with white writing. One of the new packets of label, far too big for my replacement machine. Swear words are now coming out of fluffy cheeks. Order yourself a new one and mine can be out of bounds. Yes, until you want to 'borrow' mine and I never see it again. Now then, now then, is that fair. Grrrrrrrrr.
The old thingy was ditched in the sink ??????? Oh, did you clean it this morning. Every day I try to clean for an hour before starting a job. The sink shone like a new pin, clearly not now then.........Oooops...............See Bear disappear down the ladder in a sudden need to be busy outside. Did he stay out of trouble this week. I could think of one or two words to enter here...........However, the classic was a site meeting back in the office. Where to place the controller for the bigger solar panels, actually a job in next years budget. Lo and behold, he picked the box up from the office seat, swung it over and clunk. Smacked it straight into the newly finished varnish – chip. It was your fault, I didn't have enough swing room, you were standing there, I have my varifocals on, I.................... Paint Pepe's face a dark shade of purple. I'm sorry came the meek defence.......too late to have stopped the need for revenge.
Revenge came soon enough. Bear went in to the fridge to bring the sarny makings out. I saw several holes in his work t-shirt and my fingers couldn't help themselves. Oh, it's my favourite, it's......... Tough. Maybe that's the last time you chip, scratch, walk into, knock or generally act sloppy and clumsy around the varnishing. I'm ready to throw out my sander, brushes, pots and down tools for good.
Bear took this as a serious enough threat, a quick call and off we went for a day in Mrs Puki (on the left), thank you Rod and Mary. We all know how seeing a Bug puts me right. I know, I know, what a soft touch........and a couple of bottles of real Russian vodka, OK no need to lay it on thick.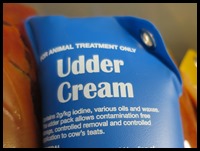 How to have fun in a farm shop. That's a shop for farmers as opposed to one of those posy shops you buy pink gardening gloves and flowery trowels. This is the real deal. We saw things we've never seen before. How tempted was I to buy electric fencing and a retractable cattle prod ???? Huh. At least I could keep you corralled and out of mischief.
I could use some emollient salve on the ever painful hands and I wonder if anyone has ever tried Jump-Start or Oral-Cal in their muesli. Oh, I'm not that bad, am I ??? I, at this point feel the need to stay absolutely silent......... Huh.
The favourite has got to be Calves Love Peach Teats..........
Enough of the silly stuff, off we went to the Warehouse, my new best shop in Kerikeri. I introduced Bear to a new product that does what it says on the packet and was given very short shrift. Still he did shock a lady as he 'tried on' some microwaveable egg poachers, I know, we REALLY do have to get out more often.
Shock Horror. I have been enjoying Laughing Cow for a great many years. When I'm running low in the fridge, I just grab a couple of packs. Well imagine my shock when I find my beloved cheese has been 'filthed up'. For some time the half fat stuff has been available, and, if bought by accident is OK. This stuff – huh. I love mushrooms, although never raw, it's a texture thing, but in my triangle – unbearable. The paprika one was a but pink and after the first bite was just about do-able. Herbs, forget it, smelt like bad breath and will be swiftly handed over to the human dustbin. The little supermarket in Paihia only stocks the normal stuff, but note to self – check each time in the future.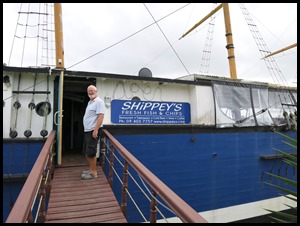 On our way home we stopped for a fish and chip lunch in a converted old lady. Very good too, Bear had trevally and I had dory. This is how I know herself is out of sorts, or off on one and its serious, she requested fish and chips. Must look out for warning signs quicker next week. Must try to stay below the radar. What are you muttering about. Nothing dear, nothing. Mmmmm.
Rob has been busy and now taken all the seven windows out, here he is removing the kitchen one, that nee resealing. Funny, now they have plastic taped in place over them, they don't leak. Maybe that was the answer at sea......
Deep joy. The week ended with me being allowed a really quick blast on the newly finished bow thruster. Floor replaced in the office of 'himself'. Doesn't it look lovely. Steady,,,,,,,,,, have you ever seen what its possible to do with a full bottle of thinners.
Bear has
Run Bear, Run.
New boxes to sort stuff on the shelves behind the hanging clothes. Sort some drawers, that'll take weeks.
Ok I'll do it for myself. Run Bear, Run.
So here we are again, another Sunday. Boiled eggs for breakfast and an episode in the final season of Damages. More to do today, as every day.
The most incredible thing this week. Last Friday I sent a card to my brother in Australia. I had lost his email address in a computer crash a long time ago. Friends came back from a visit over there and had found his address in the White Pages. Two days ago I had an email. We will meet up when Beez docks in Sydney, hopefully in 2015. The first hug since April 1982. Here's looking very much forward to it, Chris.
ALL IN ALL THE CORNER HAS BEEN FINALLY TURNED
FULL SPEED AHEAD – JUST TWO WEEKS TO GO
---