Eggs & Still Raining

Beez Neez
Skipper and First Mate Millard (Big Bear and Pepe)
Thu 29 Jun 2017 22:57
The Perfect Eggs in the Foulest of Weather
We wake up to even more rain than yesterday. Nothing for it, it's egg time. No arguments from me especially when I saw perfection.
So good I had to take another picture.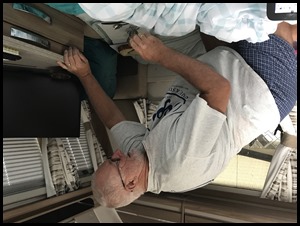 Watching Bear manoeuvre back into bed, passing me without causing injury, sliding along with his tray trying not to spill anything has always been fun to watch. Well, for some unknown reason these pictures taken on Bear's phone will not appear the right way up. So here is my captain comically, although some would say correctly - right wrong and inverted Bear...........Steady.
ALL IN ALL ANOTHER BLOG AND TV FEST
CANNOT BELIEVE THE RAIN AFTER LAST WEEK'S SUNSHINE
---