An Arequipa Trot

Beez Neez
Skipper and First Mate Millard (Big Bear and Pepe)
Sun 26 Sep 2010 21:52
A Trot Around Arequipa
Our first stop was a taxi ride to the local Alpaca Outlet shop. This young mother took exception to me, shouting and "snotting" at quite some distance
While we wandered around the beautiful garments our cabbie waited patiently catching some zeds. The prettiest shawl in Baby Vicuña cost fourteen hundred pounds
Arequipa - The White City of Sillar is a product of volcanic eruptions. Sillar is a pyroclastic rock composed principally of feldspar, oligoclase, glass, quartz, biotite and ferric oxide. The greater part of the sillar to be found in the Arequipa Valley was produced by eruptions of Mount Chachani. Nowadays, most sillar is provided by the Anashuayco quarry, extending over twelve miles and cut in places to a depth of one hundred and thirty feet. As well as white sillar, there is also a pink variety which is harder and less porous, but less abundant and quarried in similar quantities than the white kind.
Sillar began to be used during the colonial period; there is no evidence of its having been used in Pre-Hispanic times.
A light material, sillar is easy to work but is sufficiently strong to withstand the compressive forces imposed on it when used as a structural element in walls, vaults and domes. Its porous nature gives it excellent acoustic and thermal properties. It is easily carved, each cut producing a dramatic effect of contrasting light and shade owing to its intense natural qualities, giving Arequipa its name and character. Like almost all the buildings in the historical city, many rural buildings and Saint Catherine's Convent are built almost entirely of sillar.
Back again to our restaurant overlooking the Plaza de Armas for a cup of hot chocolate and to watch the world go by for a while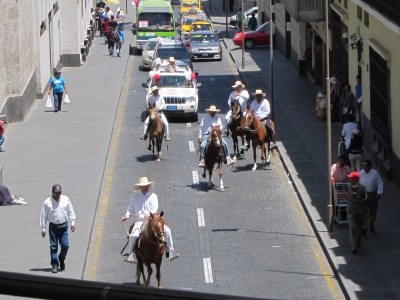 Another political candidate canvassing, this time on Paso horseback. The elections are next week and it is compulsory to vote here in Peru
Then on the table next to us the national dish of Guinea Pig was served, the local chap ;laughed at our wanting to take pictures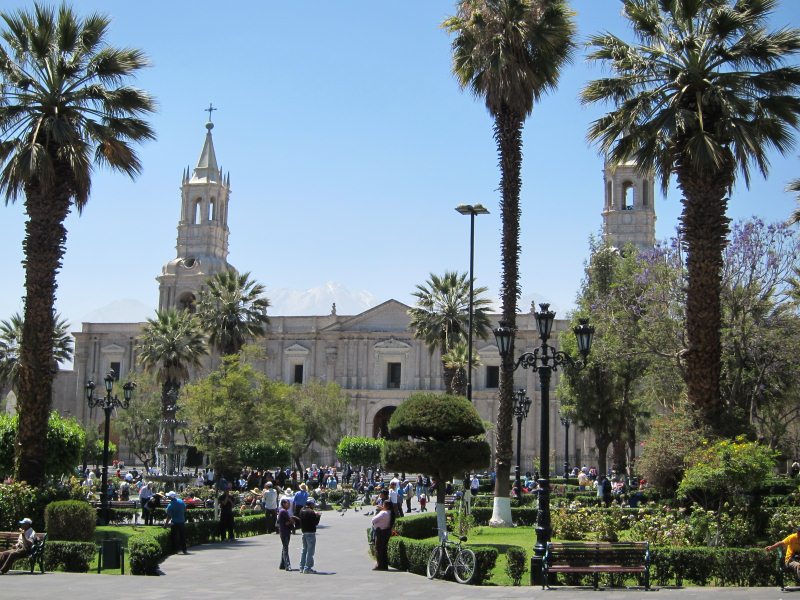 Playa de Armas
Wandering around never sure what we will see next, especially through doorways. The local newspaper and Police Station complete with Lions Club Emblem
A Variable Hawk sitting on the Monastery tree
A faint view of Misti in the background
A peacock in a cage in the hotel gardens next to ours
We took a late packed lunch back with us after our trot, wary since the food poisoning episode Anne and I suffered at the hands of the mushroom soup. For the first time in my life I was sick in a carrier bag on the back of the bus to the Colca Canyon - not best pleased but I would have gone on my hands and knees not to have missed it. Sadly Anne and Alan stayed behind as hers was from the other end.
ALL IN ALL A GREAT CITY TO BIMBLE AROUND.
---