La Gazelle D'Or

Beez Neez
Skipper and First Mate Millard (Big Bear and Pepe)
Mon 3 Nov 2008 22:29
The question we would not blame anyone for asking is "how can they still be having a ball in Morocco when Kate is in hospital".
The truth is we spent hours trying to find flights out: Royal Maroc not in the next two weeks and Ryan Air full flights of returning holiday makers.
We have NOT been able to sail on for easier access flights from Lanzarote as a force 9 was bearing down on the Canaries. We aim to leave Morocco ASAP.
The hotel did not permit visitors to carry their mobile phones outside their own rooms, we were an exception when we told them of Kate.
The lady owner in fact sought us out at dinner to ask after Kate and to wish her well.
La Gazelle D'Or
In the book "1000 Places to see before you die" there are just two hotels mentioned under their own title in Morocco. The first is La Mamounia in Marrakech, this was closed for re-decoration but as it turned out we were happier in the oldest Riad La Plein Sud.
The second in the book is La Gazelle D'Or, I will copy what it says.
"A lush, remote hideaway. Deservedly famous as one of the most exclusive and opulent retreats in northern Africa, this former hunting lodge is surrounded by its own luxurious oasis in the middle of the desert. Snuggled amid the jasmine, rose bushes, towering lilies and hibiscus are thirty flower-covered stone cottages in as many acres. Beyond them stretches a citrus plantation thick with gnarled olive trees. Beyond that lies the desert and on the horizon, the snow-capped Atlas Mountains. There is a riding stable on the grounds for sunset forays, but most of the well-heeled British and French guests luxuriate in doing nothing. A famous poolside lunch buffet of numerous Moroccan salads and specialities draws non-hotel visitors. The dining hall is an opulent Moorish tent-like space, where a five-course Moroccan-European dinner is served by gracious waiters exotically dressed as if for some royal feast. The hotel is a ten minute drive from the ancient town of Touroudant, once magnificent enough to be called "Little Marrakech". Hidden behind four miles of crenellated, 20 foot high walls, the town has an excellent souk for some animated bargaining and trinket shopping".
The main entrance to the complex is through a guarded gate, up a very long drive, for the first time we handed the car keys over for the car to be parked for us. To the left of the main building is this first look at the gardens. We entered in through this unassuming, partly hidden door to main reception (on the left) Expensive trinket shop to the right. I booked the hotel for one night as a taster and could justify the cost as it has been so cheap to live in Morocco. Rabat £3.00 per day, Agadir £12.00 per day. The Australian boat beside us paid 200 Euros to anchor off Sardinia for one night!!!
Right, what was it really like?
After filling in guest forms we were shown through the dining room and out into the sunshine, the path leading from the main pavilion to our room. Website for you to have your own tour
www.gazelledor.com
As soon as we settled Bear got on the phone to speak to Kate, I took in the outside, fingers firmly crossed, by the time our wine arrived Bear felt able to relax a little. Kate had sounded quite bright and we felt somewhat reassured.
Beds with his thoughts sitting looking out toward the Atlas Mountains, Bear doing the same and me sitting on our sun terrace deep in my own thoughts
Bear in the bath at the end of our long corridor, away to his right was the toilet and bidet room, next to that a walk in shower. Away to Bear's left was the double sided wash room with 'his and hers' basins. It was a full 28 strides from my side of the bed to the toilet! We both laid in the bath for a couple of hours, went for a full body massage, a first for both of us. I slacked out after a bottle of Rose Wine and we went for 5 course dinner at 21:00 in the stunning but muted dining room.
HISTORY (taken from the bedside reading wallet)
"In the years following the Second World War, the original owner of the land conceived and created, over a period of nearly ten years, a hotel with extensive grounds which finally opened, as La Gazelle D'Or in April 1961. At that time, there were just twenty guests' cottages still numbered 1-20 (we were in number 13). The central clubhouse with its dining room and bar, a small swimming pool, a little farm, and some young orange trees. After dinner, guests were escorted to their rooms in the dark with oil lanterns, and telephone calls tended to come through a day or two after the caller had left. But La Gazelle D'Or became known to insiders as a sort of private club, where they could rely upon convivial company, interesting food and a clement climate. The original owner died in 1972, and his widow decided to relinquish their unique creation in 1974: a local management partnership bought the property.
The current owner of La Gazelle D'Or came to stay for one night in 1981. Despite its sadly run down state, she fell in love immediately with the place, realising its wonderful potential, exotic appeal, and intimate ambience, and was able eventually to purchase the estate. Then followed two decades of labour and creativity devoted to recapturing the spirit, and restoring the structure and fabric, of the hotel.
In 1985, cottages containing a further 10 rooms (including two suites) were added together with a new dining room, card room, library, stables, tennis courts, enlarged pool, hammam (traditional steam baths) and massage rooms etc. Further refurbishment takes place every year when the hotel closes for the summer, and particular attention is paid to the gardens and grounds. The hotel farm is now entirely free of chemical additives and processes, so all the fruits, vegetables, herbs, milk and other dairy products, delivered fresh every day, are 100% organic and bio-dynamic.
La Gazelle D'Or does not attempt to present an image or make a statement. Our aim is passively to provide guests with the quiet comfort and discreet service that will enable them to relax and draw from these special surroundings their own individual pleasure time and time again".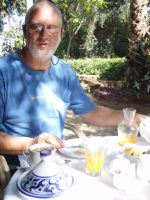 A banana tree is not what you expect outside your back gate. The stunning heated pool far behind this enormous pool was the massage rooms and steam baths. Bear examining a Pomegranate. Our table decoration at breakfast outside the pavilion at 11:00, you can request breakfast before 06:30, by arrangement, usual service 06:30 to 13:00, you can choose to eat in your room or on your sun terrace. Lunch 13:00 to 18:00. Dinner from 20:00.
The resident dog came to visit us at breakfast and obviously uses the garden feature as his own private water bowl, returning via a well trod path through the beautiful flower bed.
I have never seen a bed of "Mother-in-Laws Tongue" grown naturally, just as a single stem you buy from M&S as a pot plant. The stunning Canna Lily, sadly time to load the car, safe in the car-port, and be on our way from this heavenly retreat.
The view from our front terrace, looking to the snow-capped Atlas Mountains.
All in all just as it said, this remote oasis lived up to its blurb in spades. AMAZING. AMAZING.
---