SOH and Anna

Beez Neez
Skipper and First Mate Millard (Big Bear and Pepe)
Sun 27 Dec 2015 23:57
Sydney Opera House, Anna and Night Bimble
A perfect start to the day with a tiny event for Bear.
We left Beez at three, these folk are keen not to have the sun kiss their bodies.
We parked using Book-a-Bay, stopped in the Opera Bar for a couple of drinks and made our way into the Joan Sutherland Theatre.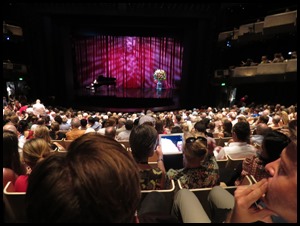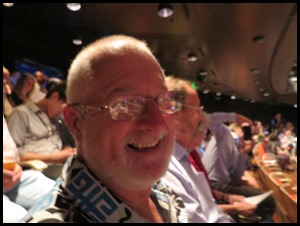 We enjoyed the atmosphere, a delightful Turkish couple to our right are here in Sydney as part of their Silver Wedding Anniversary celebrations, next stop Uluru. A mother and daughter from Paris, two couples from Germany – what a great start. We settled as the theatre filled and thoroughly looked forward to the next ninety minutes.
Our host and pianist – Guy Noble came on to introduce the proceedings, was really funny and informative. Then he began the opening number.
First, we had Luke Gabbedy [baritone] with the 'Largo al factorum' from The Barber of Seville, then Anna Dowsley [mezzo] singing 'Una voce poco fa' also from the Barber by Gioachino Rossini. Natalie Aroyan [soprano] sang 'O patria mia' from Aida by Giuseppe Verdi. Anna came back for 'Va,laisse couler mes larmes' from Werther – Jules Massenet. Luke followed with 'Valentine's Aria' from Faust by Charles Gounod. The ladies came on to wow us with 'Flower Duet' from Lakme – Leo Delibes and my favourite with the first appearance of the tenor, Simon Kim singing with Luke – 'Au fond du temple saint' from the Pearl Fishers by Georges Bizet. We then had a twenty minute break. Guy came back and we had to practise the La,la,la to accompany the finale chorus of the drinkers song.
Part II. Anna sang 'Seguidilla' from Carmen by Georges Bizet. Simon did the emotional 'E lucevan le stelle' from Tosca by Giacomo Puccini. Natalie sang 'Ritorna vincitor!' from Aida. Luke sang 'Toreador's Song' from Carmen. Simon sang 'Nessun dorma' from Puccini's Turandot. We had to go wild to bring everyone on stage for 'Brindisi' from Verdi's La Traviata.
An excellent selection, performed brilliantly by the talented singers, accompanied by the gifted Guy on piano.
At six thirty we rushed to the main steps outside the Opera House, and there she was. Anna – a very talented artist born in Poland, now living in Sydney that we first met in Guadeloupe and then in Panama. We had supper and a catch up in Buckley's. We bimbled for the first time in Sydney in the dark and simply enjoyed the atmosphere. Anna bought us coffee and then it was all too soon our ten thirty parking time was fast approaching. We bade our 'farewells' and mused as to where we will meet up again – Burma, India......... Until then............ xx xx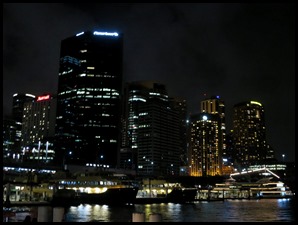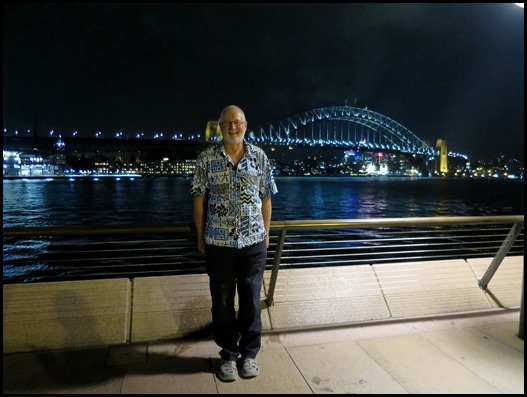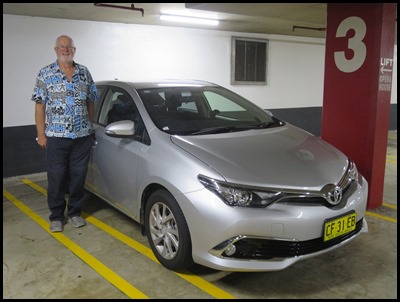 We bimbled back to our little car and out into the enormous full moon. Tired when we got home to Beez but very, very happy.
ALL IN ALL A BRILLIANT DAY
FANTASTIC DAY
---