To the Galapagos

Beez Neez now Chy Whella
Big Bear and Pepe Millard
Sat 30 Mar 2013 23:57
We Are Off to Sea
Tuesday the 26th of March. We finished our final chores in readiness for the plotted one thousand and fifty mile journey to Wreck Bay, San Cristobal in the Galapagos Archipelago and the sound of the anchor coming up was heard at midday.
We did a farewell pass by Le Chat Beaute and with full leaving ceremony Paddy blew his impressive conch shell, what a send off. Sad to leave Paddy and Queenie, we wish them a fantastic time watching the Americas Cup and hope to meet them again "down the road".
We passed several of the Pearl Islands
We watched a Brown Booby 'sail' by.
The final tiny rock of the group and out to sea.
Toward dusk we heard an almighty splash, friends were gathering
No matter how often we see them, they bring such joy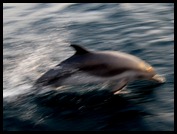 They raced, jumped and surfed, but so fast
With a fond last jump, they went off fishing
A very gentle first sunset over a quiet sea. Peaceful, the Pacific Ocean
A massive, bright full moon
My only visitor in the night
Moonlight gave me so much light. I had a fit of the 'let's do it's' and made a personal best of thirty two point one nautical mile covered on my two till six watch. Dawn on Bear's watch
Wednesday the 27th of March.
Nothing much to report. Caught the captain in his usual repose. I know, I know, the skipper needs a haircut, diarised before he sees King Neptune. Our first twenty four hours saw a very respectable one hundred and fifty four miles covered.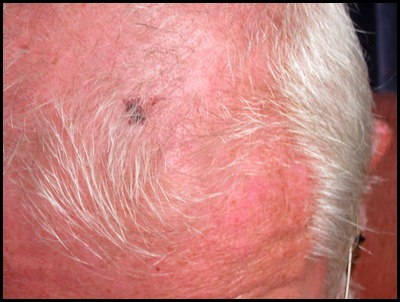 Our first injury of the journey happened when the captain head butted the fly screen in the bathroom, of course he was fine after a snooze.
Beautiful visitors, always in pairs. When they fly past at night their underside luminesce. The dark brings our own fireworks show in the water as Beez disturbs the surface of the water.

Thursday the 28th of March. Another respectable twenty four hours chalking up one hundred and forty five miles. Our first and only chum heading for California.
Another amazing moon
Happy Hydrovane quietly wind steers us and the sea is so smooth we play Backgammon and Rummikub. The captain informs me we could stay settled like this until Sunday. All I can answer is if this is what crossing the puddle is about, count me in, can I do this for up to four weeks on our biggest journey from the Galapagos to the Gambiers, YES.
Friday the 29th of March. One hundred and ten miles in the last day, slowing now and having less and less wind. What does a hot flush at sea look like ???
Saturday the 30th of March. One hundred miles covered. Another unique first. We join up all thirteen blue men in a one of our games of Rummikub.
Sunday the 31st of March. Happy Easter to all our blog readers. Well over half way, YeeHa. Ni
nety eight miles covered. Red footed visitors arrive – own blog.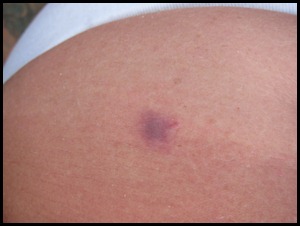 Then I really do it. I shut my stomach in the battery drawer of my camera, don't say a word. Silence, it's the best policy, I feel. Next I get my cloth and polish to go forward to clean Pepe's perch. I get half way, a rogue one in the wrong direction caught me and despite holding on with both hands I get upended. I took the kitchen window with me and landed on its edge. In actual fact I was really lucky, a few inches over and I would have broken my tail end. The puncture wound at the bottom of my right cheek was the most painful bit of all. Needless to say I withdrew to the safety of the cockpit, cleaning ideas departed and a cool cocktail from the captain to put me right. Over the next few days said shiner came on nicely.
Our days at sea have settled into a great pattern. Bear puts out the fishing line and goes to report in on the unofficial net. The long range radio is finally coming in to its own. All the boats in our little fleet state their position and what their conditions are like. I come on at ten, Bear gets us cereal. We may do a couple of chores – I get lunch prepped, a bit of washing, Bear may make some water, we take a few pictures. So quickly its lunch time and we eat our proper meal of the day. Sweet and sour chicken, beef stew, curried mushroom noodles, tuna salad and mash – just some of the dishes rustled up. Then we settle to the currently unpleasant (for me) game of Backgammon, I am in the midst of a seven game losing streak. A game of Upwords and a few games of Rummikub until Bear goes down for the early evening net. Fishing line in, settle for the night. Captain likes to sleep in the cockpit from seven thirty until he comes on at ten. So quick.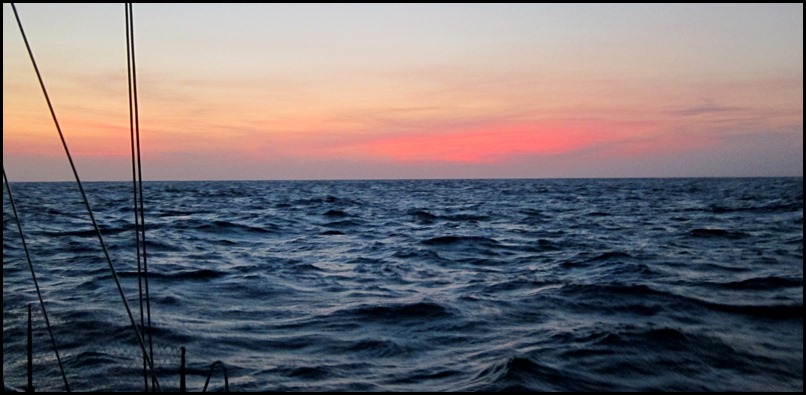 ALL IN ALL A REALLY LOVELY JOURNEY SO FAR
THIS IS WHAT ITS ALL ABOUT
.
.
---