To Mark Bay

Beez Neez now Chy Whella
Big Bear and Pepe Millard
Mon 2 Jan 2012 23:10
To Mark Bay

We were awoken by the gentle sound of gun fire at six this morning, definitely 'hern(t)in' season. After an hour it was completely silent once more and we could enjoy the sheer beauty of this idyllic spot. The only good thing about being here in the cooler weather as opposed to the height of summer is the lack of bugs. The last time we were here Bear had all sorts running around in the fur on his chest and there has been no need to light a coil as there are no mosquitos. back to today – we were ready for the off at half past seven.
The first picture is looking to our right, this one to our left and the way we will go to rejoin the ICW (just around the left hand corner)
A whole crowd of turkey vultures disturbed by something, we couldn't see what
Our first Wood Stork flew high overhead, then the unmistakable and very haughty chap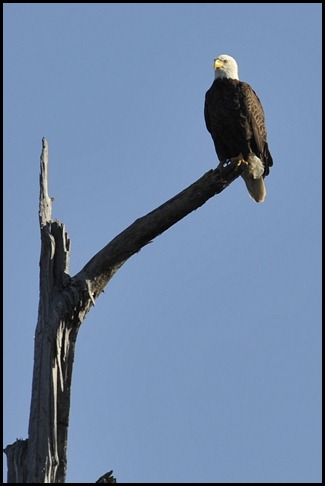 Bear clapped, I jumped up and down squealing and all he would do was turn his head slightly
Meantime, this chap stopped flicking his fish, the other one took off in a rush
This lot couldn't care on way or another
These got into a tizz. Oh well, reminds us of a tale.
An eagle was sitting on a tree resting, doing nothing. A small rabbit saw the eagle and asked him, 'Can I also sit like you and do nothing?' The eagle answered: 'Sure, why not.' So, the rabbit sat on the ground below the eagle and rested. All of a sudden, a fox appeared, jumped on the rabbit and ate it.
Moral of the story:
To be sitting and doing nothing, you must be sitting very, very high up.
Moving right along
ALL IN ALL KEEPIN' ON SOUTH

.
---