Beach and Roti

Beez Neez
Skipper and First Mate Millard (Big Bear and Pepe)
Thu 19 Nov 2009 23:58
Manzanilla Beach
We arrived at Manzanilla Beach, Jesse warned us about undertow and gave us half an hour to go play in the surf. We went out to about hip height, the crashing waves threw us back toward the beach.
We really enjoyed ourselves on this beautiful beach, fully manned with Life Guards. Bear took this shot along the way of the mounds of coconut husks that will be sold as fertiliser. After our play at wave riding we spent 10 pence or one TT$ on a shower looked after exceptionally well by two ladies.
The reason there are so many thousands of coconut trees along this beach is an 'Urban Legend' that a cargo boat carrying them broke up at sea and they planted themselves.
We stopped at a fruit stall and for £3 Bear bought me this Brazil Nut. The thing weighs about three pounds and now makes us realise why the nuts we used to buy at Christmas were always so expensive. If one of these thing hits a harvester on the back of the head - a safety helmet would give no protection - it could kill you. The actual nuts are sitting around in a fleshy bed. The white thing is the fruit attached to the nut.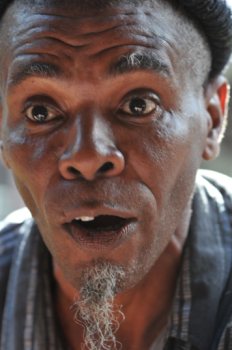 Our salesman giving Bear the 'ins and outs' of the aphrodisiac qualities of making a soup from the white bits. By comparison to Bear's fingers you can see the size of the beast. Being sold to.
Then we stopped at a posh Roti Shack that Jesse can remember it being little more than a shed when he first started eating there. We had beef rotis, the meat was so tender and delicious.
It was a pleasure to watch Jesse enjoying every bit and washing it down with a Coke.
School children were coming out as we got back onto the road.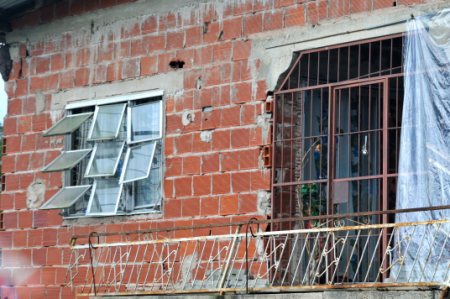 I loved this window arrangement as we drove by. And this sign was too good to be true - Scrunter's Pork Dance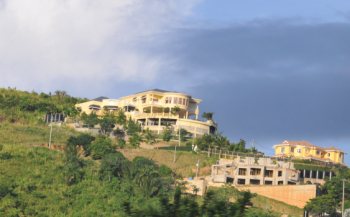 My favourite house on Trinidad that commands stunning views over Port of Spain and the sea off Chaguaramas
By the evening you could call me "Toxic Nell"
ALL IN ALL A REALLY GOOD AND VARIED DAY - THANK YOU JESSE, WE WERE EVEN TOO TIRED FOR AN ICE-CREAM
---