New Year's Eve, Cape Town

Beez Neez now Chy Whella
Big Bear and Pepe Millard
Wed 1 Jan 2020 00:07
New Year's Eve in Cape Town
At six Kimi and Trevor popped over to Beez for a 'catch up' and holding an adorable present for us.
A gorgeous little dung beetle complete with his prize. I was given the honour of naming him. I chose Kimvor – sounds vaguely African and will always be a memory of our amazing road trip to see the Big Five. Thank you both xx xx.
At seven we set off for Slow Flight, (aka The Party Boat). No wonder the sea lions loll about the marina, millions of little fish.
Pizzas arrived at seven thirty........
........with a high potential for 'things to get messy'.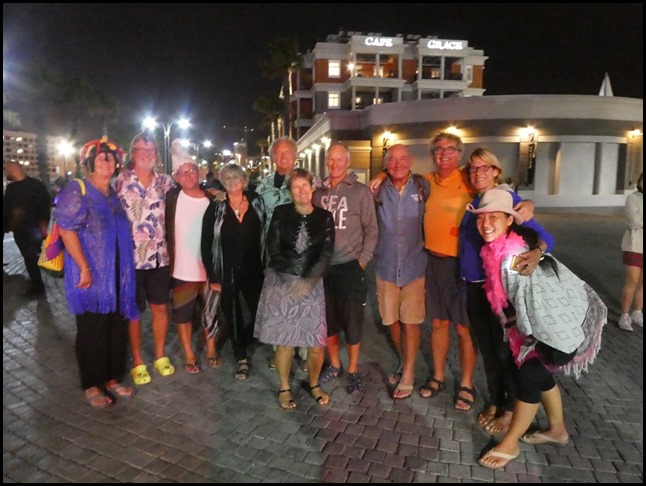 At eleven thirty The Assembly headed out to find a suitable spot to watch the fireworks. From right to left:- Kimi (Slow Flight), Irma and Kevin (Canace), Fred (Serafina), Bob and Bev (Icarus), Allen and Patricia (Nauti Nauti), Trevor (Slow Flight) and us. Bear and I felt that Trevor should not be alone in the hat department.
A right pair.
We settled on the bascule bridge next to the marina, looking toward the crane and the outer bridge.
Behind us the V+A Marina. High above we could make out a line of lights on Table Mountain. Will I ever forget the traumatic entry and turning left beyond the tall mast on the left ??? Not for a while yet.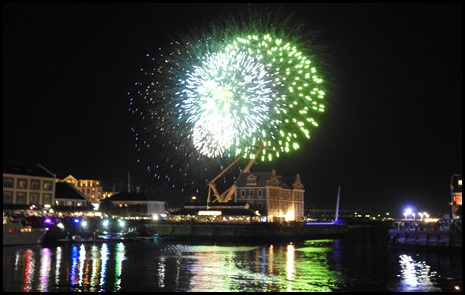 At the stroke of midnight the sky lit up, huge cheers and New Year's kisses.
These may not be the most spectacular fireworks we have ever seen but what a way to mark our arrival in Cape Town. Louie in the marina office told us that these may be the last ever as there is so much controversy connected to the event. What a terrible shame if this turns out to be true. The Mother City must carry on. It is always a joy to watch the news on New Year's morning and see all the cities flash by, Cape Town must be amongst the group.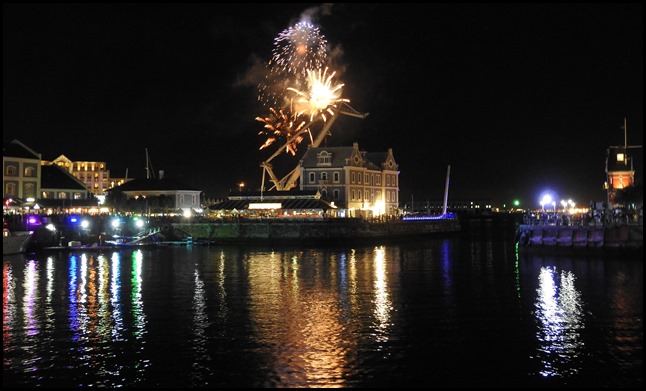 We thoroughly enjoyed the display then bimbled back to Slow Flight. Snacks, fun and laughter – we left at four.......
We would like to wish a Very Happy New Year to all our family and friends. May the new decade be awesome and 2020 be the very best yet.
ALL IN ALL WONDERFUL TO CELEBRATE BEING HERE
A GREAT TIME WITH THE GANG
---