Beez and Mirador

Beez Neez
Skipper and First Mate Millard (Big Bear and Pepe)
Tue 23 Apr 2013 22:47
A Visit to Beez Neez and Back to Being Tourists
Overnight Galapagos Vision motor sailed to Puerto Ayora, Santa Cruz, as soon as we had eaten breakfast Chino gave us a lift home – just for a couple of hours. Before we left we said our 'farewells' to Tony and Max, Eli and Tabeat and also Liliana. (This mornings activity was to visit the Darwin Research Centre, we didn't feel the need to go again). Beez is just to the left of the tallest mast. All was well and Bear was delighted that the power level had only dropped to ninety two per cent. The solar panels and wind generator are doing their jobs, good stuff. The girl has a new green/brown beard with a certain amount of grass, chore one when we get back to her.
Just before Chino was due to pick us up a water taxi passed with Captain Douglas and Busy aboard, they swung back round and off we went, difficult to leave the girl once more. Aboard Vision were Bob and Janet from Pennsylvania, our new shipmates. After lunch the six passengers went ashore and jumped into two taxis with our guide. Off to the highlands.
We left the road, drove along a private track until we got out at the craters.
Los Gemelos, or the Twin Craters, are located opposite each other on both sides of the road leading from Puerto Ayora to Baltra. The name is only figurative; not real craters, these formations were created by the collapse of surface material in underground fissures and chambers. The view was breathtaking.
We left the craters and bimbled slowly, keeping our eyes open for creatures, birds and tortoises. From here we could see the look out on the top of the hill. Thankfully, Ronaldo told us we were to be driven up.
A Smooth-billed Ani looked very handsome.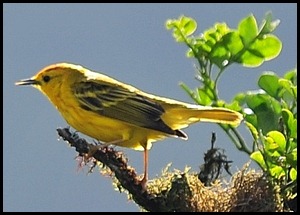 We saw lots of colour, warblers and mockingbirds and plenty of butterflies.
We wandered up to a restaurant and were served lemongrass tea – looking at a tortoise shell. Outside was of all things a duck pond.
Complete with ducks and moorhens.
New exotic creatures are now our norm but it was lovely to watch the ducks for a while.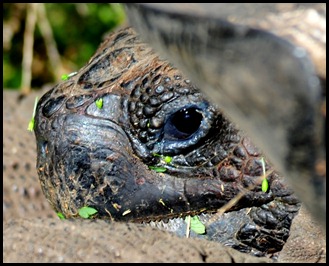 Back in the cars, en route to the mirador this chap was across the road. Nice to be up close and personal until the tiny fire ants made meals of our feet. These nasty little things wouldn't let up, their acid bites had us hopping and itching. Back in the cars.
Not sorry in the intense heat of the afternoon that we were driving up to the lookout.
The views were across very lush valleys.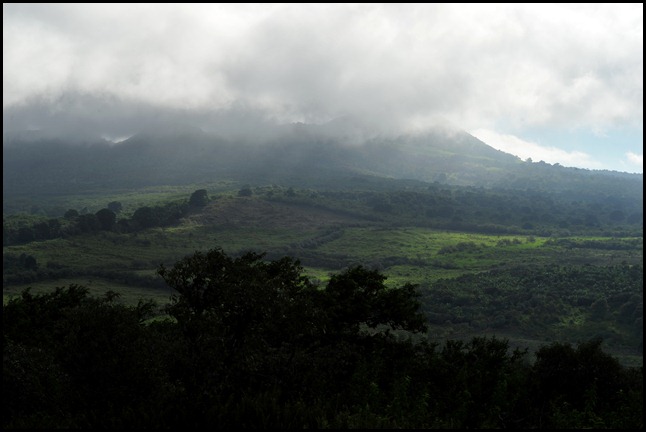 We watched afternoon rain clouds gather and disappear just as quickly.
Back toward town we passed a couple of villages. Back at the quayside we said 'farewell' to Ronaldo, he had finished his ten day stint and was looking forward to his days off. We were looking forward to our overnight passage to Espanola – YeeHa - we get to hopefully see Waved Albatross on the morrow......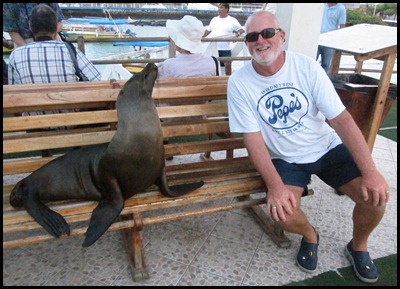 Waiting for Chino there was time to pose in a cool way.
Ok just one cute one.
ALL IN ALL A FUNNY OLD DAY
---