Big Buddha Monkeys

Beez Neez now Chy Whella
Big Bear and Pepe Millard
Sun 29 Jan 2017 23:47
A Couple of Monkeys We Met at Big Buddha
So there we were admiring the 32 Buddha's when we heard a sharp squeak.
A monkey had stolen a can of Coke and scurried away.
He threw the straw down and took a deep mouthful. Loads of people wanted to close in and take pictures, this infuriated the thief and he shouted at us all and leapt.
Coke on his chin but still angry.
He shouted some more then turned his back.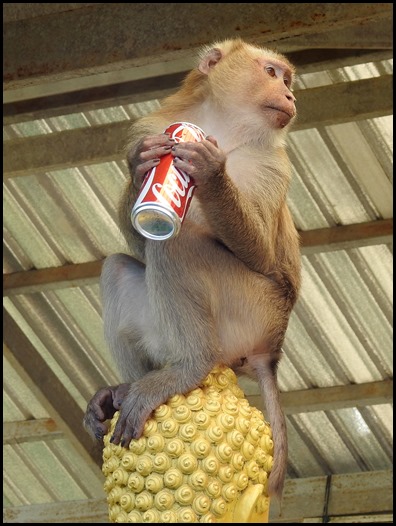 He perched on one of the Buddha heads and carried on drinking.
Another chap seemed to be waiting patiently.
A second after I took this picture, this chap had no intension of waiting for a tourist to get an orange out of her bag, he ran over to her, snatched the orange, dropped and retrieved it. No patience to pose – off he ran.......
After we left Big Buddha we drove toward Patong Beach on the west coast, spotting a huge market we stopped for a bimble. Every kind of meat, fish, fruit, veg, take-away, ice cream, smoothie, juice – even crocodile meat.
At the far end of the covered building was the tourist 'stuff' some nice, some very, very tacky. Back to the car we drove through the really crowded tourist area of Phuket. Thousands on the beach as two big cruise ships and a little one were anchored in the bay.......... The beach was heaving. Not for us, on we went.
A very Siam-like structure on the road back to Beez.
ALL IN ALL WHAT A GREAT SHOW
CHEEKY LITTLE CHAPS
---