Antu Bubu Ritual

Beez Neez now Chy Whella
Big Bear and Pepe Millard
Sun 16 Oct 2016 22:47
The Antu Bubu Ritual
Before we arrived in Indonesia we had read that individual fishing boats may approach with men, their faces wrapped in a pirate like way looking for all the world like they wanted to attack. In reality, all they want to do is circle you three times to clear the spirit of bad luck, get back to their business and pull in full nets.
Today we were to witness the ritual called Antu Bubu which is used to rid the sea of the evil spirit for the whole local fleet here in Manggar. Antu means ghost and Bubu means an oval-shaped fishing tool made of rattan. Antu Bubu is a part of a sea ritual where the sea ghost is invited by the local shaman to enter the rattan frame, the whole thing becomes more mystical when the Bubu is covered by a piece of white cloth that has been used to cover a dead body.
The shaman (on the left) reads words over the Bubu as soon as the spirit, Antu is in place and offerings are given. The young man to the right holds a lighted coconut husk in readiness to circle nearby to keep the spirit in the Bubu. The Antu Bubu must be fought and conquered so the fishing fleet can pull in full nets, if the spirit is not bested the nets will be empty or just the odd small fish caught until the contest is rescheduled.......
On walks a brave man, the shaman throws the Antu Bubu at him and the fight begins.
Rolling, tussling and groaning.
Our gallant fighter takes one more throw and is knocked out. Oh dear. We see a much younger warrior enter as the chap with the smoking coconut husk circles to keep the spirit from escaping.
The shaman revives the unconscious man with water to his feet, middle and head. At the same time, the assistant now positions the Antu Bubu against a bush and holds it in place while the new fighter limbers up.
Our man is helped up and led back to his wife who tends the exhausted loser, valiant attempt though. Off we go again.
This is fast, furious and aggressive.
We see the new warrior thrown on his back and winded.
The fellow in the pink shirt moves quickly in circles with the lit husk as the shaman steps in to referee.
Clutching the Antu Bubu around the throat the youngster regains the upper hand.
A long way from being over as the Antu Bubu rears once more.
Another slam.
Once more in control, the young man reaches under the shroud.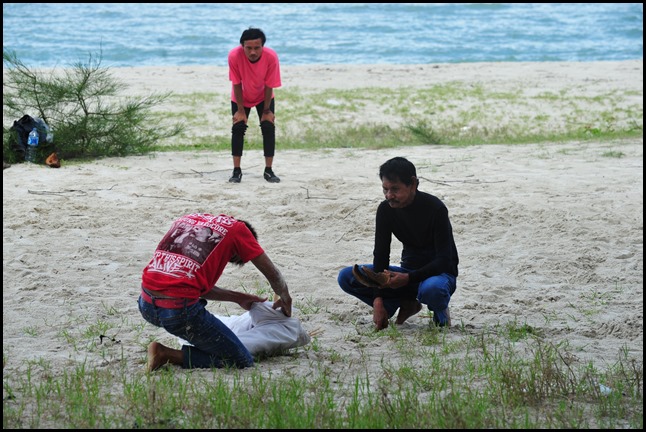 The shaman watches holding the lit husk (just in case), as our young hero rips the heart out of the spirit. All over.
Broken and defeated the Antu Bubu is carried away.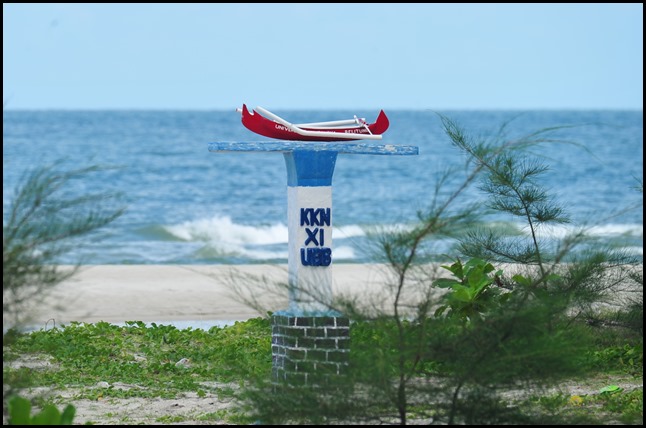 Let's hope this success will bring the fish in huge numbers.
ALL IN ALL QUITE A STRUGGLE THIS GOOD OVER EVIL BUSINESS
A FASCINATING STORY
---