MoMA

Beez Neez now Chy Whella
Big Bear and Pepe Millard
Mon 11 Jul 2011 16:27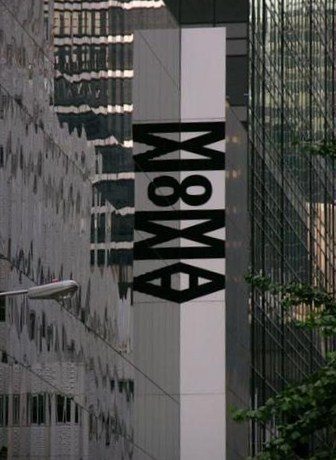 The Museum of Modern Art (MoMA) is an art museum located in Midtown Manhattan in New York City, on 53rd Street, between Fifth and Sixth Avenues. It has been important in developing and collecting modernist art, and is often identified as the most influential museum of modern art in the world. The museum's collection offers an unparalleled overview in modern and contemporary art, including works of architecture and design, drawings, painting, sculpture, photography, prints, film, electronic media, illustrated books and artist's books. MoMA's library and archives hold over 300,000 books, artist books and periodicals, as well as individual files on more than 70,000 artists. The archives contain primary source material related to the history of modern and contemporary art. It also houses an award-winning fine dining restaurant, The Modern, run by Alsace-born chef Gabriel Kreuther.
History: The idea for The Museum of Modern Art was developed in 1928 primarily by Abby Aldrich Rockefeller (wife of John D. Rockefeller Jr.) and two of her friends, Lillie P. Bliss and Mary Quinn Sullivan. They became known variously as "the Ladies", "the daring ladies" and "the adamantine ladies". They rented modest quarters for the new museum in the Heckscher Building at 730 Fifth Avenue (corner of Fifth Avenue and 57th Street) in Manhattan and it opened to the public on the 7th of November, 1929, nine days after the Wall Street Crash. Abby had invited A. Conger Goodyear, the former president of the board of trustees of the Albright Art Gallery in Buffalo, New York, to become president of the new museum. Abby became treasurer. At the time, it was America's premier museum devoted exclusively to modern art and the first of its kind in Manhattan to exhibit European modernism.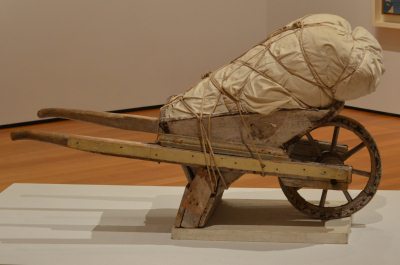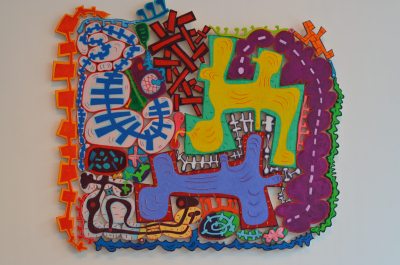 Goodyear enlisted Paul J. Sachs and Frank Crowninshield to join him as founding trustees. Sachs, the associate director and curator of prints and drawings at the Fogg Art Museum at Harvard University, was referred to in those days as a collector of curators. Goodyear asked him to recommend a director and Sachs suggested Alfred H. Barr Jr., a promising young protege. Under Barr's guidance, the museum's holdings quickly expanded from an initial gift of eight prints and one drawing. Its first successful loan exhibition was in November 1929, displaying paintings by Van Gogh, Gauguin, Cézanne, and Seurat. After first being housed in six rooms of galleries and offices on the twelfth floor of the Heckscher Building, the museum moved into three more temporary locations within the next ten years. Abby's husband was adamantly opposed to the museum (as well as to modern art itself) and refused to release funds for the venture, which had to be obtained from other sources and resulted in the frequent shifts of location. Nevertheless, he eventually donated the land for the current site of the museum, plus other gifts over time and thus became in effect one of its greatest benefactors.
During that time it initiated many more exhibitions of noted artists, such as the lone Vincent van Gogh exhibition on the 4th of November 1935. Containing an unprecedented sixty-six oils and fifty drawings from the Netherlands, and poignant excerpts from the artist's letters, it was a major public success and became "a precursor to the hold van Gogh has to this day on the contemporary imagination".
The museum also gained international prominence with the hugely successful and now famous Picasso retrospective of 1939-40, held in conjunction with the Art Institute of Chicago. In its range of presented works, it represented a significant reinterpretation of Picasso for future art scholars and historians. This was wholly masterminded by Barr, a Picasso enthusiast, and the exhibition lionized Picasso as the greatest artist of the time, setting the model for all the museum's retrospectives that were to follow.
When Abby Rockefeller's son Nelson was selected by the board of trustees to become its flamboyant president in 1939, at the age of thirty, he became the prime instigator and funder of its publicity, acquisitions and subsequent expansion into new headquarters on 53rd Street. His brother, David Rockefeller, also joined the museum's board of trustees, in 1948, and took over the presidency when Nelson took up position as Governor of New York in 1958.
David subsequently employed the noted architect Philip Johnson to redesign the museum garden and name it in honour of his mother, the Abby Aldrich Rockefeller Sculpture Garden. He and the Rockefeller family in general have retained a close association with the museum throughout its history, with the Rockefeller Brothers Fund funding the institution since 1947. Both David Rockefeller, Jr. and Sharon Percy Rockefeller (wife of Senator Jay Rockefeller) currently sit on the board of trustees. In 1937, MoMA had shifted to offices and basement galleries in the Time & Life Building in Rockefeller Center. Its permanent and current home, now renovated, designed in the International Style by the modernist architects Philip Goodwin and Edward Durell Stone, opened to the public on May 10, 1939, attended by an illustrious company of 6,000 people, and with an opening address via radio from the White House by President Franklin D. Roosevelt. In 1997 the Japanese architect Yoshio Taniguchi beat out ten other international architects to win the competition to execute the redesign of the museum, which after being closed in Manhattan for a time during the process (a temporary space was opened in Long Island City, Queens) reopened in 2004.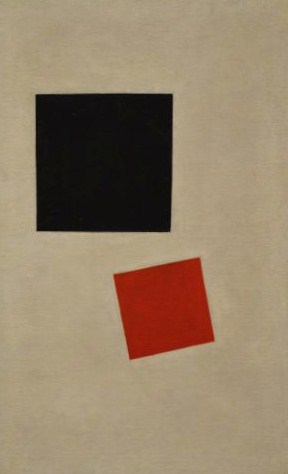 Kazimir Malevich, Painterly Realism of a Boy with a Knapsack - Colour masses in the Fourth Dimension. 1915. Oil on canvas. 1935 acquisition confirmed in 1999 by agreement with the Estate of Kazimir Malevich and made possible with funds from Mrs. John Hay Whitney Bequest (by exchange), 1935. This artist was awarded the highest category "1A - a world famous artist" in "United Artists Rating". We are so utterly confused by this he has his own blog to see if we can in any way understand what it is we are looking at.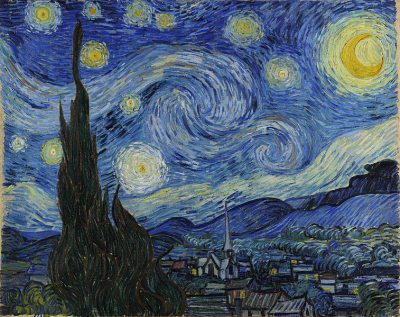 Pablo Picasso, Les Demoiselles d'Avignon, 1907. Vincent van Gogh, The Starry Night, 1889
Bear at this point was heard to say - I never thought I would ever be so pleased to see a Picasso and think he was a normal painter and I actually think Van Gogh has something about him as blokes go. Hey, you never know Bear may be getting it. I can handle these sorts of paintings but as for staring at two piles of what looks like huge dog poo - NO. Cannot and will not understand it. As for the piles of bricks, just walked past them, cannot be bothered to make a comment
Artworks: Considered by many to have the best collection of modern Western masterpieces in the world, MoMA's holdings include more than 150,000 individual pieces in addition to approximately 22,000 films and 4 million film stills
Accumulation of Stamps, 63 1962. Pasted Labels and ink on paper. Yayoi Kusama - Japanese born 1929. Gift of Philip Johnson, 1970. Academy, 1955. Oil-based house paint, lead pencil, coloured pencil and pastel on canvas. Cy Twombly born 1928. Purchased 2010. Now if I had produced Academy and given it in, Miss Scott would have clipped me around the ear and I would have had to do 1000 lines 'I must not waste time in class'. As for the Accumulation of Stamps - I stamped my foot and walked off in a huff. Bear was heard to say something that rhymed with row-locks, but clearly there are people who love it as there were many sitting looking at some of the exhibits in some sort of 'transport of desire', eyes all soft and milky. Well if they think they are sitting looking at something heaven sent - could they please email me and explain. Did the whole thing begin with a filthy rich man with a trifle he took as payment for rent and his mate was jealous and it stated a bidding war?? Is it just fashion like Uggs or Pandora??
ALL IN ALL BEAR AND I HAVE A LONG WAY TO GO
---