To Bagan Pt 1

Beez Neez now Chy Whella
Big Bear and Pepe Millard
Tue 28 Nov 2017 23:47
To Bagan by 'Luxury' Ferry – Part One
Zaw, our favourite taxi/truck driver was at our digs by ten past six, he had actually borrowed a set of car seats from a family member and arranged them in a line at the back of the cab – how sweet, kind and thoughtful. Twenty minutes later we bade our farewells and headed down to the ferry. The important thing was maintain balance carrying cases and try not to face plant........ A full day 'cruise' on the Irrawaddy River leaving at seven, arriving at Bagan by around four o'clock and we both really looked forward to it.
Cases stowed in the hallway, more each side of the main cabin corridor, ladies had use of the facilities in the front two cabins. Spacious, spartan but comfortable double bed with a shower and facilities. The boys had to use a loo somewhere down the back. Upstairs we passed through the dining room. we settled in rattan seats at the back on the left, the sunny side when he puts his hat on.........
To our left, two 'normal ferries' were tied alongside and to our right, the ferry office. The water marks up the wall give an indication of how high the river rises in July and August.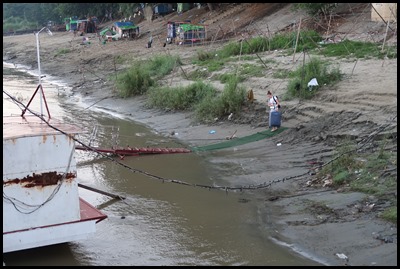 Low water means roughly hewn 'steps' are cut on the riverbank and we watched with baited breath as other passengers gingerly picked their way down and onto the boarding ramp. A few hardy souls set up their houses. Chef arrived with a few more bits and bobs.
I went to look at the important end, Simple instrumentation - the depth sounder is a chap holding a long stick and poking happily....we saw this on a couple of narrower bends later on.....Shrine over the skippers right shoulder. Looking from the pointy end
.
Ten to seven our neighbour pulled off under longtail engine (we have twin V8 longtails), just the one needed as the two ferries were securely rafted together. Our skipper did a few wiggles to get our back end off and we swung away from the bank to head down the river.
A rather grand old dame with full-sized elephants no less.
A splendid lady, it is rather expensive to do a three or four night cruise and not too much scenery.
The sun popped out at about half eight, still chipper but it was a start. We enjoyed riverbank life.
A classic sight with many stupas as we left Mandalay behind.
Bear settled. Breakfast was tea or coffee, a hot, hard-boiled egg, croissant and a big, fat banana. Mid morning tea or coffee and a cake. Lunch was rice, noodles, pork stew and vegetables. All in for fifteen pounds and seventy nine pence each and this is the Luxury Fast Ferry. We snoozed, read and loved watching life on and beside the river.
Approaching the Yadanabon Bridge, completed in 2008. Beyond is the Ava Bridge.
We passed the Jade Pagoda, our last stop on our mammoth day out yesterday.
The Ava Bridge near Sagaing, it was built by the British in 1934 who destroyed it as they retreated in WWII. Rebuilt in 1954 after independence, it was the only bridge over the river until 1998.
These chaps had to concentrate as they had to turn to the shallows to let us overtake, plenty of depth-stick-poking to watch, they did still manage a hearty wave and big grins.
Continued
---