SMS Seeadler

Beez Neez
Skipper and First Mate Millard (Big Bear and Pepe)
Tue 8 Oct 2013 22:17
SMS Seeadler by Christopher Rave
SMS Seeadler (In German The Sea Eagle) was a three-master windjammer. She was one of the last fighting steam/sail ships to be used in war, when she served as a merchant raider with Imperial Germany in World War I. Built as the US-flagged Pass of Balmaha, she was captured by the German U-36, and in 1916 converted to be a commerce raider. As Seeadler she had a successful raiding career, capturing and sinking fifteen ships over a two hundred and twenty five day period, until she was wrecked, in September 1917, on Mopelia.
Builder: R Duncan & Co., Port Glasgow, Scotland.
Launched: 1878
Acquired: 1917
Displacement: 4,500 tons (1571 tons gross register tonnage)
Length: 245 feet
Beam 11.8 meters
Draught: 5.5 meters
Propulsion: 1 shaft auxiliary diesel engine, 900 hp
Sail Plan: 3 masts, full rig, 2600 square meters sail area
Speed: 9 knots
Complement: 64
Armament: 2 - 105 mm guns
Pass of Balmaha: Originally named Pass of Balmaha, she was built by Robert Duncan Company, Port Glasgow, Scotland, in 1878. She was a 1,571-ton steel-hulled sailing vessel 245 feet in length owned by the Harris-Irby Cotton Company of Boston.
The circumstances of her capture are somewhat peculiar.
She departed from New York harbour in June 1915. Originally bound for the Arctic port of Arkhangelsk to deliver a cargo of cotton for the Russian war effort, she was intercepted by the British auxiliary cruiser Victorian off the coast of Norway. A boarding party was sent aboard to inspect her cargo for contraband, headed by the captain of the cruiser. The British captain found reason to find the ship suspect, and ordered the captain of the Pass, Captain Scott, to set sail for Kirkwall in the Orkney Islands for further inspection. A prize crew of one officer and six marines was left aboard to ensure that Scott did not alter his course. The British officer ordered the neutral American colours struck and replaced with the British flag, against the will of Captain Scott, who realised that this would mark his ship as a belligerent.
Soon after, she was captured by a German submarine, U-36, in the North Sea. Out of a desire to avoid being impounded, Scott ordered the British hidden in the hold and the Union Jack was quickly replaced with the Stars and Stripes. The commander of the U-36, Captain Ernst Gräff, was not entirely convinced by this ruse and ordered the Pass to sail for Cuxhaven for inspection. A German ensign was left aboard. The American crewmen, resentful of what they perceived as British meddling, locked the British marines in the hold to make sure that they did not attempt to retake the ship and cause unnecessary bloodshed.
The Pass of Balmaha reached Cuxhaven without major incident, and was boarded by a German inspection party. Captain Scott then revealed the seven British seamen to the Germans, who imprisoned them. For their cooperation, the Americans were allowed free passage to a neutral country, but the Pass became property of the German Navy.
As of 1916, German warships had been blockaded by the Allies in the North Sea, and any commerce raiders that succeeded in breaking out, lacked foreign or colonial bases for resupply of coal. This gave rise to the idea of equipping a sailing ship instead, since it would not require coaling.
Route of the SMS Seeadler and locations of ships engaged (1–2 North Atlantic, 3–11 Mid-Atlantic, 12–14 Pacific)
The Pass, now named SMS Seeadler and under the command of Count Felix von Luckner, was equipped with an auxiliary engine, hidden lounges, accommodation for additional crew and prisoners, two hidden 105 mm cannons that could emerge from the deck, two hidden heavy machine guns, and rifles for boarding parties. These weapons were rarely fired, and many of the fifteen ships encountered by the Seeadler were sunk with only one single accidental casualty on either side during the entire journey. The ship was disguised as a Norwegian wood carrier and succeeded in crossing the British blockading line despite being boarded for an inspection. The crew had been handpicked partly for their ability to speak Norwegian. Over the next 225 days, she captured 15 ships in the Atlantic and Pacific and led the British and US Navies on a merry chase.
In the same year, Captain von Luckner visited the island of Mopelia and established a small colony during his voyage to raid Allied shipping in the South Pacific. The purpose of the stop was to obtain water and fresh stores and to make repairs to the Seeadler's hull after her long journey through the Atlantic ocean and around South America. Since SMS Seeadler was too large to enter Mopelia lagoon, she was anchored on the outside of the atoll. Rough seas and big winds caused the Seeadler to run aground on the reef, leaving Luckner and about fifty others marooned.
In Lowell Thomas' 1928 book on von Luckner he reports that the loss of Seeadler was the consequence of a tsunami. Some of the stranded sailors were American POW's captured on the ocean by Luckner's raiders. Eventually Luckner chose a few men and rigged a long boat with a sail to journey about two thousand miles to Fiji where Luckner intended to capture another sailing ship and go back and rescue the remaining seamen from Mopelia. However, the plan did not work very well, for while Luckner was able to reach his destination, he ended up surrendering to a British lieutenant. Felix von Luckner spent the rest of World War I as a POW in New Zealand, though he successfully escaped on one occasion, stealing the boat of the prison warden and sailing off with several other prisoners, only to be recaptured later.
On the 5th of September 1917, the rest of his crew captured the 126-ton, French schooner, Lutece, which had called at Mopelia. They sailed her as Fortuna, to Easter Island arriving on the 4th of October and promptly ran aground, after which they were interned by the Chilean authorities. Four American seamen then sailed an open boat 1600 km to Pago Pago, where they arranged for their colleagues' rescue from Mopelia.
Captured ships: Sixteen ships, totaling 30,099 tons, were captured by the Seeadler between the 21st of December 1916 and the 8th September 1917. Unless otherwise noted, all vessels in the list were steamships.
Gladis Royle: 3,268 tons, captured and sunk on the 9th of January 1917.
Lundy Island: 3,095 tons, captured and sunk on the 10th of January 1917.
Charles Gounod: 2,199 tons, French barque captured and sunk on the 21st of January 1917.
Perce: 364 tons, schooner captured and sunk on the 24th January 1917.
Antonin: 3,071 tons, French barque captured and sunk on the 3rd of February 1917.
Buenos Ayres: 1,811 tons, Italian sailing vessel captured and sunk on the 9th of February 1917.
Pinmore: 2,431 tons, schooner captured on the 19th of February 1917 and later sunk after being used to obtain supplies.
British Yeoman: 1,953 tons, sailing bark captured and sunk on the 26th of February 1917.
La Rochefoucauld: 2,200 tons, French barque captured and sunk on the 27th of February 1917.
Dupleix: 2,206 tons, French barque captured and sunk on the 5th of March 1917.
Horngarth: 3,609 tons, captured and sunk on the 11th of March 1917.
Cambronne: 1,833 tons, French barque captured and released on the 21st of March, arrived at Rio de Janeiro, Brazil on the 30th of March 1917.
A. B. Johnson: 529 tons, United States schooner captured and sunk on the 14th of June 1917.
R. C. Slade: 673 tons, United States schooner captured and sunk on the 18th of June 1917.
Manila: 731 tons, United States schooner captured and sunk on the 8th of July 1917.
Lutece: - see above.
Felix Graf von Luckner (born Dresden, Germany, 9th June 1881, died Malmö, Sweden, 13 April 1966) was a German nobleman, navy officer, author and noted sailor who earned the epithet Der Seeteufel (the Sea-Devil) – and his crew that of Die Piraten des Kaisers (the Emperor's Pirates) – for his exploits in command of the sailing commerce raider SMS Seeadler (Sea Eagle) in 1916–1917.
It was his habit of successfully waging war without any casualties that made him a hero and a legend on both sides.
He was the great-grandson of Nicolas Luckner, Marshal of France and commander-in-chief of the French Army of the Rhine, who had been elevated to count in the 18th century by the King of Denmark.
He was married twice, firstly to Petra (née Schultz) from Hamburg with whom he had a daughter, Inge-Maria, born in 1913. They divorced in 1914. On 24 September 1924 he married Ingeborg (née Engeström) in Malmö, Sweden.
Today we went to visit what is left of the SMS Seeadler.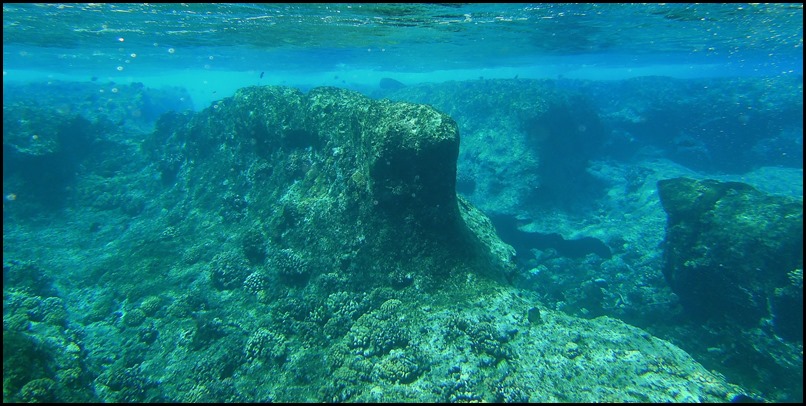 Her wreck is scattered over quite a big area, just outside the pass, on the western side. Over time, natural coral build up has left deep gullies in which her various parts lay.
Home to many fish....................
.................and bigger friends who keep watch (own blog).
Karl (Windarra) goes down for a closer look.
Sad, but exciting.
Rourke (Tribe) returns to Baby Beez with a piece of treasure.
ALL IN ALL A GUTSY LITTLE LADY
---