To Middle Percy

Beez Neez now Chy Whella
Big Bear and Pepe Millard
Sun 22 May 2016 22:37
To Middle Percy
A gentle start to the day, we were up and ready to leave by seven for the thirty nine mile journey to Middle Percy. Engine on, anchor up, out into six metres, mainsail up and engine off – all in ten minutes.
Settled to a brilliant sail in calm seas, our path would take us through islands with familiar sounding names – Northumberland (or Steep Island), Hexham, Alnwick, Shields and Allandale, all part of the Northumberland Group. Meanwhile the skipper checked a blog for me. The only cloudy bit of my day was two games of backgammon along the way - I suffered losses in both.....
Steep Island over to our right.
On the left Hexham, Alnwick and Shields Islands.
Ahead we could make out South Percy and beyond Middle Percy.
South Percy.
At the west end of South Percy was a little islet called Hixon, one of those lumpy bits to avoid........
Passing Hixon Islet.
Just past Hixon we could look up a channel at Walter Island on the far left, North East Island in the middle and South Percy on the right.
Further on we saw a little rock that reminded us of Christmas Pudding Rock in the bay at Opua.
We would make a right through the gap in the middle, from Hixon Islet to this turn, exactly five miles.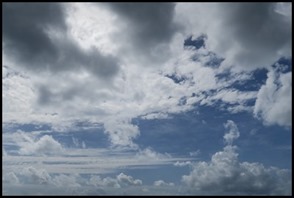 Time for a little cloud watching.
Impressive sand dunes along the southern coast of Middle Percy – Rescue Bay.
The dune to the right.
The dune to the left, almost at the corner.
Our right turn at the corner of Middle Percy, we dropped the main just here.
Awesome rock formations.
The western coastline as we moved along Middle Percy.
We would turn right beyond the next point.
To our left the Pine Islets.

Our final turn right into the anchorage.
Ashore, we could see the famous Hut on the left and the A' Frame building.
ALL IN ALL A GREAT SAIL
A GREAT, CALM SAIL
---