To Daytona Beach

Beez Neez
Skipper and First Mate Millard (Big Bear and Pepe)
Sat 30 Apr 2011 22:36
To Daytona Beach, Florida
Many times we have said to fellow sailors and heard it said to us - Fair Winds and Following Seas so it was really nice to leave Titusville Marina with this sign at the exit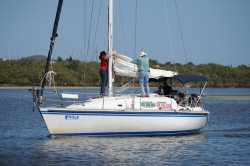 We soon passed a huge trailer park and being the weekend the ICW was busy with all sorts of traffic including a 'One Careful Owner' and a real houseboat
Marker 25 had its own pointer atop showing us the way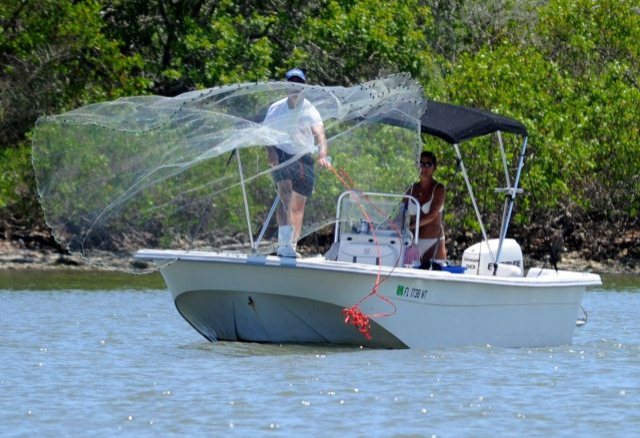 Nice houses, people chillin' on Saturday, having fun, big engines and a spot of fishing
This lady passing by very fast gave us a good wiggle - how will we ever forget Rita - shouldn't be using her scale on the ICW
A couple of chaps overhead watching the fun
One chap took ages organising his catch to be able to swallow it whole.......
Our favourite fishing boat complete with 'granny bar'...............
and finally on to Daytona. I fiddled this afternoon with my camera - to test a new group of settings. I took the shot of the paraglider, then the block of flats, zoomed from 80mm to 200mm then in to 400mm to get the man on his balcony. Primarily shooting birds I have always been set to 51 3D points of focus so all I have to do is track the bird in the viewfinder and let the camera do the rest. I have tightened to 9 points of focus, centre-weighted so I have to get objects in a tighter area in the middle on my viewfinder, rather like shooting a gun rather than if the bird is in the screen that will do. Reckon I'll leave it to my new settings.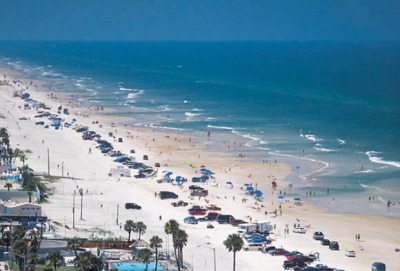 We anchored far left of the left picture (waterway seen as a big river) The seaside view of Daytona Beach seen in all the holiday brochures
We nestled for the night just off the main channel, really quiet for such a big place
ALL IN ALL A FUN DAY
---