Trincomalee Bimble

Beez Neez now Chy Whella
Big Bear and Pepe Millard
Wed 27 Feb 2019 23:57
Trincomalee Bimble
By the time we anchored it may well have been 16:05 but local time it was 14:35, we'll go for a bimble. Once ashore we could see Beez Neez in amongst her new friends, one for Switzerland, three Brits, one Canadian, one Australian and a girl from Las Vegas.
Bear wanted the cow on the beach with Beez in shot but just as I clicked she moved her head behind the little fishing boat. She moved along and we left her happily scruffing about.
The town of Trincomalee is a mix of old and new, this building is a 1967 vintage.
Bright, happy colours for The Berger Paint fix. Bear leads the way to the ATM along on the right.
The machine only gave us a wadge of 5,000 Sri Lankan Rupees or £21.06's.
A bit further along the road was the Pathirakali Amman Temple dedicated to the goddess Bhadrakali. People have worshipped here since before the 11th century. King Rajendra Chola I expanded the shrine and it was mentioned in Birds of Prey by Wilbur Smith.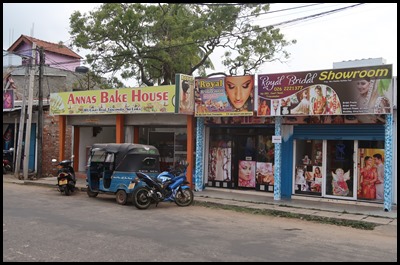 Once on the High Street our first port of call had no SIM cards and pointed across the way. This shop had SIM cards but neither assistant could speak a word of English. Eventually amongst much pointing and mime we left with a SIM card for the mobile and one for the internet. Anna's Bake House may become a popular detour with lots of tasty treats in the cabinet, my chosen Disco Bun cost exactly ten pence. Opposite we bought eggs, "red or white ???" on looking round the counter I could see white or brown and went for those at eight pence each.
We bimbled past interesting little shops.........
but had to nip back beyond Anna's as it is clear this cow comes every day to her very own tuck box left out by the greengrocer. She munched outside cabbage leaves and cores in a contented fashion.....
Toilet shop, both seated and starting block, post boxes and a bit of electrickery weariness kicked in and we headed back to the gates.
Through the gates we were met by an impressive array of armed uniform types including policemen (the station is here), Customs, Immigration, Army and Navy. All smiled, many wanted to know "which country you from". Along the quayside was a pair of huge bumpers.....
.....beyond the bumpers GAC Sapphire (our agency girl), to her we had tied Baby Beez. Sandeep was there with a useful information booklet. Definitely time for a cup of tea.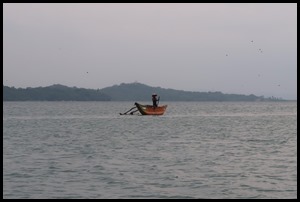 Dusk came quickly as we set off toward Beez. A local fishing with outrigger.
After supper Bear made it to 20:39 (local time) and crashed heavily. I attempted to blog but watched an episode of the old classic Messiah.
ALL IN ALL..... ALL WE NEED WITH LOVELY PEOPLE
A VERY WELCOMING LITTLE TOWN
---