Madame Tussauds

Beez Neez
Skipper and First Mate Millard (Big Bear and Pepe)
Wed 13 Jul 2011 17:47
Madame Tussauds (they have dropped the ' before the s these days)
At $36 each we would not have visited this attraction, but as we were passing, had free access with our NY Pass, in we went. Some of the waxworks were brilliant, some you had to look at the name plate to see who they were. Mostly I have put in just pictures - see how many you can recognise. I added a couple of interesting bits about a couple of people and of course a little about Madame Tussaud herself.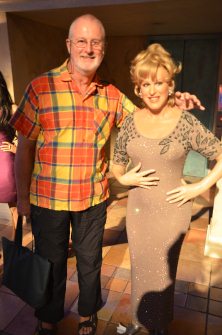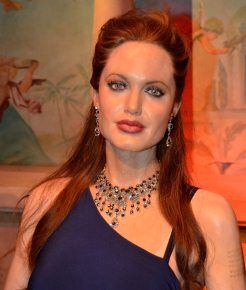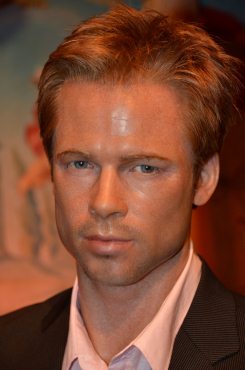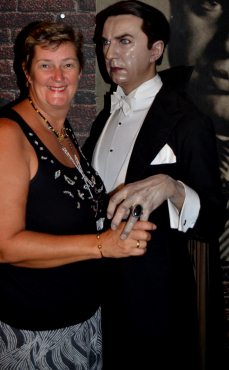 Bear with Marion Mitchell Morrison - should have been a trick question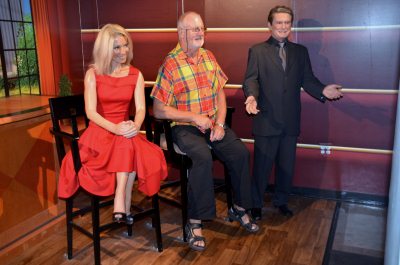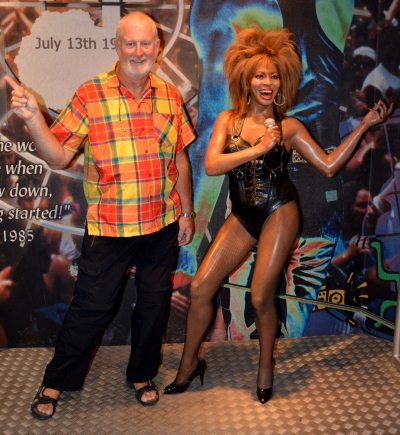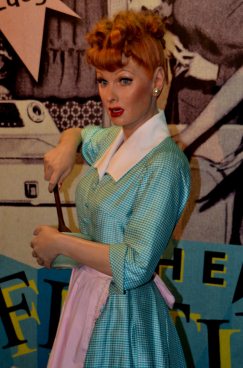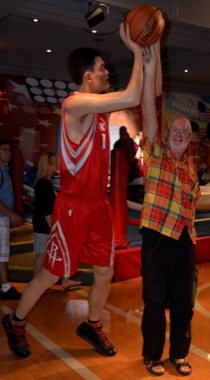 Helen Adams Keller was born on the 27th of June 1880; when she was 19 months old when she contracted an illness described by doctors as "an acute congestion of the stomach and the brain", which might have been scarlet fever or meningitis. The illness did not last for a particularly long time, but it left her deaf and blind. At that time, she was able to communicate somewhat with Martha Washington, the six-year-old daughter of the family cook, who understood her signs; by the age of seven, she had over 60 home signs to communicate with her family. She was the first deaf and blind person to earn a Bachelor of Arts degree. The story of how Keller's teacher, Anne Sullivan, broke through the isolation imposed by a near complete lack of language, allowing the girl to blossom as she learned to communicate, has become widely known through the dramatic depictions of the play and film The Miracle Worker. A prolific author, Keller was well-traveled and was outspoken in her opposition to war. A member of the Socialist Party of America and the Wobblies, she campaigned for women's suffrage, workers' rights, and socialism, as well as many other leftist causes. She died on the 1st of June 1968.
General Tom Thumb was the stage name of Charles Sherwood Stratton born on the 4th of January 1838 a small person who achieved great fame under circus pioneer P.T. Barnum. Stratton's marriage on the 10th of February 1863, to another small person, Lavinia Warren, became front-page news. The wedding took place at Grace Episcopal Church and the wedding reception was held at the Metropolitan Hotel. The couple stood atop a grand piano in New York City's Metropolitan Hotel to greet some 2,000 guests. The best man at the wedding was George Washington Morrison ("Commodore") Nutt, another small performer in Barnum's employ. The maid of honour was Minnie Warren, Lavinia's even smaller sister. Following the wedding, the couple was received by President Lincoln at the White House. Stratton and his wife toured together in Europe as well as Japan. Under Barnum's management, Stratton became a wealthy man. He owned a house in the fashionable part of New York, a steam yacht and he had a wardrobe of fine clothes. He also owned a specially adapted home on one of Connecticut's Thimble Islands. On the 10th of January 1883, Stratton was staying at the Newhall House in Milwaukee when a fire broke out, which Milwaukee historian John Gurda would call "one of the worst hotel fires in American history". More than 71 people died, but Tom and Lavinia were saved by their manager, Sylvester Blaker. Six months later, on the 15th of July 1883, Stratton died suddenly of a stroke. He was 45 years old, 3 feet 4 inches tall and weighed 71 lb. Over 10,000 people attended the funeral. P.T. Barnum purchased a life-sized statue of Tom Thumb and placed it as a grave stone at Mountain Grove Cemetery in Bridgeport, Connecticut. Lavinia Warren is interred next to him with a simple grave stone that reads, "His Wife".
Marie Tussaud (most people say Two-swords but we learned the family pronounce it Two-so), was born Anna Maria Grosholtz on the 1st of December 1761 in Strasbourg, France. Her mother worked as a housekeeper for Dr. Philippe Curtius in Bern, Switzerland, who was a physician skilled in wax modeling. Curtius taught Tussaud the art of wax modeling, she created her first wax figure in 1777. On the 12th of July 1789, wax heads of Jacques Necker and the Duc d' Orleans made by Curtius were carried in a protest march two days before the attack on the Bastille. Tussaud was arrested during the Reign of Terror together with Josephine de Beauharnais; her head was shaved in preparation for execution by guillotine. But thanks to Collot d'Herbois's support for Curtius and his household, she was released. Tussaud was employed to make death masks of the victims of the guillotine. When the mob stormed the Bastille, Madame Tussaud was forced to make death masks of the revolution's most infamous dead such as Louis XVI, Marie Antoinette, Marat, Robespierre, Jean-Jacques Rousseau and Benjamin Franklin. In her memoirs she claims that she would search through corpses to find the decapitated heads of executed citizens, from which she would make death masks. These were held up as revolutionary flags and paraded through the streets of Paris. Soon, Madame Tussaud was searching through sanitaries collecting the most illustrious heads she could find. When Curtius died in 1794, he left his collection of wax works to Marie. In 1795, she married François Tussaud. They had two children, Joseph and François but separated in 1800.
After inheriting the vast collection of wax models Madame Tussaud spent the next thirty three years travelling around Europe. In 1802, she went to London with her son Joseph – then four years old. As a result of the Franco-British war, she was unable to return to France, so she travelled throughout Great Britain and Ireland exhibiting her collection. For a time, it was displayed at the Lyceum Theatre. In 1821 her other son Francois joined her. From 1831 she took a series of short leases on the "Baker Street Bazaar" (on the west side of Baker Street between Dorset Street and King Street), which later featured in the Druce Portland Case sequence of trials of 1898-1907. This became Tussaud's first permanent home in 1836. In 1838 she wrote her memoirs. One of the main attractions of her museum was the Chamber of Horrors. This part of the exhibition included victims of the French Revolution and newly created figures of murderers and other criminals. The name is often credited to a contributor to Punch in 1845, but Marie appears to have originated it herself, using it in advertising as early as 1843. In 1842, she made a self-portrait which is now on display at the entrance of her London museum, some of her original sculptures still exist. She died in her sleep on the 16th of April 1850 at the age of 88. There is a memorial tablet to Madame Marie Tussaud on the right side of the nave of St. Mary's Roman Catholic Church, Cadogan Street, London. Seventeen great-grandsons of Marie took an active part in WWI, all without exception serving in the British Army, two were killed and most of the others wounded.
Madame Tussauds wax museum has now grown to become a major tourist attraction in London, with branches in Blackpool, Amsterdam, Bangkok, Berlin, Dubai, Hamburg, Hollywood, Hong Kong, Hot Springs, Las Vegas, Moscow, Shanghai, Vienna, Washington DC and of course the one in New York. Today's wax figures include historical and royal figures, film stars, sports stars and famous murderers. Now owned by a leisure company called Merlin Entertainments, following the acquisition of The Tussauds Group in May 2007.
ALL IN ALL QUITE GOOD REALLY
A BIT OF FUN
---