Day Three

Beez Neez
Skipper and First Mate Millard (Big Bear and Pepe)
Mon 13 Apr 2009 23:48
Day Three - The South of Grande Terre to its most easterly point.
Despite heavy rain all night and waking to it lamming down. Skipper spoke: I know today is planned as beach exploring along to the east, well we have the car, we're using it. "Rightey-oh Captain, I'll pack the picnic" I so enjoy sitting on a beach in the pouring rain or having a picnic in a sweaty car - still off we went.
Just as Skipper said It's not too bad now we have got going - the heavens opened for all their might. Skipper began to question my reasoning for a DVD fest at home.
I'm afraid Le Gosier got photos taken from the car, although we did get out when we saw a fantastic bakery - French stick, cakes and an ice pop each.
Sainte Anne with people swimming in fine rain, we went for a wander and saw huge family gatherings - but this time under brollies.
The first beach we came to at Sainte-Francois, popular with holiday makers and locals, a tree showing how its roots hold the sand in place.
It showed us once again - we never know what we will see next. Great family gathering, in a sandy car park, pots, pans, travel cot and fun. A man trotting down the main street on his steed, lit spliff in mouth.
The marina, the capitainerie, a building site and the finished result led us to immediately like this town, it has a friendly and welcoming feel about it.
Chris Doyle in his guide book says - "Saint-Francois lies eight miles east of Sainte-Anne. A well-protected reef anchorage lies between the town and some large hotels. Although the deep water anchorage in this area is quite small, the reef encloses miles of turquoise water, giving a wonderful feeling of space. Add the municipal marina and you get an area that is attractive to yachts people, yet just far enough off the beaten track not to be crowded by yachts. Saint-Francois has two harbours: a fishing port in front of the town, currently for small fishing boats, though they have built what looks like a big ferry dock, and a larger yacht marina to the east. The outside anchorage off the yacht marina can easily take yachts of up to eight foot draft......... The municipal marina, low key and quiet.............It has about 120 berths and they will always find room for another boat......you may be lucky and catch the port captain in the marina office sometime from 07:00 to 17:00".
Arriving in Grande Saline via a long white road down the middle of the isthmus I realised how seriously I took my flora and fauna. Yes Dear but DO stop dribbling.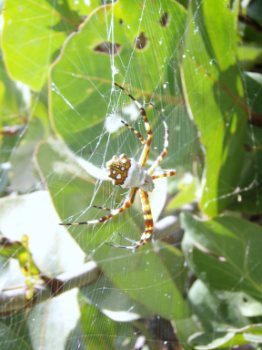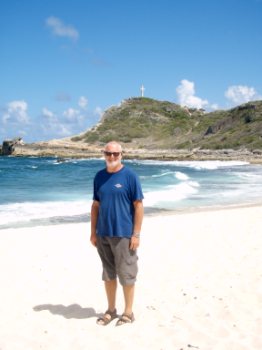 Can anyone name this spider for me. He is about an inch by a half, and his legs are a good inch, he swung his web back and forth when he thought I was interfering with him. I found a similar picture on the internet but sadly it didn't say what he was called. The sandy beach here was stunning and we settled for our picnic.
This cloud overhead and over La Desirade rained hard to the right of us whilst brilliantly sunny to the left.
La Desirade was discovered by Columbus on his second voyage in 1493. It was first occupied by the French in 1725 and for more than two hundred years it was a leper colony finally closing in 1958. It had a leper hospital built on it in 1930 closing in 1954. It is a coral island today making its living from tourists, yacht visitors and fishing.
The beauty of this place and the colour of the sea is stunning.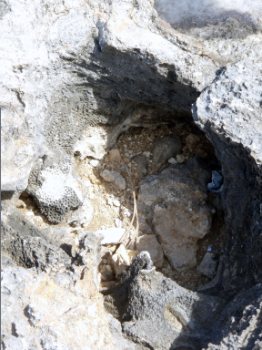 The rough basalt rock shows coral embedded, salt crystals form in the holes and you can clearly see patterns formed by the once molten lava.
Once we had packed the picnic stuff in the car it was time to climb up to the cross that dominates the skyline. Once there we both placed our hand on it for Kate who faces her operation on the 23rd of this month, God Bless and all love and best wishes.
The views from the top just beautiful.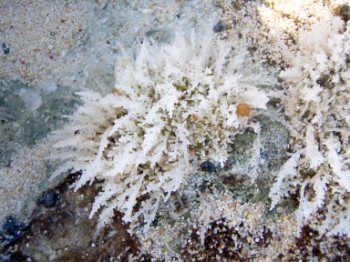 En route back to the car, we walked along the beach, I stopped to take a picture of this pure white sea plant, the first time I had seen it. Beside were some pretty snails - white with black dots and black with white dots. As I got closer to take the photo a breaker came over me, I returned to the car soggy and we had to have the de-mist on full pelt. I choose to stay very silent at this point. We took a detour off the main road on our return trip via Morne l'Escade, reminding us of St Lucia, very high with deep gorges. And a pretty orange house perched high.
Time to fit in a quick "one careful owner" AND a bits and bobs collection before getting back to the marina.
This yacht from Finland is seven or eight boats down from Beez Neez, it is a happy boat and a busy boat. We have counted three car seats, four buggies, two prams, a variety of life-jackets, babies, toddlers and a gaggle of adults. The wet on the pontoon shows they had a lot more rain than we did as proven by the bath depth of water in our dinghy.
ALL IN ALL a great day after a shaky wet start.
---