Golf Cart Morning

Beez Neez
Skipper and First Mate Millard (Big Bear and Pepe)
Thu 24 Jan 2013 12:37
Golf Carting Adventure with Sirena
Yesterday. Sitting doing a blog, minding my own business and the throne walks past. Mmmm. Always did hate that brown plumbers putty. Space cleaned and new clear fix, well done Bear, let's hope that has done away with the leak.
After the day doing chores we had a lovely evening with the Great Eight aboard Le Chat Beaute, where we finished the peril juice. We joined Eric and Dee this morning for landward exploration of Providencia.
Our trusty little steed at one of our many photo stops
Clearly the 'One Careful Owner' file for 2013 was going get lots of entries. Many lovely houses and the smart little hospital.
This carefully owned petrol station proved one too many for the island, the current one is on the other side of town.
The Very gleaming Bomberos (fire) truck
Deep joy in the grass
We weaved our way through this small herd as did the locals behind. On the left we passed the 1500 metre runway and tiny airport
Deep joy in the hedges. Especially the Chevrolet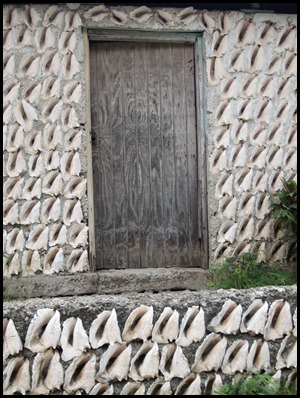 Nothing special ??? On closer look the wall is made up of conch shells.
A pretty Catholic Church
The Music School we had seen from our snorkel trip that time from the sea
It was decided that our tyres had many, many thousands of miles left on them, boys rev in readiness and a pretty flowers.
Coffee time, we stopped at this Café-Boutique, with such lovely fine cotton clothes and the Spanish lady took Visa it was rude of Dee and I not to have a closer look. We came away with an outfit each to wear at our leaving do's tomorrow evening.......After coffee and try-on session it was time to be tourists before heading to Manchioneel Bay to find Roland's for lunch.

.
ALL IN ALL A VERY GOOD MORNING
.
---