2nd Maya Snorkel

Beez Neez
Skipper and First Mate Millard (Big Bear and Pepe)
Tue 24 Jan 2017 23:57
Our Second Maya Snorkel
After our lunch Alex knelt on the stern platform and fed a bread roll to our faithful cleaning crew who came up from picking the hull and ate gratefully.
Silly tame, they seemed to take turns.
Only a frenzy when Al broke the last bits up. We went back in then to explore the opposite corner of the bay to Beez.
We left the gang who had now returned to picking Beez.
I had only gone ten feet from Beez – Oh No an Itcharse – take the picture Pepe and on you go.........
We hoped to see black tipped sharks over by the cliff, sadly, not to be but we did see new coral growth.
Long tails whizz past a little too close for comfort, but we guess they are used to keeping a sharp eye out......
This chap opened wide but sensibly the little cleaner refused to go in..........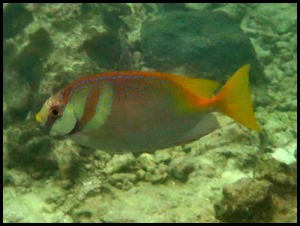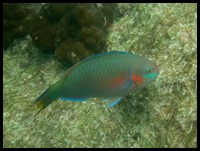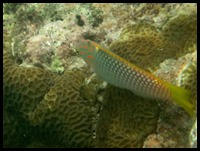 Lots to see.
Home to shower and enjoy a sundowner – we actually saw a bit of a sunset.
ALL IN ALL SO MUCH TO SEE
BEEZ BOTTOM IS QUITE THRILLED
---