The Plantations

Beez Neez
Skipper and First Mate Millard (Big Bear and Pepe)
Thu 24 Feb 2011 23:02
The Converted Plantations of St Kitts
We left the road and drove through old sugar fields, over the rail tracks used in the production days to carry the cane to the mills and on to the port
As we entered the grounds we saw old machinery used when this was a working plantation. 1000 Places to See Before You Die says St Kitts and Nevis are loved by Caribbean aficionados for their tastefully restored plantation inns-cum-restaurants, and Rawlins Plantation is one of the most captivating, allowing guests to savour a vanishing way of life amid old-fashioned West Indies charm and gracious surroundings. The main house with its wide veranda overlooking carefully clipped lawns and flower-splashed gardens, was built on the original 17th century foundations of an old sugar works, and offers what is arguably the best dining on the island, an imaginative blend of Kittian and French cuisine designed by the talented owner / chef. Many ingredients are grown on the plantation. A wondrous West Indian buffet lunch draws both the local elite and nonislanders. The regulars come to relive the nostalgic planter's life - or is it the sensational chocolate terrine with a light passion fruit sauce?
1000 Places says "This cloud-covered volcanic island so enchanted Christopher Columbus that he named it after himself - it was only later that locals unofficially shortened the name St Christopher's to St Kitts. With its less lively sister island, Nevis, it was once part of the British Commonwealth, but today it's the smallest country in the United Nations and is proclaimed by local tourism officials as "the Secret Caribbean". Word is out, however about The Golden Lemon, a handsome 17th cetury great house that sits beneath the spectacular, 3800-foot Mount Liamuiga at the island's northern end. Famed for its eclectic and highly original interiors, the hotel is the domain of an American design-magazine editor and connoisseur who used the historic island property as his blank canvas, combining local crafts, European antiques, crystal chandaliers, white rattan furniture and stunning fabrics in a spirited but impeccably tasteful mix. Understandably, it's a design-conscious international clientele that fills the beautifully appointed villas (all of which have private plunge pools) and guest rooms, and shows up for the poolside Sunday buffet brunch, which is served in the shade of a breadfruit tree. With this write up we just had to go and look for ourselves, it was a dull day but the yellow showed up as a happy colour, the staff were friendly and welcoming.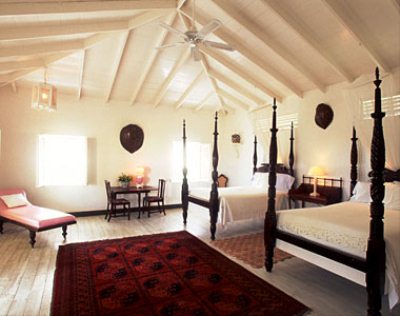 The garden in front of the property........
......... complete with its own cannon and a view over the Atlantic Ocean
ALL IN ALL GOOD TO VISIT
INTERESTING BUT SOMEHOW NOT AS SPECTACULAR
---