To Huahine

Beez Neez
Skipper and First Mate Millard (Big Bear and Pepe)
Sat 31 Aug 2013 22:57
To Huahine, Society Islands, French Polynesia
Up anchor and away at five o'clock for the overnighter to Huahine. In the deeper water of Cook's Bay we pass the very handsome SInbad of Dublin, first said hello to as we arrived in Santa Cruz, Galapagos.
Sails up by the end of the bay, we look past the last buoy, will it rain ??? Wind just right for a cracking sail.
Sunset, I settle to my watch, Bear gently snores in his cockpit nest, I listen to the second Patrick O'Brian, Post Captain, marvelous. By eight the wind died, engine and water maker on. By nine off again and sailing nicely.
My two till six was lively, squall, rain and spuddling along at just under seven knots. I was a tired Mrs. Bear by bed time. Bear took his first view of Huahine and had the great joy of seeing a humpback not just breach but leap completely out of the water. He trained the camera around the spot for ages but sadly the performance was not repeated. I got up to his cheery face all enthusing and chirpy.
My first look at the island when I got up.
Huahine from the air and one on the IPad, just before we turn left into the bay.
Where are we ??? In the middle of the map.
Sails down and furled, as we are heading in a chap just cruising along.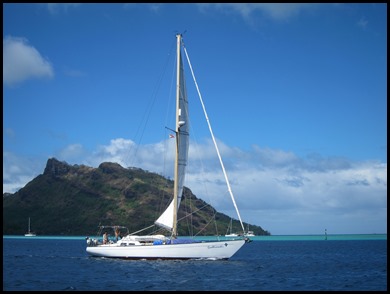 Just as we are setting anchor next to Gallivanter, they pop their heads up and announce they are just about to leave. We wish Adam, Tam, Jack and Katinka safe winds and following seas and hope to catch up before New Zealand.
Our view to the right.........
..........and to our left. Lunch and log in then.
Stepping ashore, the picture from the jetty was quite something. We are going to love it here methinks....
We bimbled down the 'High Street', a couple of bars and shops, passed quite a big supermarket and crossed a little river.
A very newly finished grave in a front garden, cement mixer still out. The Medical Centre was opposite the Gendarmerie, in we went to log in, "No", the lovely receptionist said with a massive smile across her face, "we only need you here if you are logging out of French Polynesia". Time for an ice cream then. Back to the supermarket which turned out to be a real Aladdin's Cave of delights. Tourism is not big here so the prices were really reasonable, so much so, I stocked up on a few bits and bobs. We have been warned about the cost of things in Bora Bora, so mental shopping list before we leave is now forming. Ice creams in hand we sat on a bench overlooking the bay, car parking area in front of us. Now an amazing thing happened not once but twice. A car pulls in right in front of us, the driver looks at us, smiles, pulls back out and parks where our view is not spoilt – cannot imagine that happening too many other places. No "bonjour" here, everyone, but everyone says Ia Orana" – pronounced Yo-Rah-Nah.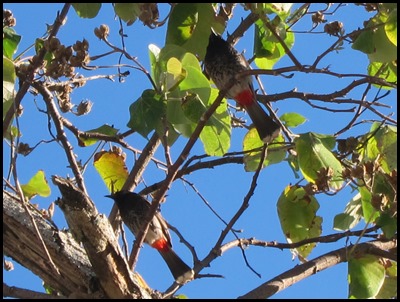 I know I've been sadly lacking on the bird front. Seeing these two little chaps with fancy red bottoms, I stood for ages just watching them. One must have felt my need and promptly went to a puddle for a good bath, giving me the best view of his colourful rear end. Too much excitement clearly leaves only one thing – beer o'clock. I better put the roast on first then and hope for a backgammon win. Huh we'll see..........
Settled, we enjoyed the sunset with Raiatea on the left and just visible in the distance, Bora Bora. It's been a while since we could see our next two stops.
ALL IN ALL A REAL GEM
QUIET, BEACHES, HOT AND HOMELY
---