Seahorse World

Beez Neez now Chy Whella
Big Bear and Pepe Millard
Wed 20 Jan 2016 23:57
Seahorse World
Seahorse World. Our last stop of the day was to a commercial seahorse farm that invites the public in for tours. We came in on a triple ticket via Beaconsfield Mine and the Platypus House next door. People who come here expecting to see tanks filled with real weed and glamorous settings for the tanks with just a few prized seahorses in each are in for a bit of a shock. There are a few specimen tanks in the first small room you are shown to on the tour but they still have plastic weeds. However, if you go in expecting a aqua-battery for seahorse breeding then it's a very enjoyable hour with thousands of every sized seahorse on view.
When we had our marine tank we were always told that seahorses were easy to keep but a nightmare to feed as they like loads of live food regularly of the size that they can suck into their limited sized mouths, so we were very interested in seeing how they manage this huge ordeal.
The first room with small numbers in big tanks – plastic weeds though.
Nothing could have prepared us for the herds in the second room. This huge area was where all the action was. Pregnant men all over the place. The water in these tanks comes straight from the sea below, filtered and warmed a bit. Surprisingly, there are many seahorses living under this very jetty, we always thought they lived in warmer water.
Artemia and mysid shrimps are a favourite foodstuff of the seahorse and they breed them here by the million if not trillion. When feeding the seahorses make a distinctive click sound, excess water is ejected from valves near the back of the head. The same clicks are used in communication and social interactions.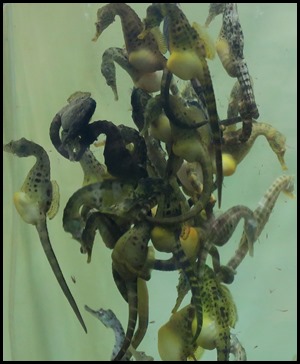 Feeding time, little and often.
We learned about the reproductive cycle of the seahorse.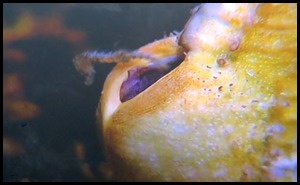 The pregnant male ejects between a hundred and a thousand perfect teeny-weeny seahorse babies overnight and by morning he is ready for his next pouch of eggs – maybe by the same lady, maybe not, although there is some evidence to suggest pairs may stay together for a season. The babies as soon as they are born are seen as food and dad at this point can eat some of his young. The little ones are only safe when they are bigger than a mouthful, however, this growth does not protect them from all the other predators out there.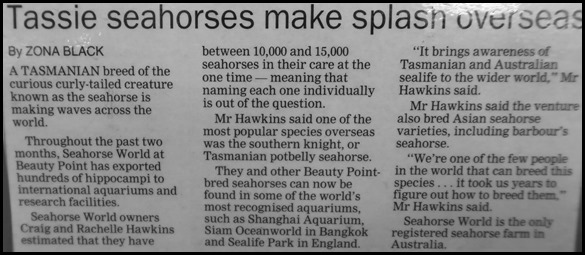 A newspaper feature pinned to the wall.
From the Seahorse World Website: Seahorse Australia was established in 1998 at Inspection Head Wharf, Beauty Point Tasmania. It was one of the first commercial seahorse farms in the world and grew out of research being conducted by the University of Tasmania. The purpose of the establishment was to try and supply seahorses to the traditional Chinese medicine trade, reducing the pressure of that market on wild populations. The economics of production caused a change in production, and instead, seahorses were produced for the aquarium trade. [
Dried seahorse retails from US$600 to $3000 per kilogram, with larger, paler, and smoother animals commanding the highest prices. In terms of value based on weight, seahorses retail for more than the price of silver and almost that of gold in Asia], together with scorpions they can be seen dried on skewers in Asian markets.
The nursery tanks. Youngest front right going in age order clockwise.
A couple of days old, babies are scooped out of the tanks before the lights go on every morning.
Following the design, engineering and installation of advanced equipment, 600 breeding stock of the attractive Tasmanian variety of the Australian Pot-bellied seahorse (Hippocampus abdominalis - sometimes called H. bleekeri) were taken from the pristine waters around Tasmania under permits issued by State and Federal Governments. Experimentation over the next couple of years helped determine the best husbandry systems for the species. A high level of breeding success has been achieved and a reliable supply of quality seahorses known as Southern Knights was first offered to the aquarium market in 2001. In time, other species of seahorses were introduced and we now also breed H. kuda, H. barbouri, H. whitei, and H. reidi as well as a range of other marine fish and invertebrates. We have also produced a wide variety of freshwater fish.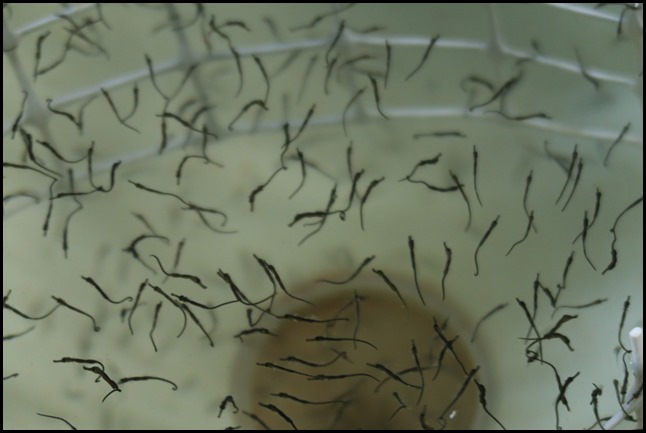 A week old.
Apart from their popularity in Australia, we have shipped our seahorses to distributors and public aquaria in many countries around the world, including the United States of America, Canada, Germany, Italy, Taiwan, Korea, Japan, Singapore and various Southeast Asian countries. Some of the aquaria displaying our seahorses include the Florida Aquarium, Monterey Bay Aquarium in California, Shedd Aquarium in Chicago, Sealife Park Dorset in England, Melbourne and Sydney, Bangkok Oceanworld and the Shanghai Aquarium. Many others receive our seahorses through wholesalers.
Seahorse Australia operates as a licensed captive breeding aquaculture facility and has CITES (Convention on the International Trade in Endangered Species) approval for the export of live seahorses around the world. We are one of very few CITES approved seahorse farms in the world and the only farm in Australia. Tours of our unique farm are conducted at Seahorse World.
The green chap costs sixty two pounds and another fifty if you want him posted to Perth, goodness knows what the cost would be to the UK...
When the babies are big enough they go into the teenage tank. There were plenty of tiny babies in with them proving some had been 'messing about' with each other........
Next was the old enough to be sold tank.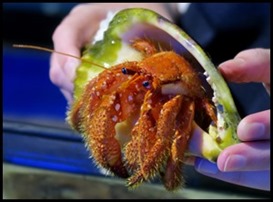 In the final room I hugged a hermit crab that just wanted to 'hang out' and Bear hugged a seahorse that felt very similar to a starfish.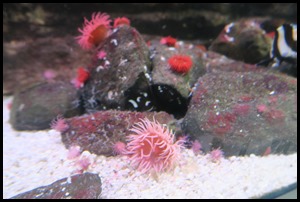 Anemones and a pair of banded pipe fish.
We met a snowflake eel, a simply adorned sea dragon and a huge lobster. There were Nemo's, sea fish, a cuttlefish and a few other bits and bobs, we could stay in this room unhurried and then out into the shop.
We bimbled round the shop and bought a dvd on sea dragons as we are not sure if we will ever snorkel with one.
A lady walked up to me and in a very serious tone told me that my "husband looks just like a seahorse". I'm not sure how she wanted me to respond but I think with the accurate name that I am indeed a very, very lucky girl.........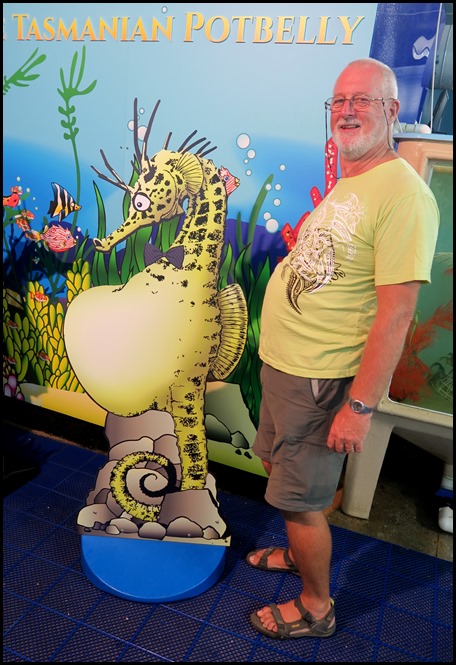 ALL IN ALL A FASCINATING HOUR
AMAZING TO SEE SO MANY AND HOLD ONE
---