Angostura Products

Beez Neez
Skipper and First Mate Millard (Big Bear and Pepe)
Mon 2 Nov 2009 23:28
We were fascinated to see just what product lines are made here - and sample them of course.
and now
ANGOSTURA AROMATIC BITTERS is a highly concentrated food and beverage flavouring. Made from a secret formula, it is a unique blend of natural herbs and spices which is used to flavour a wide variety of foods and drinks. The "secret" was developed in 1824 by Dr. J.G.B. Siegert, a Surgeon General in Simon Bolivar's army in Venezuela. He used his aromatic bitters to improve appetite and digestive well-being of the soldiers. The word "Angostura" came from the town of that name in Venezuela where Dr. Siegert was based. Angostura aromatic bitters is a unique flavour enhancer for food preparation, beverages and deserts; just a few dashes can enhance the flavour of any dish. It is not bitter when added to food & drink, but rather has the ability to marry flavours, bringing out the best in them without masking their taste.
It is great with the following, just add a few dashes to add a burst of flavour:
- Fruit juices and fresh fruit salads
- Coffee
- Ice Cream (especially vanilla, coconut, rum & raisin)
- Seasonings and marinades (especially for meats)
- Soups and sauces
- Our favourite is a couple of splashes in the top of a coffee liqueur / evaporated milk / rum cocktail on ice
- A must in every kitchen cupboard and drinks cabinet
ANGOSTURA ORANGE FLAVOURED BITTERS Blending two varieties of citrus essence with their distinctive herbs and spices – creates a truly unique new style of bitters. A harmonious balance of bitter orange fruit and sun-ripened sweet oranges from the Caribbean bring a depth of orange flavour. The perfect enhancement to an endless variety of culinary delights and cocktails
Global trends in the bitters category have been diversifying into flavoured segments. Angostura, world renowned for its aromatic bitters has used nearly 200 years of experience to formulate this zesty new orange bitters.
ANGOSTURA 1919 rum possesses a rich, golden-amber hue with excellent clarity. The rum exudes a complex bouquet brimming over with aromas of cocoa, molasses, caramel and vanilla.
It is remarkably soft and well rounded as the rum glides over the plate without a hint of harshness or biting edge. Within moments it opens up, revealing a generous and long-lasting array of toasty flavours. The finish is warm and very relaxing. Bear like many others prefer this to 1824 and this is the rum Jump Jet bought Bear in Antigua when she came to visit, little did we know then we would ever visit where it was made.
Ninetini
1oz Angostura 1919 rum
1/2 oz Orange Curacao
2 oz Sweet n' Sour Mix
1/2 tsp. Sugar
2-3 dashes Angostura aromatic bitters
Combine all ingredients in a shaker with ice.
ANGOSTURA 1824 LIMITED RESERVE is a blend of the finest mature rums, hand-picked by the master blender from select casks. These rums are aged in charred American oak bourbon barrels for a minimum of 12 years and then skillfully hand-blended and re-casked. Upon the rum's optimum maturity it is hand-drawn, filtered and hand bottled.
The rum itself exudes a rich bronze colour with a seamlessly smooth texture and well rounded, medium to full body. The bouquet is seductively rich with aromas of sweet molasses, vanilla, honey, spice and cognac-like notes.
The palate of Angostura 1824 offers mouth-watering flavours of honey, fruit, chocolate, spices and herbs. The finish is remarkably long and flavour-packed.
Recommended to be drunk neat or on the rocks.
LIMBO DRUMMER RUM. This product was created in the early sixties and available up to 1992. It was rejuvenated with a mixture of Angostura rums in 2005 and is being produced mainly for the duty free market. They are hand-painted and labeled at Angostura distillery. It is available in most duty free outlets in the Caribbean and soon to be available internationally. The bottles are all hand painted on site but we were not allowed to take pictures in the bottling plant, but real fun to see hundreds of these happy little chaps sitting waiting to be filled.
Passionate Rum
1 oz Limbo Drummer
Passion Fruit juice
Angostura aromatic bitters
Garnish with a cherry in a martini glass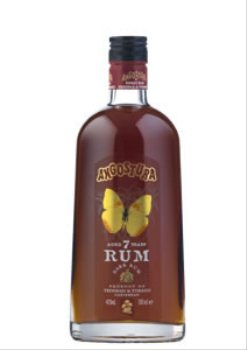 Entwined in Trinidad's colourful, rich heritage it is only natural that Angostura houses the island's largest butterfly collection. With over 8,000 specimens on display including several extremely rare species that have the distinction of being seen and captured only the once. These rare and beautiful butterflies, normally found amongst the sweetest sugar cane now adorn this premium range of Angostura rums.
ANGOSTURA LIGHT RUM. A blend of light and heavy rums distilled in Angostura's five-column continuous still. The rum is aged in American oak Bourbon barrels between three and eight years. After aging the rum is twice filtered through charcoal to remove impurities and the golden colour it has acquired during barrel aging. It is then blended and bottled. This rum is light and exceptionally smooth, and can be drunk on its own, in contrast to to using it exclusively with mixers. Angostura three year old rum is a characterful, light to medium bodied spirit. On the nose it has delicate notes of citrus tropical fruits and banana. Whilst on the palate it is rounded with vanilla, gentle spices and coconut milk.
ANGOSTURA 5 YEAR OLD GOLD RUM. A blend of light and heavy rums distilled in Angostura's five-column continuous still. The rum is aged in American oak Bourbon barrels between five and eight years. After aging individually, the rum is lightly filtered through charcoal to remove impurities, but not so much that it alters the inherently rich flavour or the wood induced, pale amber colour. It is then blended and bottled. This rum is an energetic and flavourful rum that is exceptionally smooth. It is plays an excellent role in a wide array of cocktails, contributing an attractive colour, taste and aroma to the drink. Angostura five year old gold has an attractive pale gold hue. It is a slightly sweeter and more flavour some rum. On the nose it has subtle notes of burnt caramel, spices and vanilla intermingled with an apple fruitiness. Whilst on the palate it is rich, mellow and smooth with an almost fruitcake taste profile
ANGOSTURA 7 YEAR OLD DARK RUM. A blend of light and heavy rums distilled in Angostura's five-column continuous still. The rum is aged in American oak Bourbon barrels between seven and ten years. After aging individually, the rum is lightly filtered through charcoal to remove impurities, but not so that it alters the inherently rich flavour or the dark, wood induced colour. After blending it is returned to barrel to allow the blend to marry. This silky smooth rum comes into its own after a minute or so in the glass, and should be first sampled neat to allow the rum to reveal its true characteristics and provenance. Angostura seven year old dark has a pleasing dark amber hue. It is a powerful, robust and flavoursome rum. On the nose it has subtle notes of treacle, chocolate and a gentle smokiness, whilst on the palate it is rich, intense and powerful, with a tantalising hint of burnt spice.
.
ANGOSTURA CARIBBEAN CLUB RUM PUNCH is another quality product from the House of Angostura, a company known for its large stock of quality aged rums and their world famous Angostura aromatic bitters. Caribbean Club is blended from the finest rums and infused with the most exotic tropical flavours. Enjoy Caribbean Club Rum Punch over ice or use it to create exotic Caribbean cocktails. Choose your club: Pina Colada, Traditional Rum Punch, Passion Fruit, Pineapple and Mango, and live the life
Hot Caribbean Sunset
1 oz Caribbean Club Mango
1/2 oz Amaretto
3 oz Orange Juice
1/2 oz Grenadine Syrup
Method: Pour all ingredients into a 12-0oz glass full with ice. Stir gently and garnish with orange wheel. Serve
BLU This ultra-premium vodka is processed through a five-column still, then triple filtered to attain exceptional clarity and superlative quality. Its taste is mellow, extremely clean, very polished and finishes smoothly with a delicate edge. This sensationally elegant vodka is the perfect choice for those who appreciate quality, purity and versatility.
Blu Cosmo on Ice
Blu vodka
Ocean Spray Cranberry Juice
Blue Curacao
Lime Juice
ROYAL OAK is Trinidad's renowned full-flavoured rum. It is a select blend of the finest aged rums, hand - crafted and matured slowly in charred oak casks. It is Trinidad's great, superior rum.
Exceptionally mellow and perfectly balanced, Royal Oak's full flavour is best enjoyed neat or over the rocks with club soda or coconut water. It's also delicious with tonic or cola.
Elegant, distinctively handsome presentation canisters are available on request.
Trinidad sends you its very best only in small quantities - each bottle is registered by our master blender - and only at the peak of its flavour.
Recommended with club soda or coconut water
ANGOSTURA WHITE OAK or just WHITE OAK (as it is better known) is a leading rum brand in Trinidad & Tobago and the wider Caribbean. It is a light delicately flavoured blend of rums fermented and distilled from sugar cane molasses. "Well known for its smoothness and can be enjoyed with any of your favorite mixers."
Angostura Fuh So
1 oz Angostura White Oak Rum
1 oz Amaretto
1 oz heavy cream
1/2 oz grenadine syrup
fresh cinnamon
3-4 dashes Angostura aromatic bitters
Methodology: Blended & Layered on Grenadine
Glassware: Cocktail
FORRES PARK was the name of the old sugar estate the Fernandes family acquired in the early 1930's. Forres Park Rum derived its name from this estate and the large casks known as "Puncheons", in which over-proof rum was stored a long time ago. It was once conserved for use by the Fernandes family and their estate workers who enjoyed its robust strength and smooth taste, especially in the cool evening time. However, the secret of this rum was too delicious to be kept from the entire world. Amazingly, without branding or marketing its popularity spread like wildfire, and today it is Trinidad's favourite over-proof rum. Why not take a nip in the evening when the cool Caribbean breeze makes you remember times of old, or mix it to make exotic drinks and rum punches.
Zombie
2 1/2 oz Forres Park Rum
1 oz Angostura gold rum
1/2 oz Apricot Brandy
1 oz Pineapple juice
1 oz Lime Juice
1 oz Orange juice
1/2 oz Grenadine Syrup
3 dashes Angostura aromatic bitters
Method: Shaken
Glassware: Highball.
WildFire Shot
½ oz of Forres Park Rum
½ oz of energy drink
1 oz of orange juice.
This is to be served as a shot.
FERNANDES "VAT 19" GOLD RUM is an accomplishment! It is the rum with which you must celebrate life - a graduation, a new job or a marriage. It was conceived through a mastery of blending with the sole purpose to toast to the rich heritage and passion of the people of Trinidad and Tobago. Bring your friends together, play music that really makes you move, romance your loved one, and drink this rum. You will forge memories that will burn sweetly in the recess of your mind forever. Fernandes "Vat 19" rum is the sprit of celebration; it is the Spirit of Trinidad and Tobago.
Planters Punch
2 oz VAT 19 rum
2 oz orange juice
3/4 shot lime juice
1 teaspoon caster sugar
4 dashes Angostura aromatic bitters
Method: shake & Strain over cubed ice and add Angostura® aromatic bitters
Glass: Tumbler
Garnish: Lime wedge squeezed into drink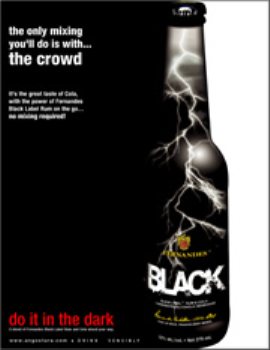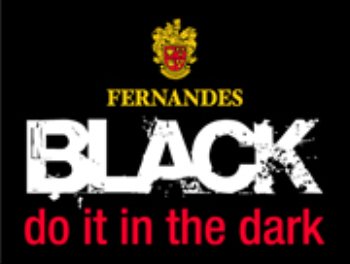 FERNANDES BLACK is a Rum and Cola Mix, with a 10% alc. / vol. This product is a line extension of Fernandes Black Label Rum.
Fernandes Black is designed to match the way our customers currently drink a Rum and Cola. Its strength and rum taste appeals to the core target. The design suggests energy, excitement and joie de vivre, craved by the target group. Extensive consumer testing undertaken has endorsed this strategy as connecting with target audience. The objective is to grow the consumption of rum by increasing the convenience and mobility to consumers, as well as to excite the rum category with new product news. "the only mixing you do is with the crowd."
Simply have 'Served cold'
Just to prove we can slide away from alcohol the rest is alcohol free - Angostura produces Soy, Worcestershire, Teriyaki and Bloody Mary sauces. These sauces are made with less Sodium than its contemporaries and are filled with their authentic flavour. Taste the flavour not the salt.
Baked Red Snapper in Angostura Soya Sauce - could be used with most fish
5ml (1 tsp) peanut oil
2 thin slices fresh ginger, finely chopped
1 clove garlic, crushed
15 ml (1tbsp) Angostura soya sauce
15ml (1 tbsp) oyster sauce
15ml (1 tbsp) Angostura aromatic bitters
1 medium sized red snapper, cleaned and marinated in 30ml (2tbsp) soy sauce and 5ml (1 tsp) sesame oil
½ red sweet pepper, cut into thin strips
1 small carrot, cut into thin strips
½ green sweet pepper, cut into strips
1 stick celery, finely diced
Preheat oven to 375F
Heat oil in a small saucepan over medium heat. Cook ginger, garlic and onion until tender. Add soy sauce, oyster sauce and Angostura aromatic bitters. Simmer for 1 minute. Arrange fish on a lightly buttered oven-proof dish. Brush with sauce, retaining some for basting during cooking.
Bake for 40 - 45 minutes or until fish flakes easily with a fork. Parboil vegetables and use to garnish fish prior to serving.
Serves 4
Perfect Bloody Mary
4 ounces of tomato Sauce
1 1/2 oz Vodka
3 to 5 generous dashes Bloody Mary Seasoning
For spicier taste add more seasoning
Stir with ice
Barbecue Sauce Recipe
2 ozs of Angostura Bloody Mary Seasoning
3 ozs Tomato Sauce
1 tsp Garlic powder
1/2 tsp Chilli powder
1 tsp Sugar
1/4 tsp Curry powder
Stir well
LLB or LEMON, LIME AND BITTERS. How does a drink become part of a country's culture? It certainly takes a special drink, one that caters for a real need of the consumer. Well that's what has happened in Australia. Australia is a sports mad society. Virtually everyone participates in some form or another in sport. The climate certainly encourages the population to venture outdoors. Golf is the leading participation sport in Australia and whilst golf is a prestigious sport it is accessible to all. There are some 900 registered golf clubs in Australia, catering for 1.4 million players, who play 33 million rounds each year. It is here that Angostura find the origins of LLB. At the traditional 19th hole, it is almost mandatory to enjoy a refreshing Angostura lemon, lime & bitters. The tradition has been handed down through the generations, after a round of golf, when you are hot and thirsty the first thing you ask for is an LLB. The first time we ever saw it was when Jim from Bees Knees orderred one in the Yacht Club in Grenada, we still haven't tried it.
ALL IN ALL WHAT A WAY TO END A TOUR STANDING TRYING NEW FLAVOURS BEFORE GOING INTO THE SHOP FOR A T-SHIRT AND A FEW BOTTLES - MARVELLOUS
---