Wanci Marriage Mart

Beez Neez now Chy Whella
Big Bear and Pepe Millard
Tue 9 Aug 2016 22:47
Wanci Marriage Mart
After a long wait by the quayside we were bundled into various cars and minibuses. The long column of vehicles then sat outside the Regent's house, apparently he is flying in. Some time later we are told he cannot make it and on we go. Out of the vehicles we walk down a dusty, lumpy track – all of a sudden we are on a field with an explosion of colour. We are led to our seats finding a lunch box containing a water and a cake.
Young ladies, mostly in yellow sit on two sides of the field.
To our right the important people, Mrs Regent representing her husband, to our left the elders and men. We listened to a long speech and then a group of young men stood and took the Pledge of Allegiance. Many more speeches with the odd sentence from our interpreter. Many uniforms appear and shake hands with the elders – including an albino.
The first set of dancers.
The second, younger group are really good, led by a strict 'caller' (second left) who gave the word and they flicked their heads in a lovely move.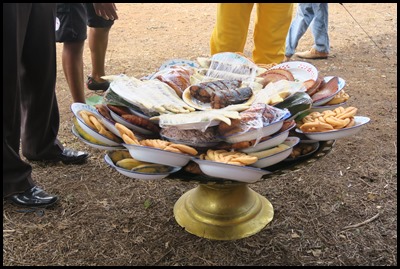 A table with a blue cover was formally placed in front of the Sailors (as it said on the back of chairs). Uncovered, our lunch but to our unpractised hands, much toppled and caught. Then crowds descended and soon the platters disappeared.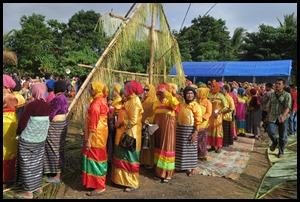 Then the event of the day. It began with the mothers who want to show off their single daughters forming a parade, some fearsome looking women who would make cracking mother-in-laws........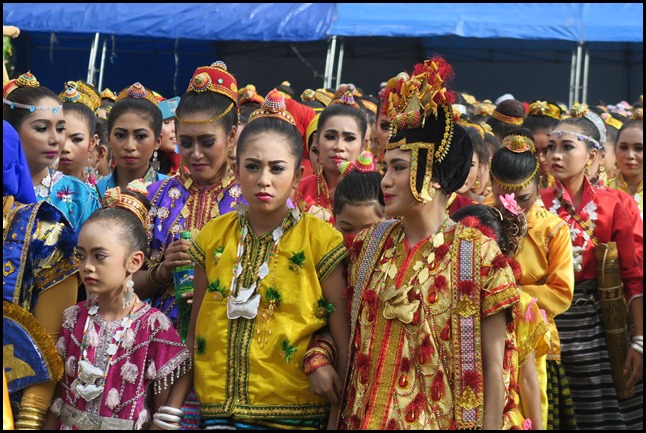 Next came the daughters, for some this was clearly not their first turn on the parade ground. Some were clutching bottles of Sprite and Coke, some coconut juice, only one cup and no tissues.......Later, the brave took the offered cup and handed over a donation. Three times the ladies walked around, lots of singing and giggling.
The mothers then shouted out the fact that their beautiful daughters were ready to be viewed and the young bucks made their initial 'fly by'. Shouting and harsh sounding words we took to be the mothers laying out the rules before the young bucks retreated to consider if it was worth pursuing the 'light of their life'.
At this point there was a lot of milling about, young lads posed, we had our pictures taken with an endless queue until our cheeks ached and young ladies plied their single cup wares – Bear found himself holding a massive coconut and he found me a can of virgin coke.
We all took loads of pictures too.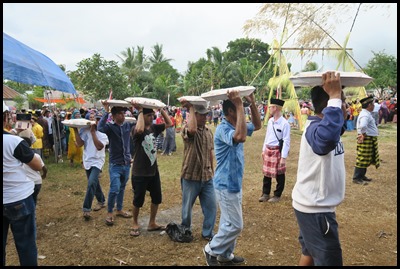 The young bucks eventually paraded with gifts on trays carried aloft. Clearly, they thought the young ladies were worth trying out for under the watching gazes of the elders. The structure in the middle was a huge swing, the finale to the day would be when a 'real match' had taken place and the newly engaged would sit on the swing together.
Most gifts were scarves, cakes, sarongs but one sensible young man proudly held a cooked chicken, resplendent in cling film and blue tinsel.....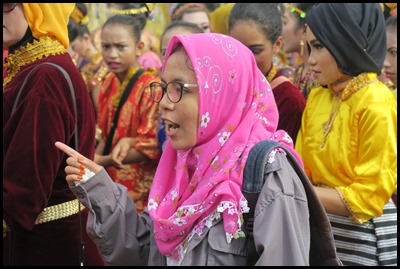 A busy journalist interviewed Sarah (Soul) and then an animated piece to camera.
There must have been a match as the crowd surged toward the swing and we heard much cheering and clapping. Meanwhile, Bear was in a group posing with a couple of elders.
Soon the event was in full swing and we were led back to waiting cars. Sunset was more a lights out, disappointing after the last couple with blazing reds and oranges. A few games and time for bed.
ALL IN ALL A COLOURFUL BUSINESS
VERY DIFFERENT AND GOOD FUN
---