Coach Around Tual

Beez Neez
Skipper and First Mate Millard (Big Bear and Pepe)
Fri 22 Jul 2016 22:57
Coach Trip Around Tual City
After lunch boarded buses for a tour around Tual City. Grant and Mary (El Gato), Gary (Wirraway) and of course Bear posed by our chariot – a Polisi bus. Our first stop was the town park.
The statue is a celebration of the Kei Islands independence. Photo-bombed by a certain Deb (Matilda) who managed to leap in over fifty pictures during the day, herself or her sparkly hat that is, just as well we both love her...... An amazing tree root system.
I said Salaam Alaikum to this gentleman.........., he replied in the usual way "Alaikum Salaam" quickly followed by "please my I have my picture taken with you". Certainly, at which point he snuggled in....... We went off to explore the park and thought no more of it.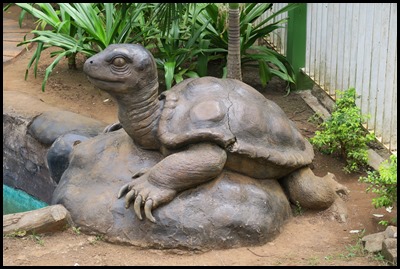 Pity the lovely old fountain had a big hole at the far end. The turtle was cute but judging by his cracks he'd seen better days.
We walked the rest of the well kept gardens and exited by a small archway to return to the bus. It was at this point that our guide came racing over "are you a Muslim??? My supposed gentleman had dobbed me in for not wearing a hijab. I reported that I was not........... very angry that my greeting had been so misused, our six weeks in Morocco had never resulted in such a result. Cross as a wasp.
Not invited in for tea by the Mayor at his place, we boarded the bus.
We passed a handsome house and the symbol of the city, an eagle.
Our little booklet says: Tual City is one of 11 Regency/City in the Moluccas Province. The total area of Tual City is 19.448,13 km2, the 352,29 km2 is land area and the 19.095,84 km2 is water area. Tual City is an archipelago area consists of 66 islands, 13 of them inhabited; the other 53 are still uninhabited. Tual City has 3 archipelago clusters, Dullah Island, Kur Islands and Tayando Islands with 338,50 km2 shorelines.
Our next stop was at a house – the front room all laid up for afternoon tea. Cassava waffles on the side.
The inner room was also decked in colour. A door to........ We all crammed in the garden for a cookery demo.
First the cassava is peeled, then it is wrapped tightly and pressed to squeeze out the arsenic rich juice, then it was grated in a machine run on a generator. Lastly it was sieved.
Kerosene waffle machines heated. Fillings plus Deb's hat.......
Out of the waffle maker, buttered with the back of a spoon, chocolate 100's and 1000's, chocolate sauce, soft cheese or a mixture of any of the above, folded in half and sectioned by a pair of scissors. We sampled and thought them a sweet, slightly chewy bread texture.
The other rooms in the house, neat and tidy. Time for a sit down in the front room.
Our next stop was a school, a new build happening. New teachers........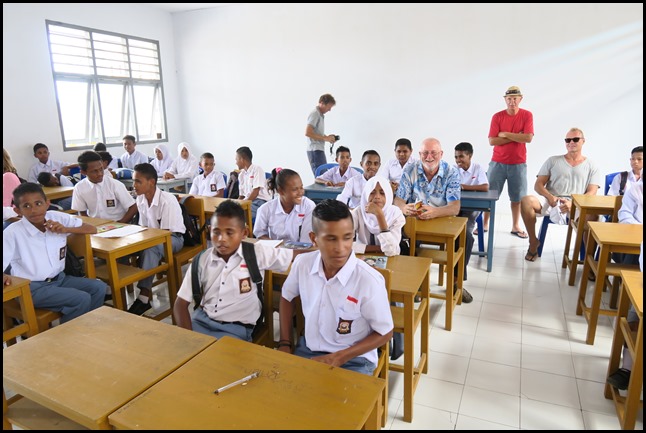 The children (all 14) were very pleased to see us.
Outside the builders were working hard.
Everyone took pictures of everyone else.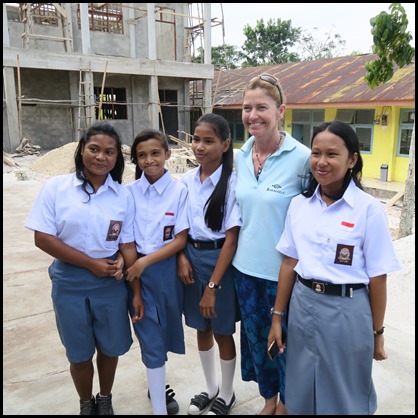 We all had a smashing time. Back to base, home for a quick shower and back for the evenings entertainment.
ALL IN ALL A BUSY DAY
INTERESTING DAY
---