Clingons

Beez Neez
Skipper and First Mate Millard (Big Bear and Pepe)
Sat 14 Mar 2009 14:52
Memories of Roseau
We arrived here in pandemonium with wet books, stuff everywhere drying, using four rolls of toilet paper, now to be used two by two and then to put the tin hat on the day - finding the 'Clingons' who cobbed a free ride from Rodney Bay.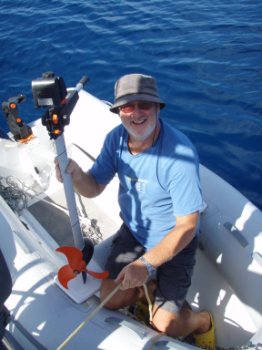 We soon settled here as it reminded us so much of our beloved Fowey, gently rocking in the swell, cockerel crowing to its hearts content any old time of the day and night, and a feeling of peace and tranquility. Then Bear ties up to the jetty and while ashore the outboard got itself caught and bashed, losing a couple of important bits - cue Roots to the rescue, tow number one. Electric spare outboard put into service and off we go - juice ran out - cue Roots rescue number two.
The Fort Young Hotel allows us yachties to use their jetty which is very close to the shops and very convenient not having to lug shopping up the hill to our local dinghy dock. Water features are not rare here, the island has three hundred and sixty five rivers and very regular rainfall.
The colour of the produce market in town. The old lady - far right, had seen a chap going off with a packet of her rolls, he had taken from a dog who had nicked them first. Chap explained, carried on eating, dog not so lucky - got the pole chucked at it, and boy was she a good aim.
The town has some mad wiring, great traditional dishes, this one turkey stew, rice, salad and a side dish of boiled red beans. Bear of course gives this a hearty thumbs up and later his aroma is hearty too ???
A colourful entrance to The Post Office.
The town has a variety of buildings still showing the damage caused by Hurricane David. Building work and workmen. Berger Paint has a lot to answer for.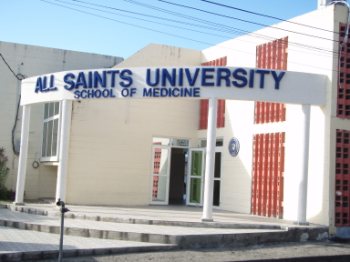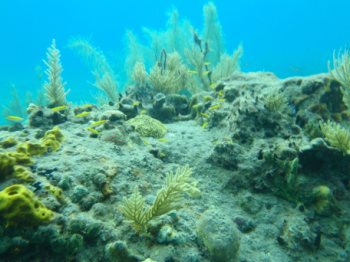 The City of Roseau is justly proud of its academic achievements and boasts a Medical School. It is also proud of its environment and underwater protection. Photo taken by Roger off Champagne Beach when we were snokeling.
We had such joy in meeting Ednbal, their tree frog emblem. Roger and Sasha, our two days exploring in the Jeep, sundowners and stroking their Corian work surface. They gave us photos of its implant, work done at a fraction of the cost in Cartagena (pronounced Carter Heyna) in Columbia, a city we will visit before or after The San Blas Islands en route to The Panama Canal. Roger showed Bear his gadgets while Sasha and I sipped in the sunset. AND of course our fabulous day with Josie and her family (own blog)
Most days cruise ships come to town arriving by nine and leaving at five, one day three came in, needless to say a day we stayed aboard did chores, played games and sunbathed.
Mr. Woo doing his thing with the washing. My completed and fitted mosquito net, if I feel under attack I can tuck it in and go bite-less. We burn old fashioned coils in the cockpit and that keeps mossies and "no see ums" away. Bear off for some water, middle of the picture, this time in his fully charged charger.
Just as I was feeling a bit cocky being bite-less - BANG. I had spent an hour in the water cleaning the side of Beez, in a big swell grunge had found its way above the water line and went in armed with Fairy Spray and sponge. Every so often you feel a little nip, caught one of the guilty, a tiny red worm - like the blood worms you feed to your aquarium for a treat - only shorter with a stumpier head and obviously teeth. Well that was OK until after cleaning I went for a proper swim, as I got back to Beez I felt an attack much worse than my red worms. I got out and was writhing around, Vodka to the rescue. I didn't know I was supposed to rub it on - but - the pain went just before I fell over. Rash stayed with me a couple of days, I did stay out of the water. I tested by sticking just my left foot in and BANG. More of the same, still think drinking Vodka has a beneficial effect as opposed to rubbing it on.
What the experts say -
Definition of Jellyfish itch: An intensely itchy rash
due to contact with the tiny thimble jellyfish (Linuche unguiculata). These jellyfish are common between March and August in the waters off of Florida and in the Gulf of Mexico and the Caribbean Sea. There may be no adult jellyfish around as a warning. The jellyfish larvae look like mere specks of "finely ground pepper" and can evoke the same response. The reaction tends to start 4-24 hours after exposure to the jellyfish. People who have had previous exposure to seabather's rash may have an immediate stinging sensation - and boy did it sting, exactly the same as having hundreds of red ant bites. Some people feel like they have the flu
with nausea, vomiting, headache, muscle and joint aches, and malaise
. A bathing suit traps the jellyfish larvae with the fabric acting like a net. The best way to prevent stings is clearly to stay out of the water. Anyone who has had a previous episode of seabather's itch is advised to not go in the water. If one goes in the water, one can wear clothes such as a wet suit that provide a protective barrier. Careful washing of swimwear after taking a dip is advisable. Wearing a T-shirt into the water is a poor idea because it increases the risk of a severe reaction. Topical
anti-itch creams are only temporarily effective, alcohol or vinegar can be beneficial. Other names for this disorder include bather's eruption, sea poisoning, ocean itch and seabather's itch and the jellyfish are sometimes called sea critters or, incorrectly, sea lice. Well Sod Me.
This photo of my fishing line may not at first glance, be much of a wow. It is when you consider my lure is fifty feet down. We are moored in a hundred feet of water, every day a slightly different shade of blue but nonetheless cristal clear and stunning. The birds here have not disappointed, the colour of the land birds, the Frigate Birds and these two Black Headed Gulls arguing like a pair of old boys on a park bench.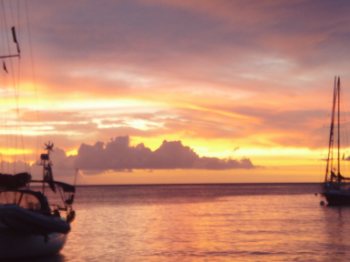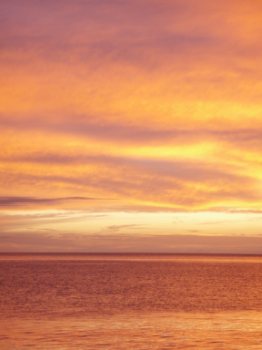 Our most stunning sunsets yet.
Beez Neez centre of photo in this glorious bay.
ALL IN ALL we have had Calamities, Clingons and Capers, enjoying this friendly and welcoming town, by far our favourite place so far.
---