Tuitui

Beez Neez now Chy Whella
Big Bear and Pepe Millard
Sat 20 Jul 2013 22:47
Every day we look out of the kitchen window and look at the little motu, well it can be any window depending on which way Beez fancies facing. In the police station we got these pictures from the map on their wall, our motu is at ten o'clock . We waited for a clear day when the lagoon was smoother than when we got soaked coming back from our first trip ashore.
We had a great fry up, weather settled, sun out, time to explore the motu, Bear wiggled Baby Beez through the coral heads and we landing on the sheltered side on Tuitui. Very different scrambling up a very hard, crunchy coral graveyard and finding definite planting going on. Much bigger than we thought with quite a woodland.
Intrepid explorer leads the way, we bimbled through storm damaged trees and came out on the ocean side to find a lovely sandy beach. Beyond was a wide area of dead coral. Anorak off, steady, well it was a chippy crossing, yes dear.
To our right we could see the way we had come in in Beez and the bay we walked to yesterday.
The area of dead coral was really very big, we saw lots of tube worm cases, clam shells, ferns and lots of other hard coral we recognised having snorkeled over them in Taravai and Akamaru, (not here been far too nippy).
We walked over it as far as we could and looking back Tuitui looked rather lovely.
From out here we could enjoy the power of the ocean, more pictures in Pacific blog.
Bear went to check on Baby Beez and pointed out Beez Neez on the way back.
I was waiting for Bear to return, this little chap came up to me, then closer, in fact so close I found myself making the noise of blowing out a candle. He stopped dead in his tracks, looked surprised, made to fly off, then did another fly past looking quite peeved.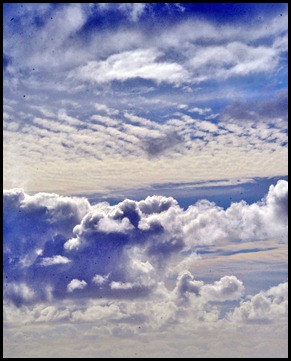 We sat and watched the clouds, they were moving incredibly fast, harbingers of the storm due in tomorrow.
Time to walk round the edge. It would be wrong on all levels not to get pictures of driftwood, well drift trees.
A chap, delightful, waited for ages but he refused to come out.
Almost completed our circum-ped when a little shower took us into the Robinson shelter.
Homeward bound.
ALL IN ALL A GREAT ADVENTURE
GREAT FUN
.
---