YH Sea Otters

Beez Neez
Skipper and First Mate Millard (Big Bear and Pepe)
Sat 7 Jan 2017 23:57
Sea Otters at Phuket Yacht Haven
Sitting having a shandy as Bear wanted to download a load of updates on his phone before we showered. I saw something out of the corner of my eye – initially I thought it was what men put down their trousers, Oh a ferret. Yes. A bit of scampering and a tail poked out from a service trolley parked beside me. A small paw started moving the placemats about. Next thing the creature brushed past my left leg, between Bear's legs and out onto the deck.
Sadly, I only had Bear's phone to use as a camera and it doesn't like half light....... so this is all we have of a chap preening.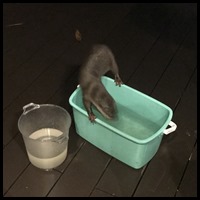 The chef came out and patted the top of a bucket and in he went to investigate.
Next, Mrs Otter appeared and there was a lovely, cuddly greeting.
Note to self – carry camera everywhere .............
ALL IN ALL NEVER KNOW WHAT'S NEXT
WHAT A SURPRISE IN A RESTAURANT
---