Tiki and Mahanatoa

Beez Neez
Skipper and First Mate Millard (Big Bear and Pepe)
Fri 19 Jul 2013 22:57
Tiki and a Walk to The Other Village
Bear had read in one of the yachtie guide books that there is a Tiki on the island. The lady we spoke to the other day told us it is on private property but the homeowners were very used to people strolling down the path to one side of their garden. Today we bimbled down the road, said hello to a chap who told us to find the white house on the left and help ourselves. We preferred to clear it with the owners who smiled in welcome and gestured us to help ourselves. From the road you could just see a tiny head in the distance, I had expected something the size of the heads on Easter Island, not such a small statue - Bear dwarfed him.
Bear was thrilled with him because he looks like he is rubbing his stomach, like any good Bear does. Hmmmm.
In a rare flash of enthusiasm for walking, I shocked Bear by suggesting we walk to the other village on the island and take in some more of the amazing scenery.
We passed some neat, well kept houses and gardens....................
.................and some not.
And then a real beauty. Straight into the finals of this years One Careful Owner.
A mile on we came to the village of Mahanatoa. The church on the left was open, just had to have a peek inside.
Bear loved the Beez colours and anchors on the altar.
The bay outside the church. We sailed past here on the way in.
The two green buoys we used.
A little further and we passed the school.
We turned back at the boat park.
Before we left the village we stood and watched a 'javelin' tournament. The idea is to hit the coconut on the stick.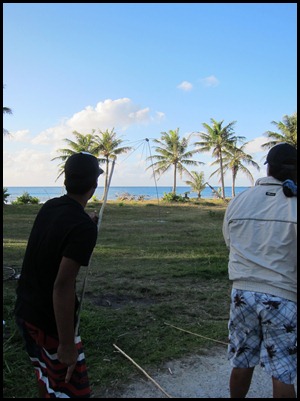 Aim using your index finger, launch and do it again until you run out of javelins, marked in your colours. Go to the other end, retrieve and do it again from that end until they are all stuck in the target or light fails and it's time to go home. We were enthralled and watched four ends.
A couple of 'little light renovation required' and a pig – haven't seen one of those for a while.
On our outbound bimble the big supermarket was closed but on our way back it was open, worth a look, the owner was the same lady who opened up her little shop for us when we first arrived. We bought a loaf and a few bits and bobs, time to go home.
.
ALL IN ALL SUCH A NICE PLACE
VERY COMFORTABLE ISLAND WITH SPECTACULAR SCENERY
---