Winchester Cath. Pt 1

Beez Neez
Skipper and First Mate Millard (Big Bear and Pepe)
Fri 14 Sep 2018 22:47
Winchester Cathedral – Part One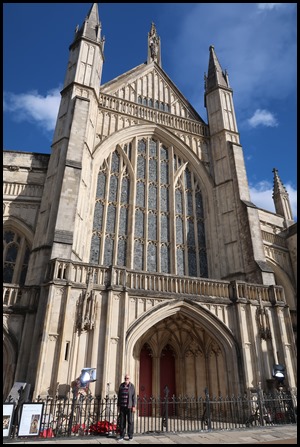 We bimbled for half an hour or so from our digs to Winchester Cathedral. A new one for both of us, despite coming to Winchester many times over the years for meetings I had never been in to the town itself and certainly not done anything touristy. A impressive building with masses of powerful lamps, tons of cables and people with clipboards, we would find out later that Netflix is filming here 'after hours'. This Grade I listed building is one of the largest cathedrals in Europe
with the longest nave (nave height seventy-eight feet) and greatest overall length (five hundred and fifty-eight feet long), of any Gothic cathedral in Europe (tower height one hundred and fifty feet)
.
The wooden plan shows the original site of the cathedral built in 642 partially built over when the new Cathedral was built (dwarfing the old ones size) from stone quarried on the Isle of Wight, begum in 1079 and consecrated in 1093. The 'tactile plan' is based on the plan drawn in 1911. We quickly felt the size of this is a huge cathedral - with so much history – that we targeted ourselves with finding the Mortuary Chests and Jane Austen's memorials, everything else would be a bonus.
The High Altar with ornate 15th century stone screen. The ornate ceiling.
We bimbled down the right aisle and found many memorials to fallen servicemen and a lovely stained glass dedication.
Bishop William of Wykeham's Chantry Chapel: William of Wykeham was Bishop of Winchester 1367 – 1404, and founder of Winchester College and New College, Oxford. He was responsible for completing the transformation of the Nave begun by William of Edington. He became Lord Privy Seal in 1363 and was twice Chancellor of England.
Bishop Fox's Chantry Chapel: Richard Fox was Bishop of Winchester 1501 – 1528. He was Secretary and Keeper of the Seal to Kings Henry VII and Henry VIII. He was founder of Corpus Christi College, Oxford. I don't think the sculptor was very kind to Richard's face, his cheeks in particular are a bit too stringy.
The most beautiful Choir.
Cardinal Beaufort's Chantry Chapel: Henry Cardinal Beaufort was Bishop of Winchester 1404 – 1447. He was created a Cardinal in 1426 and was three times Chancellor of England. He was the son of John Gaunt, Duke of Lancaster and brother of King Henry IV. This brings about the interesting subject of primogeniture. From the Old Testament until recent times all titles, lands and power went directly to the eldest or first-born son. Many second sons (knowing they would inherit only a minor title and a few bob) sought careers in politics, as crusaders or in the church. Fantastic dwellings, notable marriages and many made positions of huge power and wealth.
Henry's life is full of colour beginning with his illegitimacy, political disgrace for siding with his nephew the Prince of Wales against the king, he was present at the abjuration (

a
promise

to give up something such as a

belief

or

activity

)
, of Joan of Arc on the 26th May 1431, had an affair with Alice (daughter of Elizabeth de Bohun) that produced a daughter, Jane, born in 1402. The painting is Henry interrogating Joan in her prison cell by
Paul Delaroche.
The formal record does not include Beaufort's presence at her execution but legend has it that he wept as he viewed the horrible scene as she was burned at the stake.
Back to primogeniture. In October 2011 the headlines read: Sons and daughters of any future UK monarch will have equal right to the throne, after Commonwealth leaders agreed to change succession laws. This means that a first-born daughter of the Duke and Duchess of Cambridge would take precedence over younger brothers. The ban on the monarch being married to a Roman Catholic was also lifted.
Under the old succession laws, dating back more than 300 years, the heir to the throne is the first-born son of the monarch. Only when there are no sons, as in the case of the Queen's father George VI, does the crown pass to the eldest daughter. The succession changes will require a raft of historic legislation to be amended, including the 1701 Act of Settlement, the 1689 Bill of Rights and the Royal Marriages Act 1772.
The change to the Royal Marriages Act will end a position where every descendant of George II is legally required to seek the consent of the monarch before marrying. In future, the requirement is expected to be limited to a small number of the sovereign's close relatives. The royal author Robert Hardman said there had been 11 attempts in recent years by individual MPs and peers to change the succession laws. The laws are not a matter for the 54-nation Commonwealth as a whole, only for the 16 countries which have the Queen as their head of state, known as realms. These are Britain, Australia, New Zealand, Canada, Jamaica, Antigua and Barbuda, Belize, Papua New Guinea, St Christopher and Nevis, St Vincent and the Grenadines, Tuvalu, Barbados, Grenada, Solomon Islands, St Lucia and the Bahamas.
In 2015: If the Duke and Duchess of Cambridge's new baby is a girl, she will follow Prince George and become fourth in line to the throne and will not be overtaken by any future younger brothers. The new rules also allow members of the Royal Family to marry a Roman Catholic and become king or queen. However, a Roman Catholic royal still cannot become the monarch.
So the British line to the throne after The Queen is – Prince Charles, Prince William, Prince George, Princess Charlotte and Prince Louis. In the old days Princess Charlotte would have been bumped to fifth in line with the birth of Prince Louis but now she stays in fourth and Prince Harry in sixth position.
We thoroughly enjoyed Evensong watching two men putting down a beautiful and intricate pattern in sticky-backed plastic, that is, until they were asked to stop work during said Evensong as it was for some special guests – a class reunion. The cathedral has held some very notable events in the past:- Funeral of King Harthacanute (1042). Funeral of King William II of England (1100). Coronation of Henry the Young King and his queen, Marguerite (1172). Second coronation of Richard I of England (1194). Marriage of King Henry IV of England and Joanna of Navarre (1403). Marriage of Queen Mary I of England and King Philip II of Spain (1554). Alfred the Great, King of Wessex (875-899) was buried here was but he decided to move to Hyde Abbey. Edward the Elder, King of England (899–924) was also buried here but he got a text message from Alfred saying how comfy it was at Hyde Abbey, so he moved there too.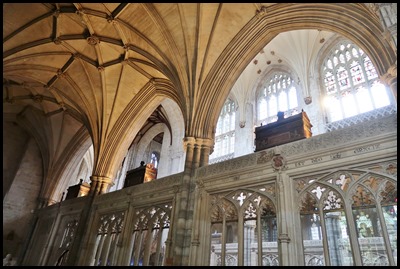 We were keen to see The Mortuary Chests, these contain the bones of some early monarchs of Wessex and Bishops of Winchester: Cynegils, King of Wessex (611–643). Cenwalh, King of Wessex (643–672). Egbert of Wessex, King of Wessex (802–839). Ethelwulf, King of Wessex (839–858). Eadred, King of England (946–955). Eadwig, King of England and later Wessex (955–959). Cnut or Canute, King of England (1016–1035) and also of Denmark and Norway, and Emma of Normandy, wife of Cnut and also Ethelred II of England. William II 'Rufus', King of England (1087–1100) – not in the traditional tomb associated with him, which may in fact be that of Henry of Blois, brother of King Stephen of England. Harthacnut, King of England (1040–1042) and also of Denmark. Stigand, Archbishop of Canterbury from 1047 - 1070 (d.1072). We bimbled back toward the main entrance and began down the left aisle.
The Font. The font is used in Baptism by which a person becomes a member of the Church. This mid 12th century font of black Tournai marble is decorated with carvings showing the miracles of St Nicholas, patron saint of children.
Text: Elizabeth Proudman. Illustrations: Laura Haines
Just along the way was a display case holding information about Jane Austen: Jane Austen was born on the 16th December 1775 in the parsonage house in Steventon near Basingstoke in Hampshire, where her father was Rector. The house no longer stands, but you can still visit the little church where the family prayed each week and see the scattered rural community where she grew up.
She was the seventh of eight children. 'She is to be a Jenny'. her father wrote, 'a present plaything and a future companion for her sister Cassy'. This was prophetic; Jane and her only sister, Cassandra, were devoted friends throughout their lives.
It was a big, creative family, with lots to read and laugh about, and plays to act. The two girls had little schooling, but Jane wrote from the time she was a child, and some of her funny, clever pieces survive, each dedicated to a member of her family.
While living in this isolated village in her early twenties Jane Austen wrote three of her famous novels: Northanger Abbey, Sense and Sensibility and Pride and Prejudice. 'It is a truth universally acknowledged, that a single man in possession of a good fortune, must be in want of a wife'. Pride and Prejudice.
On 24th May 1817, Jane Austen said goodbye to her mother in Chawton, and she and Cassandra drove the 16 miles in pouring rain to Winchester. There were good doctors in Winchester and they hoped her unknown illness could be cured. They took comfortable lodgings near the Cathedral in Mrs. David's house at 8 College Street where Cassandra nursed her.
It is not known to this day what her illness was; maybe Addisons disease which affects the adrenal gland, maybe cancer of the blood, maybe TB. The doctors could do nothing for her and it became evident that she was dying.
At 4am on Friday, 18th July she died with her head resting on her sister's knee. Her last words were 'God grant me patience. Pray for me, Oh Pray for me'. She was 41 years old. Few people knew that a great author had died.
On Thursday 24th July, Jane' Austen's funeral was held at the Cathedral, but it had to be over by 10am when the morning service was usually held. Cassandra remained in College Street and watched the mournful little procession as it turned into the Close.
Only four people accompanied the Rev. Thomas Watkins, when he took the service here in north aisle: three of Jane's brothers and her nephew, Edward.
Jane's body lies under the floor here in a brick vault. The inscription on the tombstone does not mention her writing as was the usual at the time. In 1818 John Murray published Persuasion and Northanger Abbey posthumously but to little acclaim. It appeared that Jane's memory would be confined to her family.
'Her dear remains are to be deposited in the cathedral – it is a satisfaction to me to think that they are to lie in a building she admired so much' Cassandra writing to her niece.
But little by little her fame grew, and by 1850 a virger was heard to ask 'if there was something special about that lady', because so many visitors asked to see her grave.
In 1870 her nephew Edward, who had attended her funeral, wrote a memoir of his aunt, and with the proceeds erected the brass plaque on the wall beside her grave, which begins Jane Austen, known to many by her writings.
By 1900 she was famous enough for a public subscription to pay for the memorial window above.
On the wall opposite the information the framed write up says: Memorial Window to Jane Austen. Erected in 1900 by public subscription. Designed by C.E.Kempe. In the head of the window is a figure of Saint Augustine, whose name in its abbreviation form is Saint Austin.
In the centre of the upper row of lights is David with his harp. Below is the memorial inscription in Latin"Remember in the Lord Jane Austen, who died July 18th. A.D. 1817". In the centre of the bottom row is St John holding a book, displaying on the open page the first sentence of his gospel, "In the beginning was the Word." The figures in the other lights represent the sons of Korah (1 Chronicles IX.19) carrying scrolls inscribed with sentences in Latin from the psalms, indicative of the religious side of Jane Austen's character.
The brass memorial: Jane Austen known to many by her writings, endeared to her family by the varied charms of her Character, and ennobled by Christian faith and Piety, was born at Steventon in the county of Hants Dec rbi mdrrleeb and buried in this Cathedral July rrib mdrrrebii "She openeth her mouth with wisdom and in her tongue is the law of kindness" Prov rrri – b – rrbi.
The grave of Jane Austen, is in the floor of the North Aisle, with its inscription which gives no indication that she was one of the greatest English writers.
CONTINUED
---